Home cooking is about the passion and joy of making delicious food for those you cherish and love. Even if you live alone, cooking up a hearty and filling meal for yourself will usually be the best thing that happened to you throughout the entire day.
And I don't know about you, folks (let me know in the comments below), but the colder the weather and the later the hour, the heartier I like my meal. Right now, it's 7:52 PM, outside it's dark and windy, and the thermometer near my window shows a temperature of 37.5°F.
It's pretty late and I'm feeling kind of lazy. So I came up with this quick and easy recipe for beer-simmered canned beans that warmed my heart.
It came out heavenly. Now, I'm excited to be able to share it with you.
How to Make Beer-Simmered Beans
Canned beans are one of the greatest cooking shortcuts of all time. They can save you hours of soaking and simmering dried beans that, more often than not, you just don't have. Yet every convenience comes at a cost—and canned beans are no exception. 
Compared to dried beans, which contain no added salt, ½ a cup of canned beans comes with 250-500 milligrams of salt depending on the bean variety and manufacturer. That's about 30-40% of your recommended daily intake.
The good news is that rinsing canned beans, which is what I did in this recipe, washes away 41% of the added salt. Still, have that in mind if you need to keep your sodium intake in check.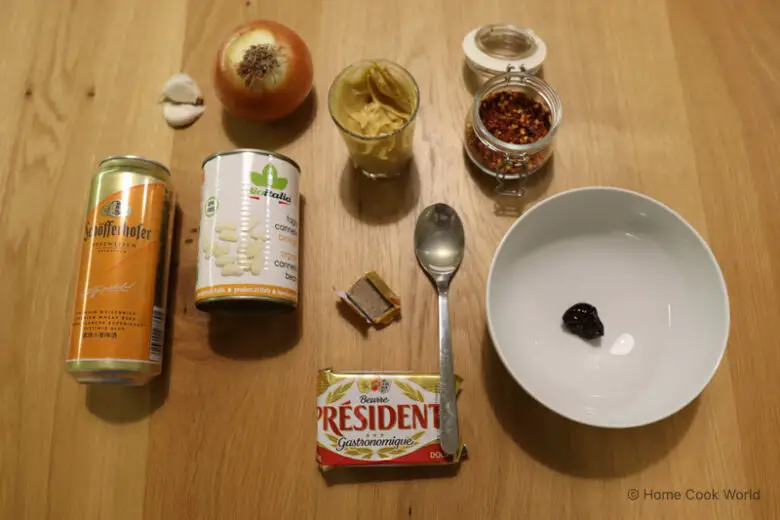 For this recipe, I used BioItalia's canned cannellini beans. These beans are organic, boiled in water with very little salt (0.75 grams per 100 grams), and packed in BPA-free cans.
If you're curious to try them out, here's how much a 12-pack costs at Amazon:
I strained the beans from the cooking water and rinsed them in a sieve, transferring them to a small bowl and setting them aside for later.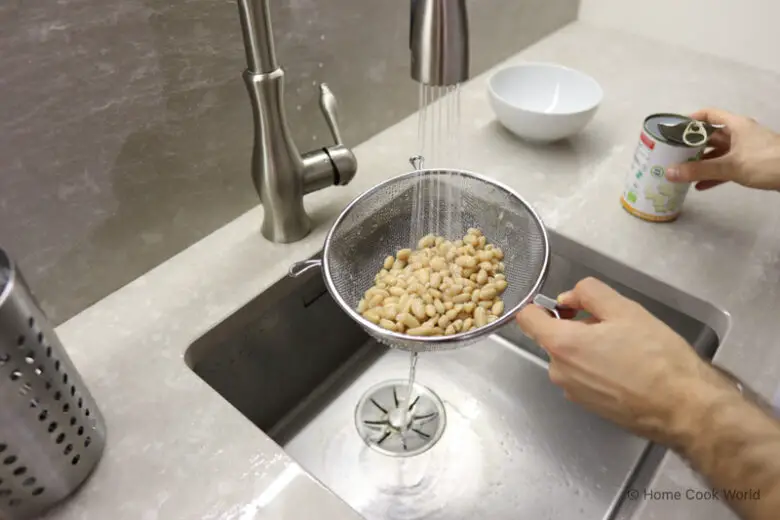 Making comfort food is about layering smell and taste to cook meals with a rich aroma and deep flavor. Which is why I started my cooking by making a base for my sauce. "Base" is a term that professional chefs use to describe the foundational set of aromas and flavors that the rest of a dish is layered on.
I was planning to use beer and a beef bouillon cube as a liquid, and I needed something sweet to balance out the bitterness of the beer and saltiness of the bouillon. So I diced 1 large white onion and sweated it in a knob of butter over medium heat for 6-7 minutes.
In previous versions of this dish, I had tried using extra virgin olive oil instead of butter. But I came to the conclusion that the creaminess of the butter is partially what makes this dish so good.
To add a pungent aroma, I added 2 cloves of minced garlic 30 seconds before adding the beans and pouring the beer into the pan. When you're frying onions and garlic in oil, always make the onions first—adding the garlic half a minute before they're done. Garlic burns quickly, and you don't want the taste of burnt garlic to ruin the rest of your dish.
I transferred the beans to the frying pan and poured ½ a 16.7 fl oz can of Schöfferhofer wheat beer. And I turned up the heat on my cooktop to medium-high to help me cook off the alcohol in the beer and reduce the liquids in the pan.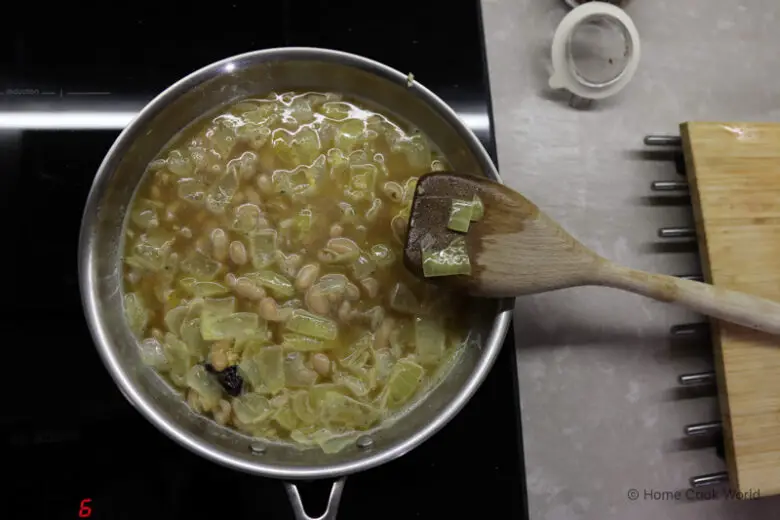 Schöfferhofer is a light and fruity wheat beer from Binding-Brauerei, a brewery in Frankfurt am Main in Germany, that I like to drink while cooking (or, occasionally, cook with while drinking). Any wheat beer that you like, filtered or unfiltered (I prefer the cloudiness of the latter), will do.
Beer and mustard go exceptionally well together. Adding them to sauces and stews will enhance their aroma and build their depth of flavor. So I scooped out 1 tablespoon of Dijon mustard (I like the extra kick) and added it to the pan.
At this stage, my recipe was missing something salty and savory to bring it all together. So I used 1 beef bouillon cube. To add the final layers of taste to my beer-simmered beans, I added 1 pitted prune (for sweetness) and 1 tablespoon of apple cider vinegar (for sourness).
I always keep some Maggi beef-flavor bouillon cubes in my fridge. They add a richer aroma and flavor to a dish than salt alone. Which is often what I'm looking for when I make soups, stews, refried beans, or chili.
If you don't have bouillon cubes at home or don't want to use any, substitute them with beef broth. Campbell's and Kitchen Basics' are two of my favorite choices.
From this moment on, my recipe became very much hands-off. The beans needed the occasional stir every 45-60 seconds, so that they wouldn't stick to my stainless steel frying pan.
About 2-3 minutes before I was done cooking, I sprinkled a few chili flakes for an extra kick. If you don't happen to have any, you might as well drizzle a little Tabasco original sauce.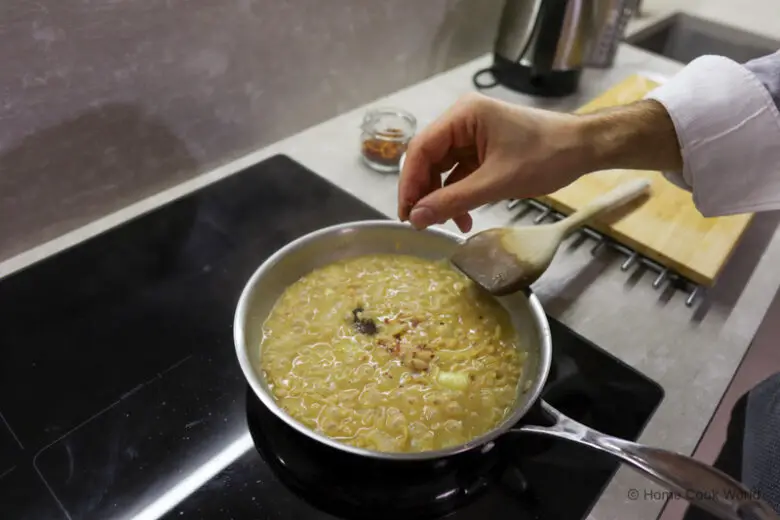 When the sauce had reduced down to the thickness of a thick stew, my hearty dish was done. By the time my wife and I were done eating it, both of us felt sorry I hadn't made more.
Here's the recipe.
My Beer-Simmered Beans Recipe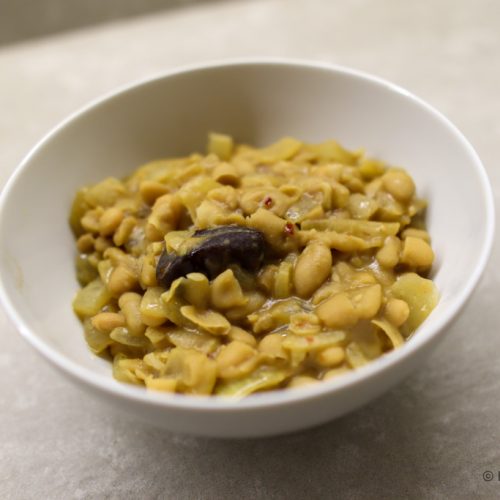 20-Minute, Beer-Simmered Beans
This hearty beer-simmered beans are quick and easy to make—and you won't be able to get enough of them.
Equipment
Cutting board

Chef's knife

Frying pan
Ingredients  
25

g

butter

1

white onion

2

garlic cloves

1

can

cannellini beans

1

can

wheat beer

(16.9 fl oz)

1

tbsp

Dijon mustard

1

tbsp

apple cider vinegar

1

cube

beef bouillon

1

pitted prune

chili flakes
Instructions 
Strain the cannellini beans from the can. Rinse the beans in a sieve to wash away the excess salt. Transfer to a bowl and set aside for the time being.

Preheat your frying pan over medium heat for 2-3 minutes. Add a knob of butter.

Cut 1 onion in thick cubes. Transfer the cubes to the frying pan. Sweat the onions, stirring occasionally, till they turn gold (this typically takes about 6-7 minutes).

Mince 2 garlic cloves. Before you're done cooking the onions, sauté the minced garlic with them for 30-40 seconds, stirring often.

Transfer the beans to the frying pan. Pour in ½ of the beer from the can. Add the Dijon mustard, apple cider vinegar, and pitted prune to the pan.

Turn the heat up to medium high and cook, stirring, for 10 minutes.

2-3 minutes before you're done, sprinkle some chili flakes on your dish for an extra kick.
Notes
Optionally, add Worcestershire sauce to add some more umami flavor to this recipe. If you're a sworn carnivore, cut leftover hot dogs, beer brats, or Italian sausage crosswise into thick slices—and add them right when you add the beans and beer to the pan.
Nutrition
By subscribing, you agree to our privacy policy. Unsubscribe at any time.