Surprise your friends and family with a unique twist on cheesecake — make it in a frying pan!
This year, my wife and I made the big move to Spain, and we had to completely equip our kitchen from scratch.
Moving to a new country can be an exciting but also a daunting experience, especially when it comes to setting up a new kitchen. And, as we found out this year, when you move to a new place, you often have to forgo much of your old cookware and start anew.
When we made it to Spain and bought new cookware, we thought we had purchased everything we needed to start cooking up a storm in our new home. However, as it turned out, there were plenty of items we hadn't even realized we would need until we started using the kitchen on a daily basis.
One such item was a cheesecake pan — a seemingly trivial piece of bakeware we didn't think twice about leaving behind in our old kitchen. Until, that is, the day we realized we couldn't make our beloved New Year's Eve cheesecake without it.
Can You Make Cheesecake in a Frying Pan?
We sat there, staring at our kitchen cabinets, full with all sorts of cookware except for the piece we needed, and we couldn't help but wonder…
Is it possible to make a cheesecake without a springform pan? And even if it is possible, is it worth trying? We pondered these questions for a while, weighing the pros and cons in our heads. Ultimately, we decided that it was worth giving it a shot — after all, where there's a will, there's a way, right?
We got creative and decided to see if we could make a cheesecake in the IKEA SENSUELL stainless steel frying pan that I've been testing for our audience.
To our surprise, and you can tell by the photo, it worked out perfectly!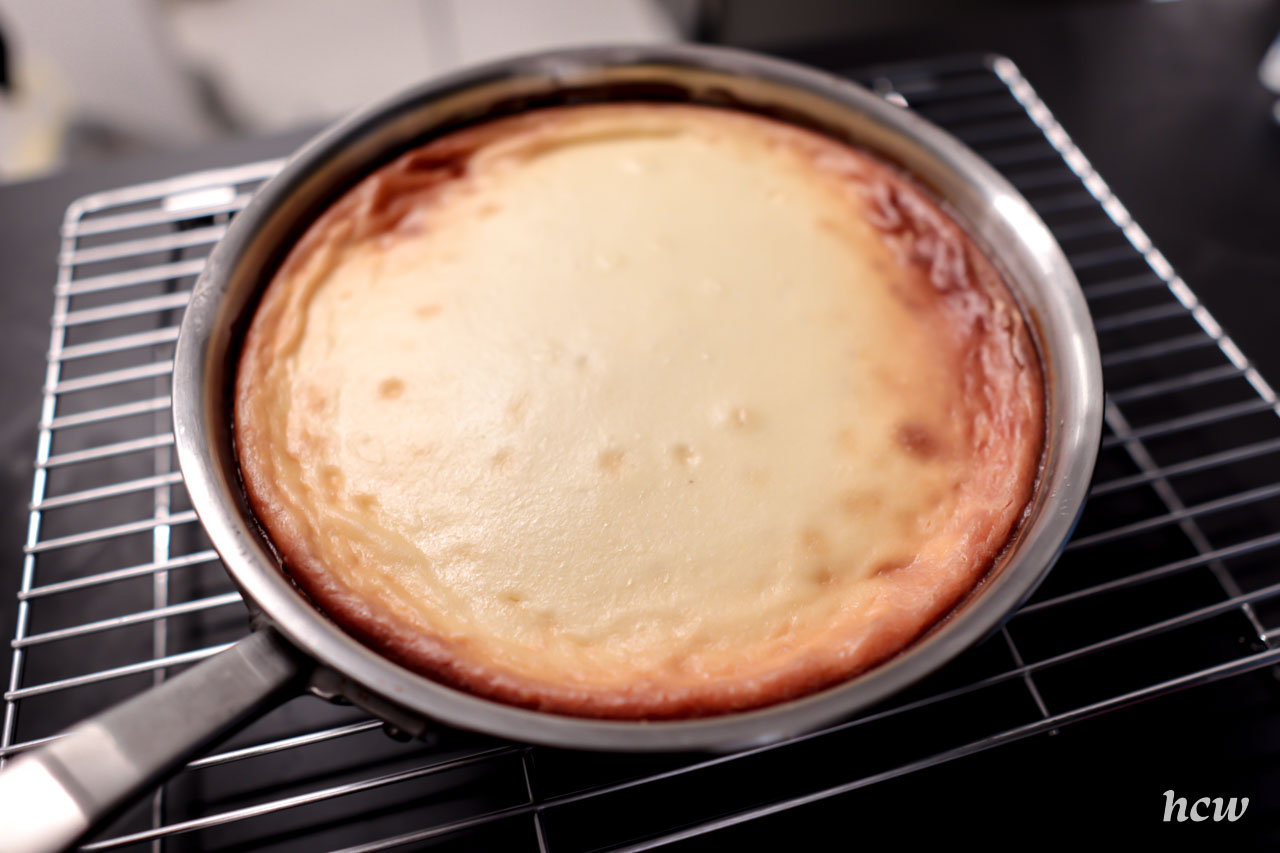 As it turns out, you can make cheesecake in a frying pan, although the crust will come out crispier and the cheesecake will brown around the edges.
One thing we noticed right away was that because the pan had sloped sides, it was tricky to get the crust — crumbled cookies with butter and a bit of sugar and salt — to go all the way to the top.
The pan held on to a lot of heat and transferred it to the cheesecake, so the cheesecake ended up with a beautiful golden brown color around the edges and tasted deliciously. The only downside was that the underside of the cheesecake was a little crispier than we would have liked.
We also had to figure out how to slice and serve the cheesecake. Instead of using a knife, which would scratch the pan's surface, we ended up using a metal spatula.
If you find yourself in a similar situation, use an oven-safe skillet that's deep enough to make a nice tall cheesecake. If you have a stainless steel or cast iron skillet, you can use metal utensils to slice and serve the cheesecake. Just don't use cutlery. If your skillet is non-stick or ceramic, it's best to use a silicone or wooden spatula to avoid damaging the surface.
All in all, it was a fun and tasty experiment, and we were happy to discover that with a little bit of creativity, you really can make cheesecake in a frying pan!
How We Did It
We started with King Arthur's Easy Cheesecake Recipe as a base, but made a few adjustments to suit our taste.
First, we took out the vanilla extract. We used mascarpone cheese instead of cream cheese, giving the cheesecake a richer, creamier flavor. We also used only 120 grams of powdered white sugar (instead of 152 grams), as, to us, a cheesecake that's too sweet is heavy.
For the crust, we crumbled about a dozen big cookies and melted a generous amount of unsalted butter in a saucepan. We mixed the two together until they were well combined and a little bit tacky, then pressed the mixture into the bottom of the frying pan to create the crust.
Before we started on the cheesecake filling, we made sure to bring the eggs and mascarpone to room temperature and preheated the oven to 350°F (175°C). Once everything was ready, we spread the filling onto the crust in the frying pan and baked the cheesecake for 15 minutes.
After 15 minutes, we covered the cheesecake with foil and reduced the heat to 300°F (150°C), continuing to bake the cheesecake for another hour. Once the hour was up, we removed the cheesecake from the oven and placed the frying pan on a cooling rack to let it cool off.
Overall, it was a fun and delicious experience, and we were thrilled with how the cheesecake turned out in the end!