Make the hot dog with the right stuff this weekend! From us to you, a cheddar-and-mustard hot dog like no other.
The pleasures of this hot dog are many.
The sausage is boiled so it stays juicy and tender, then browned in the pan (or on the grill) for aroma and flavor. It's laid on a cushion of sliced cheddar cheese, and that cheese is melted to deliciousness for a couple of minutes in the oven (or grill).
Finally, the condiments. Deli mustard enriched with diced pickles and red onion garnish the hot dog to perfection, making it the perfect thing to bite into for dinner on a hot summer evening.
Try it out, and it will quickly turn into a family favorite!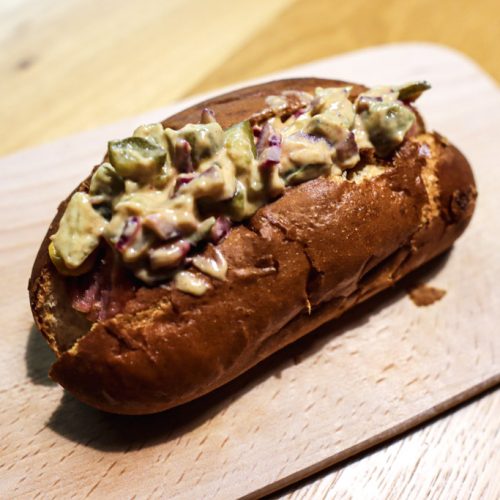 Cheddar & Mustard Hot Dog
This hot dog isn't your ordinary hot dog. It's a hot dog on a bed of melted cheddar cheese topped with pickle-and-onion deli mustard.
Ingredients  
1

pinch

salt

1

tbsp

cooking oil

avocado, canola, or rice bran oil

1

tbsp

butter

unsalted

1

hot dog

frank

1

hot dog bun

brioche bun or potato bun

2

slices

cheddar cheese

1

tbsp

spicy brown (deli) mustard

2

small pickles

diced

¼

red onion

diced
Instructions 
Prepare the toppings
Dice 1-2 pickles and ¼ red onion head coarsely and put them in a small bowl. Add 1-2 tablespoons spicy brown mustard (also known as "deli mustard") and mix to incorporate. Set aside.
Cook the frank
Fill a pot with water, season it liberally with salt, then bring it to a boil over high heat.

Reduce the heat to medium, remove the casing of the hot dog (if artificial), then dip it in the boiling water and let it simmer for 5 minutes. Turn off the heat and keep the frank in the pot when done.

Whip out a frying pan, add a glug of oil and unsalted butter, then set the burner on medium-high. Wait for the butter to melt and stop bubbling, then add the frank to the pan and sizzle on all sides until golden brown.
Prepare the hot dog
Slice the hot dog bun semi-open. Scoop up some of the hot oil and melted butter from the pan with a tablespoon and spread it on the inside of the bun.

Lay the sliced cheddar cheese on the inside of the bun to create a cheese cushion between the bread and the frank. Put the steaming frank on top of the cheese cushion.

Put the hot dog in a 400°F (200°C) oven, or on the grill with the lid closed, for 2-3 minutes to further melt the cheddar cheese.
Top with condiments
Top with a generous amount of the pickle-and-onion mustard. Rest for 2-3 minutes before serving and eating.