Arugula, which some folks call "rocket" or "rucola," is one of my all-time favorite salad greens. It's super healthy and has an unforgettable tart, bitter, and peppery flavor that pairs well with sweet veggies like tomatoes, onions, and corn—and just as well with salty Italian cheeses like Parmigiano-Reggiano or Pecorino Romano.
This week, I'm all about making simple and delicious salads with veggies I have in my fridge. Yesterday, I wrote about my best onion and tomato recipe. Today, I'm going to share my easy and healthy arugula salad recipe.
If I've got you hungry and curious, keep on reading.
For this recipe, you're going to need fresh arugula, a handful of cherry or cocktail tomatoes, five or six Kalamata olives, a soft-boiled egg, extra-virgin olive oil, balsamic vinegar, Mediterranean sea salt, and peppercorn mix.
To make this salad, I washed a bunch of arugula in a sieve and rinsed it thoroughly under running lukewarm water in my kitchen sink. With my chef's knife, I sliced the arugula into smaller chunks that would be easier to pick up with a fork.
I then transferred the sliced arugula from the cutting board to a bowl and proceeded to make the rest of the salad.
I cut six cocktail tomatoes in halves and placed them neatly on top of the arugula salad. I then added about five or six Kalamata olives (my favorite kind).
As I like to do with my salads, I seasoned it with balsamic vinegar, extra-virgin olive oil, sea salt, and freshly-cracked peppercorn mix.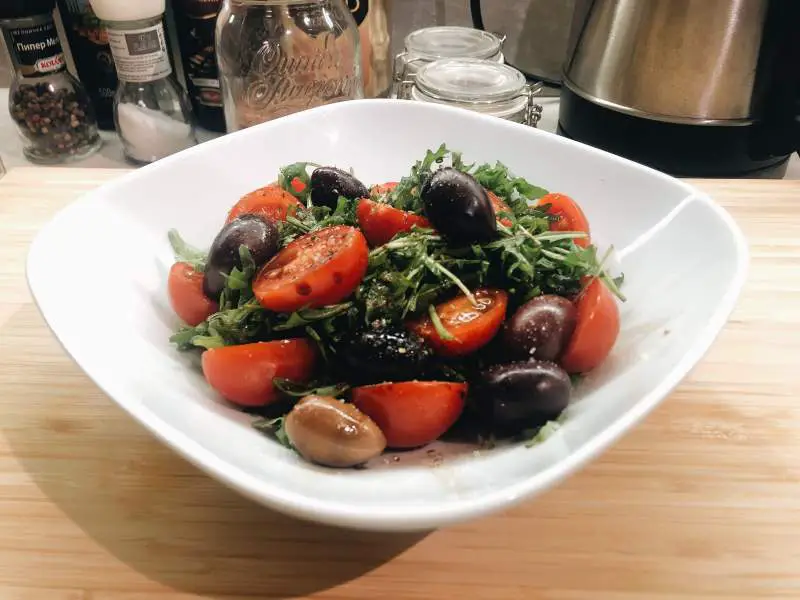 Last but not least, it was time to make the perfect soft-boiled egg. I brought water to a boil on my new induction cooktop and timed the egg for 7 minutes. 
With much experimentation, I've found that a cooking time of 7 minutes gives me the perfect soft white and runny yolk that I'm looking for in a soft-boiled egg.
Here's how my finished arugula salad looked like:
PHOTOSHOOT
Here's the recipe: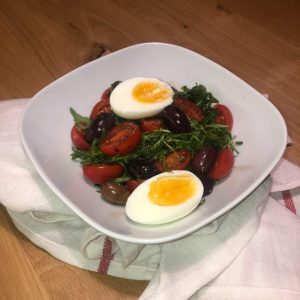 Easy and Tasty Arugula Salad
This simple and tasty arugula salad packs a healthy amount of protein and veggie carbs.
Equipment
Sieve

Chef's knife

Cutting board
Ingredients  
1

handful

fresh arugula (rocket) salad

5

cocktail tomatoes

Any cherry tomato variety will do

5

Kalamata olives

1

tbsp

olive oil

Extra-virgin olive oil

1

tbsp

vinegar

Balsamic vinegar

1

egg

1

pinch

salt

Mediterranean sea salt

1

pinch

pepper

Freshly-cracked peppercorn
Instructions 
Rinse the arugula (rocket) under running water

Slice the arugula into small and bite-sized chunks

Slice the cocktail tomatoes in halves

Mix the tomatoes and arugula in a bowl

Dress with balsamic vinegar and extra-virgin olive oil

Season with sea salt and freshly-ground mixed peppercorn

Make a soft-boiled egg (boil the egg for approx. 7 minutes)

Add the egg to your salad and serve
Nutrition
By subscribing, you agree to our privacy policy. Unsubscribe at any time.