Anyone who's ever been to Spain will tell you just how sweltering the summers in this country can get.
As I sit here in my apartment, typing these words on my beloved (yet overly aging) MacBook Air, the fan rumbling and humming, the temperature outside is 95°F (35°C)—the kind of heat that hits you as soon as you stand in the sun.
I don't care if you've fasted for days and are now officially the hungriest person in the world. At such times, the only food you can crave is a light and refreshing summer dish that will fill you up without putting you down.
And few foods, if any, fit this description better than a bowl of Andalusian gazpacho, a cold summer soup made of blended veggies, with tomatoes as the chief protagonist but the supporting cast not to be underestimated.
If, wherever you are in the world, you find yourself in a similar situation to mine, here are instructions for preparing this fine Spanish dish.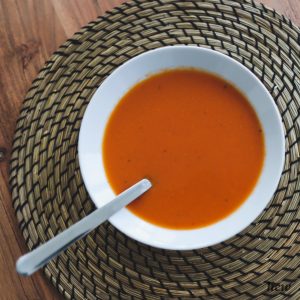 Andalusian Gazpacho
A cold, savory soup to enjoy in the hottest days of summer.
Equipment
1 chopping board

1 Chef's knife

1 blender
Ingredients  
6

tomatoes

in-season, ripe

2

green peppers

1

cucumber

1

onion

2

cloves

garlic

1

tbsp

olive oil

extra virgin

1

tbsp

sherry vinegar

1

pinch

salt

fine sea salt

1

dash

black pepper

1

tbsp

lemon juice

freshly squeezed
Instructions 
Rinse the tomatoes, red peppers, and cucumber under cold running water. Chop the tomatoes and red peppers coarsely. Peel and chop the cucumber.

Peel and chop the onion and garlic cloves.

Add the tomatoes, red peppers, cucumber, onion, and garlic cloves to the blender in the same order. Give them a blend until they've turned into a consistent mixture.

Add the olive oil, sherry vinegar, salt, black pepper, and lemon juice. Give the gazpacho a quick blend to incorporate all the ingredients together.

Refrigerate for 2-3 hours. Serve cold, in a bowl or a tall glass, without or without toppings.
Nutrition
Serving:
350
g
Calories:
200
kcal
Carbohydrates:
10
g
Protein:
2.5
g
Fat:
2.5
g
Fiber:
5
g
What Ingredients Do You Need for Gazpacho?
The traditional ingredients for gazpacho are tomatoes, green peppers, cucumbers, onions, garlic cloves, olive oil, sherry vinegar, and salt. However, many Spanyards also add freshly cracked black pepper and freshly squeezed lemon juice to taste.
Contrary to what some will tell you, croutons (or any form of bread, for that matter) are not necessary for gazpacho. However, you can make great use of stale bread by adding it to your gazpacho blend; doing so will make it thicker.
Do You Peel the Tomatoes for Gazpacho?
No, there's no need to peel the tomatoes for preparing gazpacho. As long as the tomatoes are ripe and your blender is powerful enough to crush the peels, you can leave them on.
If , however, the skins of your tomatoes are particularly hard and your blender can't handle them well, you might as well peel the tomatoes. You can add the peels to the compost pile or dispose of them in the organic waste bin (if your community has one).
Do You Cook the Tomatoes for Gazpacho?
Traditionally, gazpacho is a cold soup made with fresh vegetables. So the short answer is no, you don't have to cook the tomatoes—or any other vegetable—to make this Andalusian summer soup.
Don't let that discourage you from trying, though! Roasted tomatoes and jarred piquillo peppers, for example, can give your gazpacho an extra aroma and flavor that their fresh counterparts can't. So give cooked veggies a try, especially if you decide to this dish in early fall.
Can You Use Canned Tomatoes for Gazpacho?
Technically, you can make gazpacho with canned tomatoes. But if you want to make your gazpacho authentic and traditional—and, trust me, you do—you should use fresh, ripe, and seasonal tomatoes.
The thing about canned tomatoes is that they're already cooked during the canning process. So if you make gazpacho with them, it won't taste as fresh and zippy as it would had you used fresh tomatoes.
How Long Does It Take to Make Gazpacho?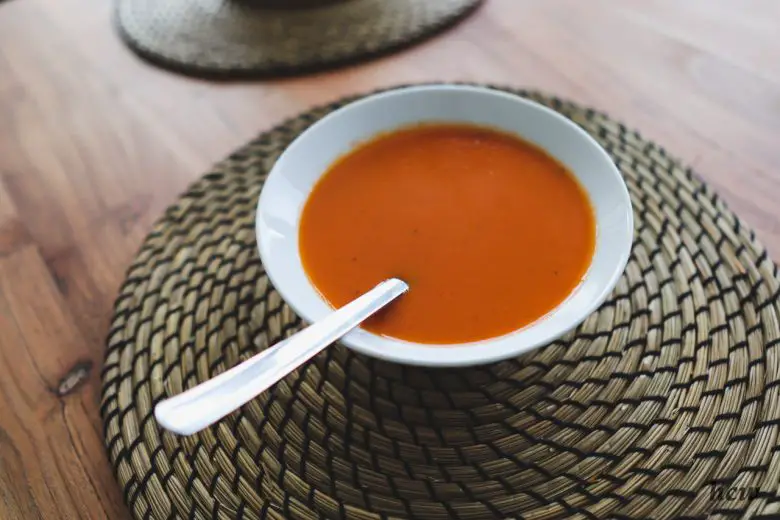 Nobody wants to spend hours leaning over the hot stove on a hot summer's day. And the good thing about gazpacho isn't only that the soup is easy to eat, but also that it's easy to prepare.
Provided you have all the ingredients ready, it should take you no more than 10-15 minutes to prepare gazpacho, even if you're cooking for a large crowd. All you need to do is prep the vegetables, then load them in a blender and mix with oil, vinegar, and salt.
Can You Warm Gazpacho Soup?
To the question, "Can you reheat gazpacho soup?" there is a simple four-word answer: "Of course you can!" It is your soup, after all, and how you eat your favorite dishes at home is a private and personal matter.
With that being said, it's important to remember that gazpacho is meant for serving and eating cold; warming it will alter its aroma and flavor in ways you may or may not like depending on your taste and preferences.
How Long Can Gazpacho Sit Out?
Gazpacho is a perishable food, meaning food that spoils quickly, and perishable foods shouldn't sit out for longer than 2 hours, according to the Washington State Department of Health.
Refrigerate your gazpacho immediately after preparation. Bowls of leftover gazpacho should be wrapped tightly with plastic wrap and stored in the fridge, where they will keep for 3-4 days.
Can Gazpacho Be Made in Advance?
It's summer? You're having guests over tonight? Andalusian gazpacho is the perfect dinner party appetizer that will awe your guests and leave them hungry for more. But when preparing it in advance, you need to follow food safety basics.
Put the gazpacho in the fridge as soon as you've prepared it and keep it there until your guests have arrived. Perishable foods should never be left to sit out for longer than 1-2 hours, the USDA says, or they will get overgrown with bacteria that can cause food poisoning.