There are few salads as simple and as delicious as an onion tomato salad. The acidity of the tomatoes and the sweetness of the onions are like a marriage in heaven—especially when you garnish them with a herb or two and top them with pitted olives.
If the idea of an onion tomato salad piqued your appetite and curiosity, keep on reading. This is truly one of my best salad recipes.
For this recipe, you're going to need one or more tomato varieties, one or more onion varieties, a handful of Kalamata olives, parsley, mixed pepper, sea salt, balsamic vinegar, and some extra-virgin olive oil.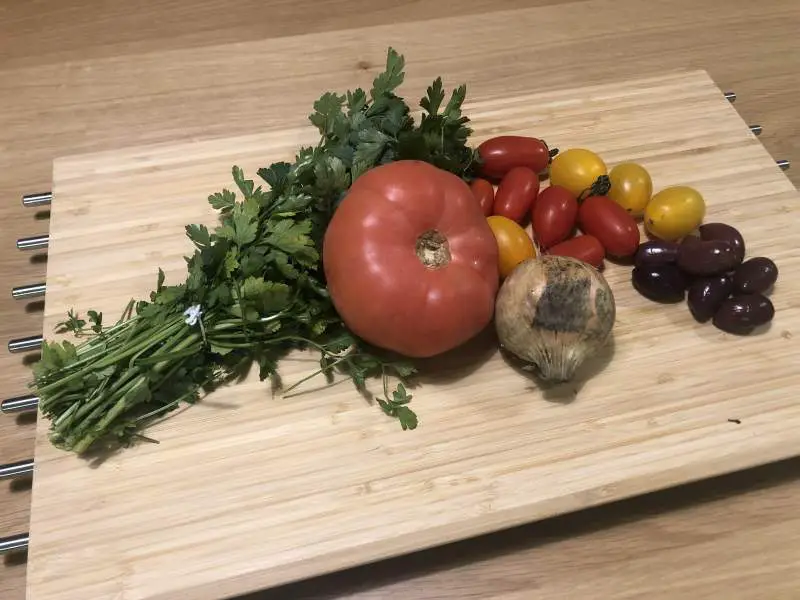 My favorite thing to do when I make onion tomato salad is to use more than one tomato variety. After all, the tomatoes are the co-star of the recipe. The more diverse they are, the richer its flavor and texture.
For the salad in the photoshoot, I used Brandywine, early girl, sweet cherry, and sungold tomatoes. You can use any combination you like; I simply bought every tomato variety I could find in the grocery store as I was shopping for the week. 
I can't quite put my finger on it, but there's just something about the richness of a salad with heirloom and small tomato varieties combined. Try it out for yourself and let me and the rest of this recipe's readers know how it went in the comments section below.
Since I had some brown onion in the fridge, I used it to make the salad. But hey, it's your kitchen and your rules. Whatever kind of onion you have lying around in the house—brown, red, and/or white—use it. Or use a combination to make your onion tomato salad even more diverse.
How do I slice my onions, some readers have asked me? 
Cut the stem and root ends off by about ½ an inch. Then cut the onions half through the root, placing the halves cut side down on your cutting board. With a chef's knife, slice the onion halves thinly.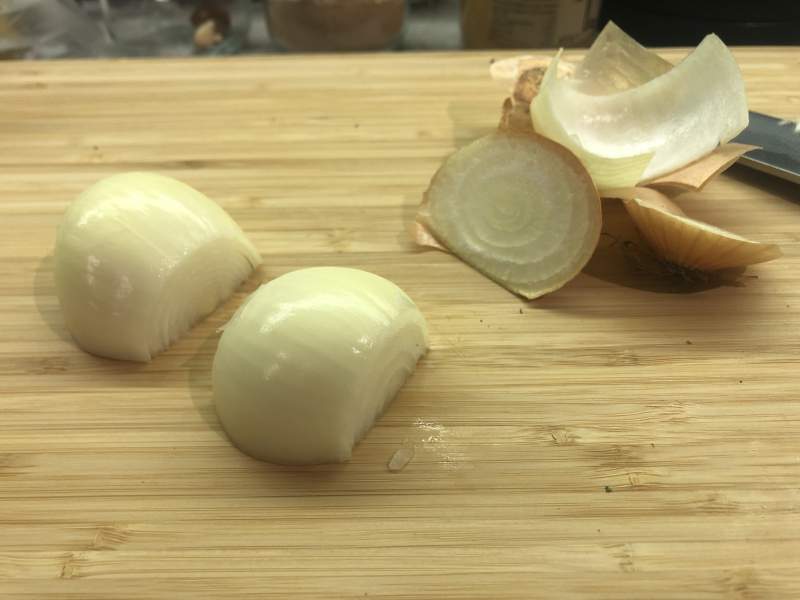 To cut the onions so that you don't cry, store them in the fridge for at least 24 hours before cutting. You'll probably still feel a slight burn in your eyes by the end, but you are going to save yourself the big onion tears!
When you chill an onion, it causes the sulfur in it to be released more slowly, which ends up being gentler on your eyes.
Now back to our onion tomato salad.
At this stage, I mixed the tomatoes and onions and seasoned them with extra-virgin olive oil, balsamic vinegar, finely-ground sea salt, and freshly-cracked mixed peppercorn.
I garnished the salad with freshly-chopped parsley, leaving out the bitter stems. Cilantro has a bolder flavor than parsley, but it could work just as well for this onion tomato salad recipe.
Finally, I topped the salad with Kalamata olives. Kalamata olives are a Greek olive variety that's large in shape and dark purple in color. It has a rich olive taste and a meaty texture. Kalamata olives add a finishing Mediterranean touch to our onion tomato salad.
Here's what the ready salad looked like: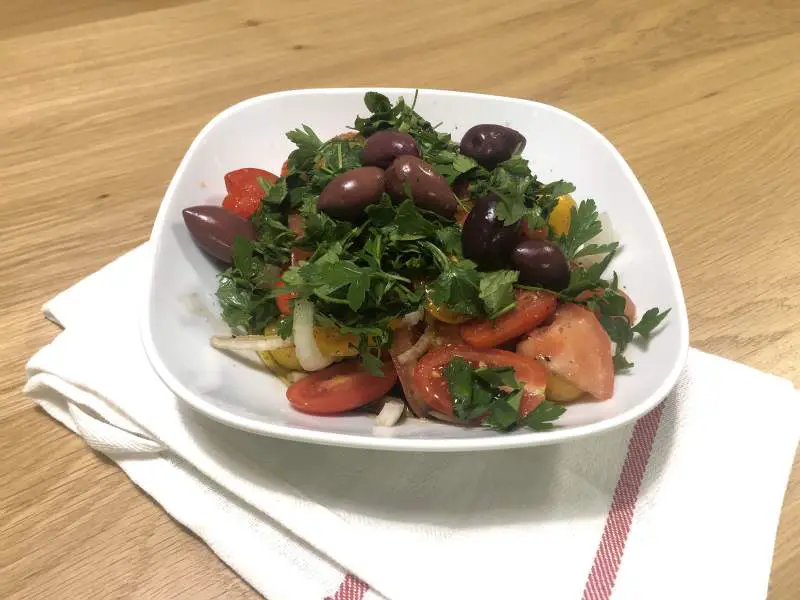 And here's the recipe: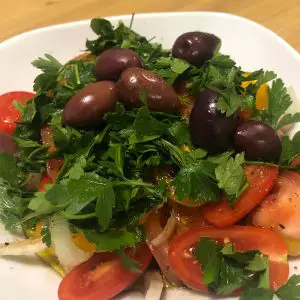 Onion Tomato Salad
This fresh, healthy, and delicious Mediterranean salad will brighten up your day. Here's how to make it.
Equipment
Cutting board

Chef's knife
Ingredients  
1

bunch

parsley

1

large Heirloom tomato

10

small tomatoes

Cherry or Cocktail tomatoes

5

olives

Kalamata olives (or any Greek olive)

1

tbsp

olive oil

Extra-virgin olive oil

1

tbsp

vinegar

Balsamic vinegar

1

pinch

sea salt

1

pinch

freshly-ground pepper

Mixed peppercorn (or black pepper)
Instructions 
Cut the Heirloom tomato in large chunks

Cut the small tomatoes in halves

Cut the onion crosswise and in thin slices

Mix the tomatoes and onion slices onto a plate

Season with olive oil, vinegar, salt, and pepper

Cut the parsley coarsely, leaving out the stems

Garnish the salad with the parsley

Top with Kalamata olives and serve
Nutrition
By subscribing, you agree to our privacy policy. Unsubscribe at any time.