It's so good, you'll wish you could cook everything inside it. Or maybe you can?
The enameled Dutch oven, towering tall on the stovetop with its gorgeous exterior and spacious interior, is the prized possession of every family cook.
Not only does a Dutch oven make soups that mend the soul, stews that warm the heart, and braises that make the mouth water, it decorates the kitchen just by standing there on the stovetop not being used.
(Praise that, as I'm sure you will agree, not all cookware can be given.)
Dutch ovens are also sturdy, durable, and built to last. Many outlive their first owners and turn into family heirlooms.
They get handed down from generation to generation of cooks, along with grammy's secret recipes and sweet memories of running around in the kitchen, tasting spoonfuls of sauces and biting into loaves of bread as you… ahem, "help" her cook.
Joy and homeliness are priceless, few can dispute me on that.
But, if you've never been inherited a Dutch oven from times long gone—and you want to write your own history by buying one—you very well know that the good ones don't come cheap.
When it comes to price, the Dutch oven is second only to the motorized stalwart in the kitchen: the stand mixer.
A few examples:
A 7¼-quart Le Creuset round casserole, the crème de la crème of French cookware, would have set you back as much as $440 on the day I wrote this.
A slightly smaller 7-quart Staub, a heritage-brand cooking vessel designed in a dormant French artillery factory in the 1970s, would have cost you $299.
You could, of course, have tried your luck with a Dutch oven from one of those off-brands that pop up on the Internet one day and get taken down on the other. But, in tune with "buy it nice or buy it twice," you'd probably end up regretting it (and good luck counting on that guarantee).
When it comes to Dutch ovens—and cookware as a whole—one brand believes that you can have the pie and eat it, too.
Since it became a hit on crowdfunding site Kickstarter, it's been bending the rules of cookware with cooking vessels, cutlery, and utensils that overdeliver, and yet don't break the bank.
That brand is Misen. After reviewing and liking its stainless skillet, we thought to give its Dutch oven a try.
The Misen Dutch Oven
At $165 a piece, Misen's enameled cast iron Dutch oven sells for about half the price of its best-known, heritage-brand counterparts. Having unboxed and cooked with it for a while now, I reckon it's just as good for home cookery.
Offering a capacity of 7 quarts, the Misen Dutch oven comes with a twist: you can choose between a traditional lid with a metal handle or a bulkier, heavier lid that doubles, rather skillfully, as a grill pan.
Intrigued by the utility of a cover for your pot that lets you sear steak with grill marks, I opted for the latter. Lacking a better name for it, I dubbed it the lid/pan.
When the package arrived, I unpacked the Dutch oven and embarked on a weeks-long cooking spree so serious, I grew a belly and threw the bathroom scale in the back of the closet.
My impressions, below.
How Big Is It?
With the grill lid, this Dutch oven is 6.4 inches tall. If you remove the lid, you lose 1.4 inches and the height is reduced to 5 inches. From wall to wall, the diameter is 9.7 inches. If you also measure the handles, the width of this cooking vessel adds up to 15 inches.
Misen says this Dutch oven has a base diameter that's 1-2 inches wider than that of other brands. I concur. This cooking vessel is more spacious than others in the Home Cook World test kitchen. My tape measure gave a base diameter of 9 inches and an interior height of 4.7 inches.
What's Cooking With It Like?
You get plenty of room for searing beef cubes for a braise, browning ground meat for chili, or caramelizing a big batch of onions for a French onion soup.
It struck me during cooking just how much space I had; flipping meats and stirring stews was easy. Even when you're feeding a hungry crowd, the bottom of the Dutch oven doesn't get overcrowded, so there's no need to sear in batches.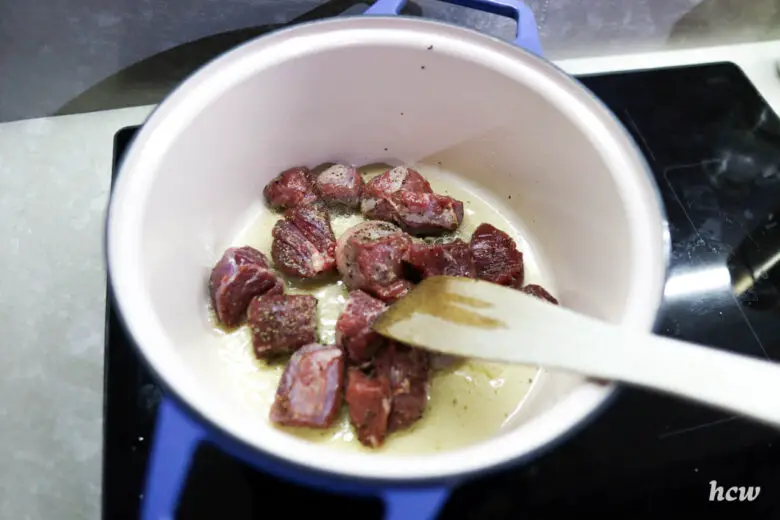 Nine times out of ten, the enamel keeps food from sticking, provided you've added a dollop of oil to the pot. Now, the most tender and delicate foods, such as scallops, will stick at first. Try as you might, there is no going around it.
Patience, as they say, is a virtue. When a piece of food sticks to the bottom, let it cook—without interruption—for at least 1-2 minutes per side. Once the proteins are nicely browned, they will release themselves from the surface, becoming ready to flip.
The handles are wide and comfortable so that you can hold the Dutch oven safely and firmly as you move it from the stovetop to the oven and back, even if you're using mittens or holding it with a kitchen towel.
That's exactly what you're looking for because these things are heavy, and moving them from stovetop to oven is no easy task!
Top the Dutch oven with the grill lid, and it won't budge. It's ideal for trapping steam which, very much like a pressure cooker, makes the inside hotter to tenderize meats and soften vegetables faster.
I have to admit, I had mixed feelings about the silicone lid. At first, I found it flabby and unnecessary. But then, having seen why it's there and what it does, I've grown to like it.
It fits snugly and—to my surprise—the suction holds it firmly in place to keep your soups, stews, and braises warm for hours on end, even as you're sizzling steak or browning sausages on the grill lid. The missus descriptively calls it "the substitute lid."
That's what it is! It's a substitute lid for when you're using the lid for something else. Like grilling.
Did I mention you can use the silicone lid on any pot, pan, dish, or bowl? The only thing you need are flat edges to form an airtight seal that keeps vegetables steaming and leftovers warm.
That said, silicone has the tendency to melt. Misen says it's oven-safe up to 400°F (204°C).
If you asked me for advice, I'd tell you to err on the side of caution and not bake with the silicone lid at all, especially at temperatures nearing this threshold. For the same reasons, don't top your Dutch oven with it if you're heating it to anything above medium heat on the stove.
Will It Work With Any Stove? Does It Go in the Oven?
The Misen Dutch oven is compatible with all stovetops, from gas-fired to electric-coil ranges to radiant or induction cooktops. I can attest to the latter; the tests for this review took place on a Bosch induction cooktop.
One word of caution here: If you have a small kitchen and cook on a compact cooktop, make sure your largest cooking zone is wide enough to accommodate this cooking vessel; the measurements I shared above will help. This is a prerequisite for even heating and a long life for the enamel coating.
You can also put this cooking vessel in the oven at temperatures up to 500°F (260°C), which should cover most of your baking needs. Unlike other Dutch ovens, you can cover this one with the grill lid, slide it into the hot oven, and not worry about the lid being damaged by the heat.
The grill lid gives this Dutch oven more utility than Misen give it credit. Lodge have a product like that, but theirs isn't enameled—so you need to season it, keep it well-seasoned, and not cook acidic food in it.
Do I Need to Season It?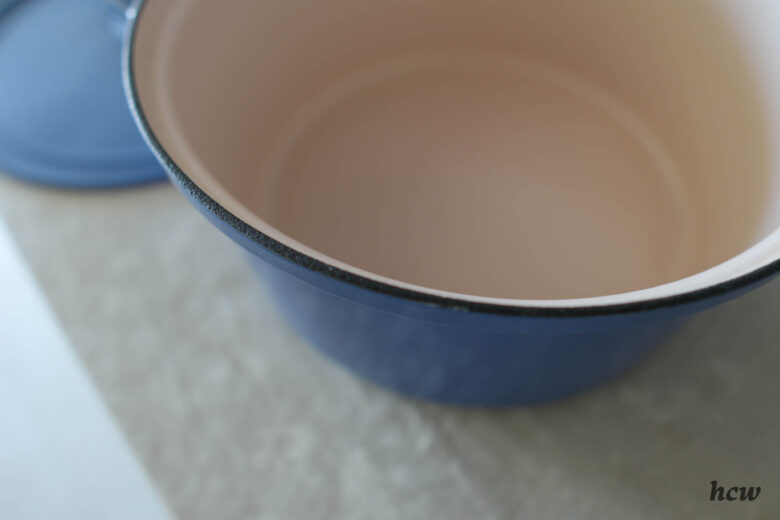 Some enameled cast iron Dutch ovens come with an uncoated rim. The cast iron at the top of the bowl, in the part that comes into contact with the lid, is bare and exposed. This makes it prone to corrosion and rust unless seasoned.
I was happy to see that this isn't the case with the Misen Dutch oven. "This strip," the brand says, "has a clear coating that will protect the iron underneath from corroding."
Yes, you can forget about the complicated rituals of seasoning the rim and watching over it so that it won't rust.
The Grill Lid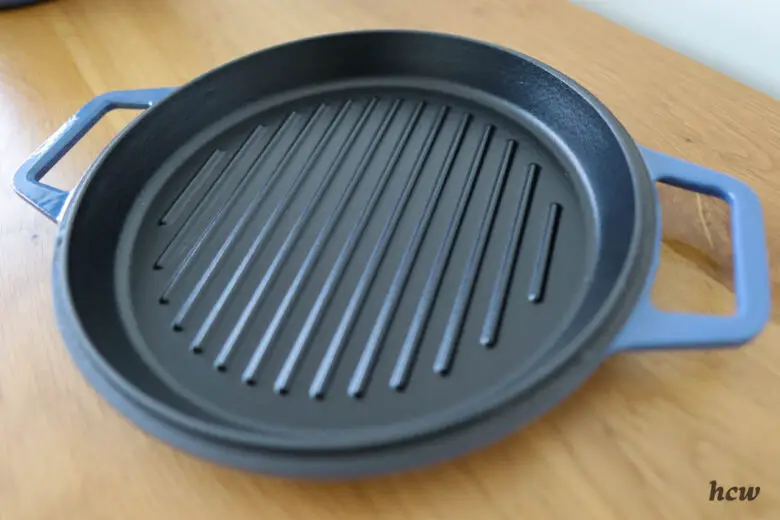 For someone who writes about food and tests cookware for a living, I am surprisingly indecisive about my choice of words. I can't choose if I should keep calling the lid of this Dutch oven a "lid," because it's basically a full-fledged enameled cast iron grill pan.
The indecisive soul that I am, I thought I'd just call it a lid/pan.
Fun fact: You can buy the grill pan separately for $65 from Misen's online store.
What Is It Coated With?
The lid/pan has the same enamel as the rest of the cooking vessel. However, instead of light pink, it's black. When you're not using it as a lid, you will be searing steaks, chops, and fillets with it on the stovetop and over relatively high heat.
The high heat will cause animal fat and cooking oil to polymerize on the surface. Were it light pink, it would have been very, and I mean very, difficult to clean. So the black color allows you to make use of the enamel without having to scrub stains off of it for hours.
Does It Leave Grill Marks?
In a few weeks' worth of cooking with the lid/pan, I made thick-cut steaks, Italian sausages, burgers, and grilled slices of bread.
I can tell you with hand on heart it did formidably: The ridges are tall enough to separate meats from their drippings and wide enough to impart them with eye-pleasing grill marks.
As with any cast iron cooking vessel, the lid/pan heats slowly. I grease mine with a drop of oil and a paper towel, then preheat it over medium heat for 4-5 minutes. I know it's hot enough when, if I put my hand near it, I feel the whole thing radiating heat.
Once it's up to heat, it holds on to it and transfers it evenly to your food, making it sizzle, smoke, and brown just the way you want it to.
Heat retention is key here. Not like a thin and lightweight non-stick pan, the thick and heavy-duty lid/pan won't drop temperature when you slap a room-temperature steak on the surface.
The two things that this lid/pan lacks compared to, say, a Le Creuset grill pan is the extra maneuvering space that comes from Le Creuset's square shape and the pour spouts on both sides, which make it easier to drain fat off without staining the sides mid-cooking.
Still, when you consider that this is really a lid for your Dutch oven that doubles as a grill pan, you get a lot of value for the money (and, unless you already own a grill pan, you have no reason not to go for this option).
Is It Easy to Clean?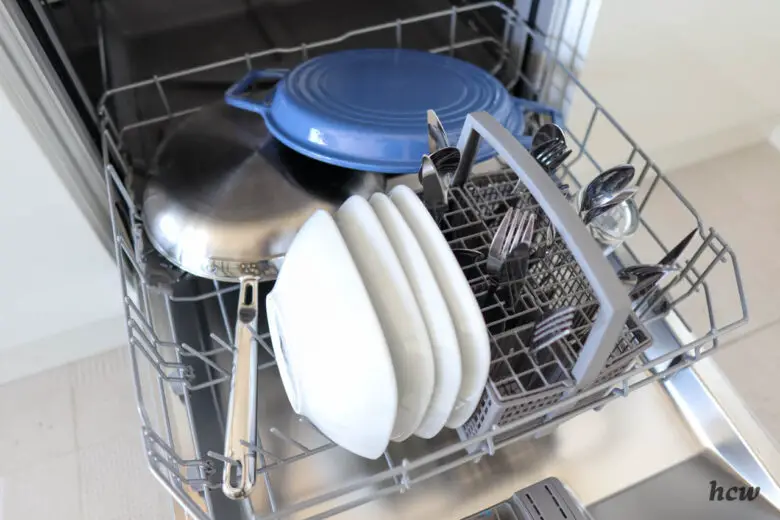 If you have a smooth-top cooktop and you grill greasier food items in the pan, such as burgers or sausages, some of the splattering grease will transfer from the cooktop's surface to the underside of the pan and polymerize on it during cooking.
In other words, you will see brown spots of grease baked onto the enamel. Fret not: these stains can easily be removed with the green side of a scrub sponge, some soapy water, and a bit of elbow grease. The dishwasher alone will not remove them, so this is a required step for keeping the lid spick and span.
Regardless, you can load the grill pan in the dishwasher and leave the appliance to do the dirty work for you.
So, Is It Worth It?
If you're looking for an affordable Dutch oven that won't let you down, this one should be on top of your list. It sits beautifully, cooks deliciously, and cleans easily.
From the wide handles and coated rim to the grill pan and universal lid, this gorgeous piece of cookware is all about utility. For the $165 price, you get a lot for your money.
You will appreciate the attention to detail that Misen put into this vessel the more and more you grill, sear, braise, stew, bake, boil, and simmer the food you like to eat on repeat in it.
You've voted for this post
Leave a comment