This Tuscan bread and tomato soup—known throughout Italy as pappa al pomodoro—is a poor man's dish that doesn't require any in-season ingredients and can be enjoyed at any time of the year.
All you need to make it is yesterday's stale bread, a can of peeled plum tomatoes, extra virgin olive oil, sea salt, a couple of cloves of garlic, a generous cracking of black pepper, and, optionally, a few basil leaves.
It's filling but not heavy, turning it into the most comforting dinner on a cold and stormy winter evening. You could just as well prepare it the day before and chill it in your fridge overnight to serve it as a refreshing entrée for lunch on a hot summer's day. One recipe, yet so many options.
The rich flavors of pappa al pomodoro are layered with every spoonful, from the sweetness and subtle tartness of the plum tomatoes to the heat of the black pepper and herbiness of the basil.
Trust me; this is one recipe you'll want to keep on hand all year long!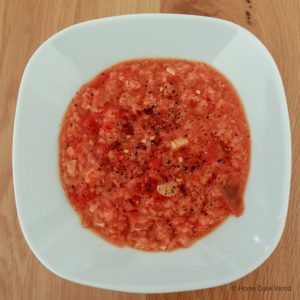 Pappa al Pomodoro
This Tuscan bread and tomato soup, known throughout Italy as pappa al pomodoro, is a poor man's dish that doesn't require any in-season ingredients. Cook it up on a cold winter night and enjoy when it's still hot, or make it the night before and serve chilled for lunch on a hot summer's day; it will be just as delicious.
Equipment
Cutting board

Chef's knife

Pot

Cooking spoon
Ingredients  
2

tbsp

olive oil

extra virgin

2

cloves

garlic

peeled and crushed

14.5

oz

canned tomatoes

peeled plum tomatoes

5.5

oz

stale bread

1

tsp

sea salt

1

tsp

black pepper
Instructions 
Soak the bread in a bowl of water for 5 minutes. Once it's soft, strain and tear it by hand into small pieces. Set aside.

Crush a can of peeled plum tomatoes by hand. Set aside.

Sauté the garlic in olive oil for 30 seconds over medium heat in a saucepan or pot.

As soon as the garlic releases its perfume into the air, add the tomatoes and bread. Season with sea salt and give it an initial stir.

Simmer over medium heat, occasionally stirring to keep the bread from sticking, for 10 minutes.
Nutrition
Serving:
9
oz
Calories:
165
kcal
The origins of pappa al pomodoro go back to the 16th century when Spanish and Italian conquistadors brought back the so-called tomatl fruit. Native to North America, tomatoes were grown and eaten by the Aztecs before they were introduced to Europe.
At first, Europeans were wary of the tomato. Many thought that the red color of its fruit was a sign that it was poisonous. But those fears quickly dissipated. By the middle of the century, tomatoes trended so much that they had already become a staple of Mediterranean cuisine.
Pappa al pomodoro came about as a poor man's dish that made the most of a bunch of cheap and easy to find ingredients.
A regional Tuscan dish, it was popularized throughout Italy by the children's novel Il Giornalino di Gian Burrasca, written by Luigi "Vamba" Bertelli and initially published between 1907 and 1908 in the children magazine Il Giornalino della Domenica.
When you cook pappa al pomodoro at home, stick to tradition and keep your dish simple. Remember that its roots are in the ingenuity of la cucina povera Italiana, the cooking of Italy's peasants, who knew how to bring out the most complex aromas and flavors from the most modest meals.
If you ask me, canned tomatoes are the only ingredient in this recipe that's worth splurging on. While any can from the store should generally do, consider my favorite, Cento's San Marzano Tomatoes. They have a rich aroma and balanced taste thanks to the nutrient-rich volcanic soil of Italy's Sarnese Nocerino area that they're grown in.
How Long Will It Keep in the Fridge?
Pappa al pomodoro is one of those dishes that's even tastier the day after!
Refrigerated, pappa al pomodoro will keep for about 3 to 4 days. To protect it from catching unpleasant aromas or flavors from the circulating air inside your fridge, store it in a sealed jar, airtight food storage container, or pot with the lid on.
Reheat it in a pot over medium heat, stirring occasionally to keep it from sticking, and serve hot. If it needs a little more moisture, you may want to add 1/4 cup of water and simmer for 3-4 minutes.
Can You Freeze Pappa al Pomodoro?
So you made more of this dish than you can eat, or you prefer to cook it in large batches?
You can freeze papa al pomodoro for long-term storage. Let it cool down completely, pour it into an airtight food storage container and put it in your freezer, where it will keep its best quality for up to 6 months.
To thaw pappa al pomodoro, transfer it to your fridge the night before. Use the same reheating technique that I shared with you above.