When it comes to asparagus, the simplest recipes are also the tastiest. And this one is as simple as they come: all you need is a bunch of asparagus, extra virgin olive oil, fine-grain sea salt, and freshly-cracked black peppercorn.
Asparagus is in season between the months of February and June. Look for it at the farmers' market, selecting a bunch that's green in color and firm to the touch.
In other words, the best time to try this recipe is in late spring or early summer. Though I'm pretty sure that, if you get the munchies out of season, it will come out just as good.
Sautéing is a technique for cooking foods quickly, in a small amount of oil or fat, and over medium to medium-high heat.
The trick to sautéing vegetables is to take them off the heat when they get tender-crisp, the state in which they're cooked through on the inside, but still has a snap to them on the outside.
When it comes to asparagus, I've come to the conclusion that sautéing works best over medium heat. The heat dial on my induction cooktop goes all the way up to 9, so I normally cook mine on 4-5.
Okay, enough theory here. Let's see how these sautéed asparagus pan out in practice.
How to Pan-Fry Asparagus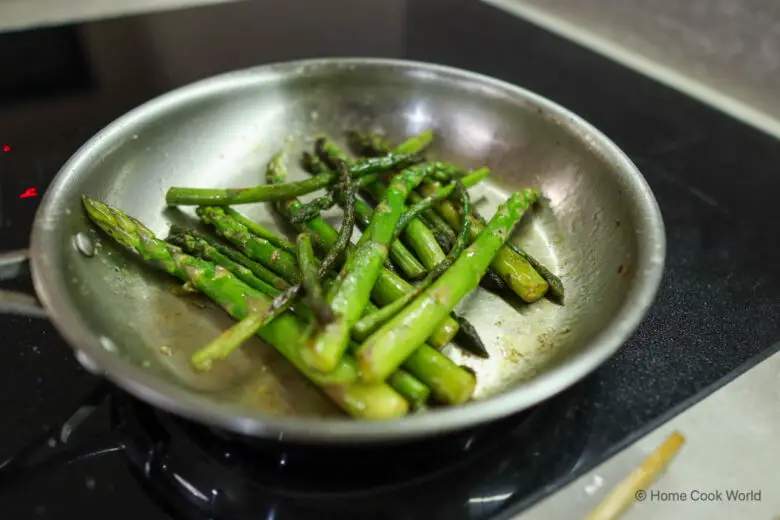 Compared to other cooking oils, like avocado and rice bran oil, extra virgin olive oil has a low smoke point. If you heat it above 375°F (190°C), it starts to break down and burn. So you want your frying pan hot enough to make the asparagus sizzle, but not hot to the extent where the oil in your pan starts to smoke.
Preheat your frying pan for 2-3 minutes over medium heat.
This gives you just enough time to clean the asparagus under running water and trim their ends off with a chef's knife on your cutting board. Don't make the mistake of snapping them in two by hand; you'll end up throwing more of them away than necessary. In most cases, there's no need to slice off more than ⅕ or ⅙ from each stick.
By now, your frying pan should be up to heat. Drizzle enough extra virgin olive oil to coat the bottom of the pan, without drenching the asparagus in it.
Add the asparagus to the pan and cook, tossing and turning every so often, for about 6-7 minutes. When they're slightly charred on the outside, but still sweating from the inside, that's how you know that they're done.
Plate and serve. You could complement them with curls of nutty Parmigiano-Reggiano or salty Pecorino Romano cheese. And/or serve them with ½ a slice of lemon per plate. As I told you at the start of this post, I like to keep mine simple.
Here's the recipe for those of you who want to rate, print, or pin it: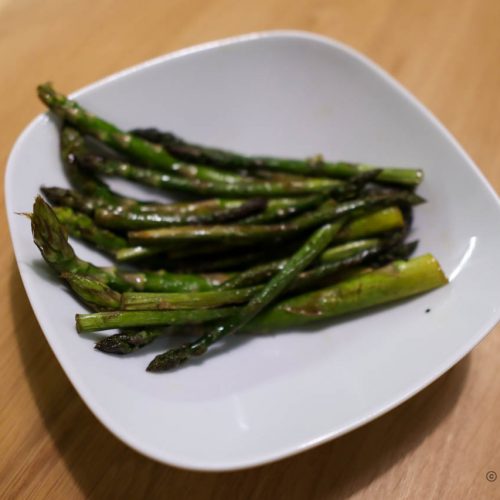 Sautéed Asparagus
The simplest sautéed asparagus recipe is also the tastiest. Come on over and try it out for yourself.
Equipment
Cutting board

Chef's knife

Frying pan

Spatula
Ingredients  
15

oz

asparagus

2

tbsp

olive oil

1

pinches

fine-grained sea salt

1

pinches

black peppercorn
Instructions 
Preheat your frying pan over medium heat for 2-3 minutes.

Clean the asparagus under running water, then line them up on your cutting board and slice the ends off with your chef's knife.

Drizzle extra virgin olive oil in your frying pan and add the asparagus, seasoning them generously with fine-grain sea salt and freshly-cracked black pepper.

Cook for 6-7 minutes, tossing and turning occasionally.
Nutrition
Serving:
400
g
Calories:
170
kcal