If you're looking for a new pan or pot, cast iron is one of your best options. Skillets and Dutch ovens made of cast iron are sturdy, durable, and heat up evenly. You can use them on your stove, in the oven, or on the outside grill. Since you can cook with them over a campfire, they also work great for camping trips.
The thing about cast iron cookware is that it's virtually indestructible. It can last you a lifetime and get handed down in your family for generations if you take the time to care for it well (by cleaning, seasoning, and storing it correctly).
When it comes to cookware, I abide by the rule of "buy nice or buy twice." With so many brands out there, it can be hard to tell which are worth your money—and which ones to steer clear from.
So I created this guide to help you out.
1. Lodge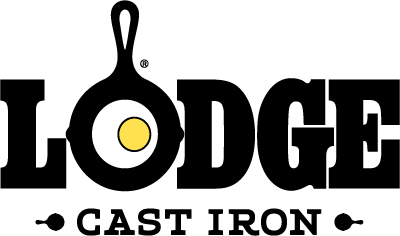 Lodge is an American cast iron cookware company and a fifth-generation family-owned business. It's known for its sturdy and affordable cast iron skillets made in its foundry in South Pittsburg, TN.
The history of Lodge dates back to 1896, when Joseph Lodge started the Blacklock Foundry in South Pittsburg in Marion County, Tennessee. His foundry made a wide range of cast iron products, including cast iron cookware.
In 1910, a fire sparked and destroyed the Blacklock Foundry. But Joseph and his family didn't give up. Three months after the fire, the business was back up and running as the cookware company I'm telling you about today: Lodge Cast Iron.
The Lodge family managed to keep the business afloat throughout the Great Depression in the 1930s. Eventually, the economy of the United States bounced back—and the foundry responded to growing demand by adopting an automated molding process to replace its hand-pour operations.
The Lodge logo many cast iron cookware owners will recognize, which consists of an egg frying in a cast iron skillet, was invented in 1973. The logo is still in use, although the company has updated it a few times over the years.
Since 2002, Lodge began pre-seasoning all of its cast iron cookware in the factory. If you buy a cast iron skillet made by Lodge, it will come pre-seasoned with 100% vegetable oil—taking away the burden of the first seasoning from you and making it ready to cook with.
The company started to make enameled cast iron cookware in 2005 (the cookware is made in the USA, but the enamel is made in China).
Today, Lodge makes cast iron and enameled cast iron cookware ranging from skillets and grill pans to Dutch ovens and burner/grill griddles. But ask any fan of the brand what it's best known for and, 99% of the time, they'll tell you it's their cast iron skillets.
My Lodge Pick
Sale
Lodge 10.25-Inch Cast Iron Skillet
One Lodge Pre-Seasoned 10.25 Inch Cast Iron Skillet
Unparalleled heat retention and even heating
Pre-seasoned with 100% natural vegetable oil
This Lodge skillet is large enough for one beef steak, pork chop, chicken breast, or salmon filet, giving you just enough room for comfortably flipping them over. It has a diameter of 10.25 inches, a depth of 3.5 inches, and weighs approximately 5 pounds.
The cooking surface is pre-seasoned with 100% natural oil, making it naturally non-stick. It's ready to use from the very moment you tear off the yellow care instructions from the skillet.
Cast iron cookware rarely gets more affordable and long-lasting than this one, folks. Get it while it's hot!
2. Le Creuset

Le Creuset is a French enameled cast iron cookware company. It's known as the maker of the highest-quality enameled cast iron skillets and cocottes (Dutch ovens) in the world.
In 1924, Belgium casting expert Armand Desaegher and enameling expert Octave Aubecq met at a trade fair in Brussels. The two found that they had much in common—and decided to team up to create a foundry that would enamel various cast iron cookware pieces.
They opened a foundry in Fresnoy le Grand, a small village in northern France not too far from the Belgian border, named it Le Creuset (meaning "the crucible"), and started producing their first porcelain-enameled cast iron pots in 1925.
Armand and Octave chose Fresnoy le Grand strategically; it was at the crossroads of the transportation routes for their production-critical supplies of coal residue, iron, and sand. That same year, they made their first cocotte (the French term for a Dutch oven).
From 1939 to 1945, Le Creuset survived World War II. With the world at peace again, the company decided to focus on making and selling mostly enameled cast iron cookware. In the 1950s, it began exporting its products internationally to Europe and the United States.
In 1965, the foundry replaced its manual casting workshop with semi-automatic machines. In 1974, it established a subsidiary in South Carolina called "Le Creuset of America Inc."
In the decades that followed, Le Creuset expanded to the United Kingdom, Germany, Belgium, and Australia, turning into one of the dominant players in the enameled cast iron cookware market.
Today, it continues to make cookware in its Fresnoy le Grand. Since materials and labor in Europe don't come cheap, this is also why Le Creuset, in comparison to American and Chinese brands, is also so pricey.
Ask any Le Creuset owner about the brand, and chances are that they'll ramble on for hours telling you why its colorful and versatile skillets and cocottes are worth the money.
My Le Creuset Pick
Sale
Le Creuset 6.7-Quart Dutch Oven
45% larger handles that provide a sure grip, even with oven mitts
The superior heat distribution and retention of le creuset enameled cast iron
An advanced sand-colored interior enamel with even more resistance to wear
Thanks to its superior heat distribution, Le Creuset's signature 6.75-quart Dutch oven is perfect for braising meat, roasting veggies, and cooking hearty stews.
Its ability to hold on to heat and distribute it evenly comes from the cast iron core. The enameled porcelain surface protects the metal from wear-and-tear and turns this piece into a colorful decorative item in your home kitchen.
This Dutch oven has dimensions of 14.8 x 15.3 x 6.8 inches and weighs 13.9 pounds in total.
3. Staub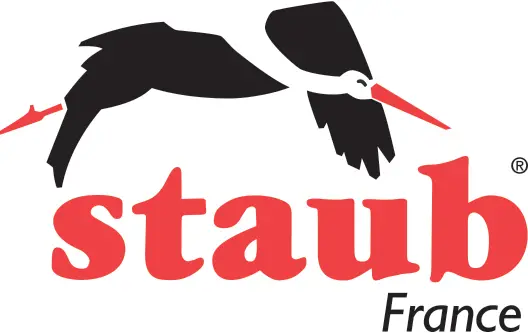 Staub is a French premium enameled cast iron cookware maker. Since 2008, it's owned by the German kitchenware company Zwilling J. A. Henckels.
Staub's history dates back to the year 1974, when Francis Staub made his first cocotte (Dutch oven) in a dormant artillery factory in Alsace, a historical region in northeastern France bordering Germany and Switzerland.
Francis led the company up until 2008. By that time, it had grown to $51.6 million in annual turnover and 430 employees. In June 2008, Staub was acquired by German kitchenware company Zwilling J. A. Henckels, but it continues to operate as an independent brand.
Staub makes iconic cocottes that come in many sizes and colors. One of its bestsellers is the 5.5-qt cocotte, ideal for tenderizing meat and slow-cooking hearty stews to perfection.
My Staub Pick
Staub 4-Quart Dutch Oven
Made in France
Heavy weight tight fitting lid retains moisture spikes on the lid create a rain forest effect evenly returning juices back onto food
Oven safe up to 900F/482C without lid Lids are oven safe up to 500F/260C
Made in France, this sturdy, durable, and beautiful piece of cookware will cook any meal and decorate any kitchen. It's suitable for all stovetops, incl. gas, electric, glass, and induction.
4. Merten & Storck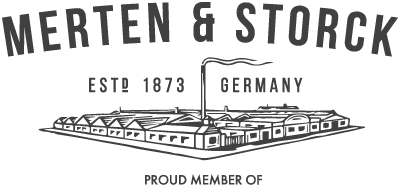 Merten & Storck is a German maker of carbon steel skillets and enameled iron Dutch ovens.
I can tell you from personal experience that their cookware is great. Yet, for one reason or another, tracing its history back turned out to be quite the challenge.
Here's what I managed to piece together.
It all goes back to the year 1873 in the city of Drensteinfurt, Germany, where engineers Franz Merten and Paul Storck made a Dutch oven out of enameled iron instead of cast iron.
Merten and Paul's enameled iron cookware turned out to be thinner, stronger, and on average 30% lighter than its counterparts made of cast iron.
Their company survived the First and Second World Wars—and grew to become one of the top manufacturers of carbon steel skillets and cast iron Dutch ovens in the world.
Today, Merten & Storck houses its 10,000 m² production facility and 3,000 m² warehouse in the outskirts of Drensteinfurt, where it's also the biggest employer with approximately 100 people.
P.S. By the way, if you're German and willing to help me out with the story, please leave a comment below to correct anything I may have gotten wrong or simply missed out on.
My Merten & Storck Pick
Merten & Storck 5.25-Quart Enameled Iron Dutch Oven
Crafted from German enameled iron—a thinner and less brittle material than cast iron that heats fast and evenly
30% lighter than the lightest premium cast iron ovens
GlazeGuard fuses high-quality enamel with the base material, creating a bond that's more chip-resistant than enameled cast iron
If you're looking for a high-quality Dutch oven at a reasonable price, look no further than Merten & Stock's German-made enameled iron cookware.
Each piece from this cookware brand is made by hand in Drensteinfurt, Germany. The coating is infused with GlazeGuard, a special material that creates a bond between the enamel and the iron that's better-resistant to chipping than its enameled cast iron counterparts.
In Conclusion
Lodge has always been my favorite cast iron cookware brand. Their USA-made skillets and grill pans are dirt-cheap and long-lasting, which is exactly what you're looking for when buying cast iron cookware.
When it comes to enameled cast iron, Le Creuset is the undisputed king. However, Staub gets a close second place thanks to the excellent price-to-quality ratio that their products offer. If you come across discounted cocottes from either of the two, don't hesitate to buy them.
Last but not least comes Merten & Storck. Just like a good German car, their enameled iron ovens are durable, lightweight, and highly performant. In general, they're also more affordable than their French counterparts—which, for some home cooks who don't want to break the bank when buying cookware, is a pretty important factor.
Which one did you end up buying? Share your thoughts and experiences in the comments form below.