Pizza Marinara, also known as pizza alla marinara, is a traditional Neapolitan-style pizza.
In its simplest form, this pizza is prepared with chunky San Marzano tomato sauce, Mediterranean sea salt flakes, extra virgin olive oil, and freshly-cracked black pepper.
To understand more about the origins of pizza Marinara, I dug deep into the European Commission's regulation no. 97/2010, which lists it as a traditional specialty of Italy.
Pizza Marinara came about in 1734 when the world's first pizzerias started to appear in Naples, Italy. Until the middle of the 20th century, it was exclusive to the city and its pizzerias. Over time, it spread to every other town in Italy and, eventually, abroad.
Humble and delightful, this pizza precedes all other recipes that have cheese and other toppings in them, like pizza Margherita. At first, it was a favorite among poor Italian sailors who made it on their ships thanks to its few and long-lasting ingredients.
The jury's out whether the original recipe includes garlic or not, yet you'll see on the ingredients list for many pizza Marinara recipes (not on this one, but, as always, you're free to make it yours by adding garlic to it).
Every now and then, I like to make this pizza to remind myself of the simple pleasures of la cucina povera Italiana (a term that translates as "the cooking of the poor in Italy," popularized in America to a large extent thanks to chef and restaurateur Mario Batali).
Serve it fresh from the oven and eat it when it's still hot!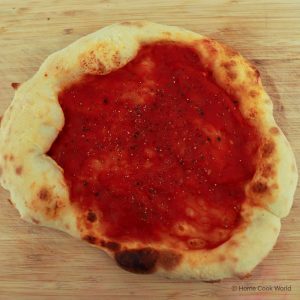 Pizza Marinara
Pizza Marinara is a traditional Neapolitan-style pizza. In its simplest form, it's prepared with salted tomato sauce and served with freshly-cracked black pepper.
Equipment
Pizza stone or baking steel

Pizza peel or thin cutting board

Oven
Ingredients  
7

oz

pizza dough

risen

5

oz

canned tomatoes

peeled plum tomatoes

0.5

tsp

salt

flake sea salt

0.25

tsp

black pepper

freshly cracked

1

tbsp

cornmeal
Instructions 
Crush the tomatoes by hand, season them with two generous pinches of salt—mixing with your fingers to dissolve the salt.

On a working surface that you've dusted lightly with cornmeal, shape the pie. Make a dough ball and press down on it, using your fingertips to push the air out to the crust.

Top with a generous amount of chunky Marinara sauce, making sure there's more near the crust and less in the center of the pie.

Bake in your oven preheated to a minimum temperature of 527°F (275°C) for at least 30 minutes. Ideally, bake on a pizza stone, pizza steel, or with a thick skillet.

Take out the oven in 5-6 minutes, or when the pie has puffed up, leopard black spots appear on the crust, and the tomato sauce has cooked slightly.

Season with a generous cracking of black peppercorn. Drizzle a bit of extra virgin olive oil on top. Slice and serve.
Nutrition
Serving:
6
oz
Calories:
350
kcal
For those of you who read this far, a few recommendations:
You can make this pizza with homemade or store-bought dough. Pizza purists will probably hate me for saying this, as long as the dough is made from a good flour and you let it rise for enough time, it won't really make that much of a difference.
To make frozen pizza dough from the store airy, I transfer it to the fridge for 1-2 days before shaping. This gives the yeast enough time to work its magic, enhancing the dough's flavor and filling it with air bubbles all over. Which, as you can tell by the photos, yields a pie no less appealing to the eye than the one you'd get from the best pizzeria in town!
The tomatoes are the star of this recipe—don't skimp on them. Consider my favorites, Cento San Marzano Organic Peeled Tomatoes. These whole plum tomatoes are canned in thick puree with a basil leaf, which gives them an extra aroma and flavor.
While the best pizza sauce, in my opinion, is chunky, those of you who don't like it that way can run their canned tomatoes through the blender instead of hand-crushing them. Doing so produces a uniform sauce for topping your pizza with.
Last but not least, use a good extra virgin olive oil. Two of my favorites, carried by most grocery stores, are De Cecco Classico Extra Virgin Olive Oil and the slightly more peppery Basso Extra Virgin Olive Oil.