Salty, sweet, and slightly bitter, this vegetable stew will quickly turn into a winter favorite for everyone in your household.
Nothing, and I mean nothing, can beat the taste of a hearty stew on a cold winter evening. For many of us, even the thought of stew conjures up images of beef in red wine. Yet a meatless stew, such as this one, can be just as filling and gratifying.
While adding red wine to stewed beef or white wine to braised chicken helps bind the fat and water molecules together, beer serves a different purpose with vegetables. When you use beer as the cooking liquid for a vegetable stew, it adds a certain earthiness and sophistication that the vegetables alone cannot provide.
Beer also adds a certain bitterness to the dish, which is balanced in this recipe by the use of red or white onions, dried peppers, and carrots. The result is a savory, sweet, slightly bitter vegetable stew with the tang of apple cider vinegar and the kick of chili flakes that combine to create a symphony of aromas and flavors that will make you—and everyone else at the table—go "wow!".
Try it out, and you will experience what I'm talking about first-hand.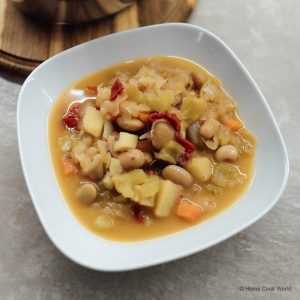 Beer-Stewed Vegetables
You will make this winter stew again and again, not only because it is rich in ingredients and easy to prepare, but also because it tastes amazing!
Ingredients  
7.5

oz

sauerkraut

1

can

beans

Lima beans

3

potatoes

Yukon golds or red

2

onions

white or red

3

cloves

garlic

1

carrot

1

apple

green or red

1

green pepper

1

dried sweet pepper

½

tsp

chili flakes

1

rib

celery

1

tbsp

sweet mustard

1

tbsp

vinegar

apple cider

1

cube

vegetable bouillon

50

fl oz

beer

lager

50

fl oz

water
Instructions 
Peel the potatoes, carrots, onions, garlic cloves, and green or red apple. Slice them, along with the green peppers and the celery rib, into equal-sized pieces about ½-inch big. Throw them in tall, empty stainless steel pot or an enameled Dutch oven.

Crush the dried sweet pepper by hand and tear it up into a dozen or so equal-sized pieces. Add the low-sodium canned beans, sauerkraut, bouillon cube, sweet mustard, apple cider vinegar, and chili flakes to the pot. Drown in equal parts lager beer and water.

Set the heat on your stove to medium-high, bring to a rolling boil, lid on, and give your stew-in-the-making an initial stir. Crack open the lid, lower the heat to medium, and let simmer for 1½ hours.
Substitution Guide
Sauerkraut isn't hard to get; any decent grocery store carries a brand or two of sauerkraut in cans or jars. If you don't have sauerkraut in your pantry, you can substitute it with sliced cabbage. The stew will come out sweeter and have less of a tang, but will taste just as good regardless.
Depending on where you live and which retailer you shop from, sweet mustard can mean many things. I've had success preparing this stew using Bavarian mustard, honey mustard, and dill mustard. Generally speaking, anything mustard variety that's not as hot as Dijon mustard should do.
Buttery and slightly sweet, Lima beans work best for this recipe. Still, nothing is stopping you from using navy beans or even red kidney beans in case that's what you have in the pantry. The bean varieties that won't work well for this recipe are black beans and green beans; their aroma and flavor just doesn't go with the rest of the stew.
Dried sweet peppers, unless you dry them yourself, can be kind of hard to come by. Some Italian and Jewish delis carry them; others not. When in doubt, substitute with a tablespoon or sweet paprika or, for a deep and smoky flavor, smoked paprika.
(Psst! You can add the same amount/type of sweetness by adding a couple of prunes to your stew.)
Customizing This Recipe
Try this recipe out with different kinds of beer and stick to the kind that you and your household like the most. Ideas for experimentation include cloudy varieties like witbier and Bavarian beer, as well as Irish red ale or India pale ale for a deeper aroma and more intense flavor.
Adjusting the beer-to-water ratio helps you turn the bitterness up or down depending on your personal preferences. When I'm making this stew for myself, I use 100% beer and no water. When wifey wants some of it, too, I add equal parts beer and water. Start with 50/50, a.k.a. the safest bet, and experiment from there.
Made More Than You All Can Eat?
The USDA's Food Safety and Inspection Service says that we shouldn't leave perishable foods out at room temperature for longer than 1-2 hours. Vegetable stew is no exception, and any leftovers should be chilled, transferred to a glass jar or a food storage container with the lid shut, and stored in the fridge—where it will keep for up to 3-4 days.
Frozen stew stays safe to eat indefinitely. However, the ingredients slowly but surely starts to lose their best aroma, flavor, and texture after a few months of freezing. When in doubt, write down the date of freezing on a label and stick it on the food storage container to know when to eat that stew all up, so that it's not past its prime.
You've voted for this post
Leave a comment