This Asturian bean stew is so delicious, you will make it on repeat over, and over, and over again this fall and winter.
When the weather turns chilly and you're in the mood for a hearty meal, try this recipe for Asturian pork and bean stew (or fabada asturiana, as it's called here in Spain).
For a dish so simple to prepare, this stew holds many wonders: There's the comforting smoothness of the beans. Then there's the richness of the three pieces of semi-cured meat that go into fabada asturiana: chorizo, panceta (or bacon), and morcillo (or blood sausage).
Combine all these ingredients in a slow-simmered stew enriched with lard and seasoned with salt and paprika, and you have the ultimate dish for winter—a hearty, savory hotchpotch of the aromas and flavors of the Spanish Asturias.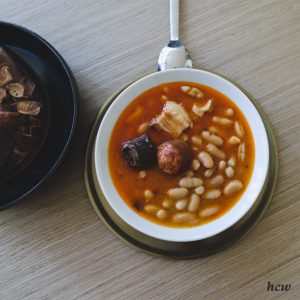 Fabada Asturiana
A hearty Spanish stew to enjoy on cold days.
Ingredients  
400

g

white beans

50

g

chorizo

50

g

morcilla

or blood sausage

50

g

panceta

or bacon

1

tbsp

lard

1

tbsp

paprika

sweet or hot

1

tbsp

salt

sea salt
Instructions 
Night before
Soak the beans in water and refrigerate overnight.
Day of cooking
Cut the meats into bite-sized pieces that can be easily picked up with a spoon.

Take the beans out of the fridge and drain them from the soaking water. Pour out the beans into a large pot. Add the chorizo, panceta, morcilla, lard, salt, and paprika. Fill up with water.

Turn the heat to medium and cover the pot. Leave the lid slightly ajar to let the steam escape.

Let simmer for 2-3 hours, stirring occasionally to keep the beans and meats from sticking to the bottom of the pot.

Remove from the heat and serve. Fabada Asturiana is to be enjoyed hot.
Notes
To add tang, squirt a dash of sherry vinegar before you slow-simmer the stew.
To add even more depth of flavor to your fabada, add a clove or two of garlic, one or two brown onions, a couple of carrots, and a teaspoon of smoked paprika.
The longer you let the Fabada Asturiana simmer, the more the flavors develop. Remember to add a little water if too much of it escapes in the form of steam.
Nutrition
Serving:
300
g
Calories:
450
kcal
Carbohydrates:
25
g
Protein:
20
g
Fat:
25
g
Fiber:
15
g
The key to a great fabada is to keep it simple.
Much of the richness of fabada asturiana comes from the fragrant fats and flavorsome juices released by the chorizo, panceta, and morcilla.
Those aromas and flavors seep into the cooking water and get soaked up the beans; an ingenious cooking method in which the ingredients do almost all of the work for you.
Allow the gentle heat to work its magic on the beans and meats as they meld together with the salt, paprika, and lard. Resist the temptation to throw in a bay leaf, a sprig of rosemary, or any other fresh herbs in your fridge and spices in your pantry.
Where Do They Eat Fabada?
Fabada, or Spanish pork and bean stew, is a dish that's traditionally cooked and eaten in the Principality of Asturias, a region in northwestern Spain known for its mountainous coastline, medieval architecture, and delicious food.
A hearty and filling dish, fabada is prepared in autumn and winter, when the weather gets cold and people long for comforting food that warms the body and soothes the soul.
You don't have to live in the Asturias to enjoy fabada, though. Many Spaniards who live in other regions of the country cook fabada for themselves and their families. If you find yourself in Spain, you can even pick canned fabada up in almost every supermarket.
What Ingredients Are in Fabada?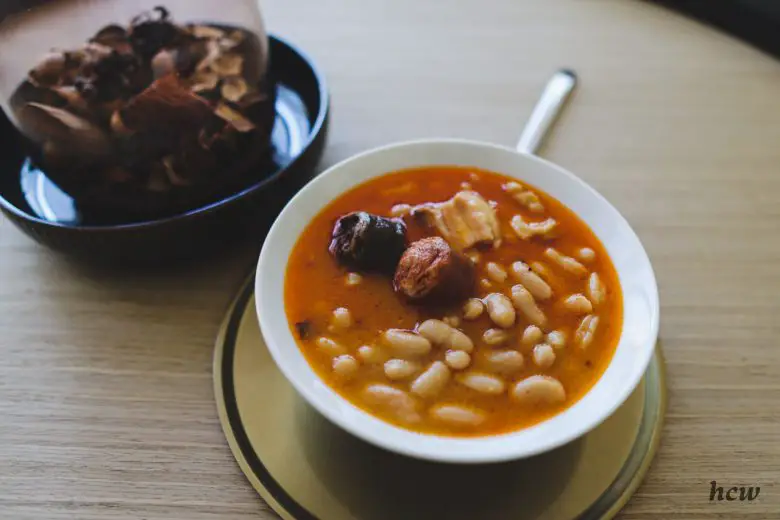 To make fabada asturiana, you need white beans, chorizo, panceta, morcilla, lard, salt, and paprika. You can substitute bacon for panceta, blood sausage for morcilla, and cooking oil for lard.
Some home cooks also add carrots, onions, and garlic to their fabada stew, and others throw in a bay leaf and a sprig or two of rosemary. As any other traditional dish, there are many ways to prepare fabada—and the one that's right for you is the one you like the most.
What to Pair With Fabada
When planning out tonight's dinner, remember that fabada asturiana is a main dish. It's best preceded by a mixed salad or a plate of cured meats and cheeses, served alongside bread, and followed by traditional dessert, such as Spanish sponge cake, buñuelos, or crema catalana.
Fragrant and flavorsome, a hot bowl of fabada asturiana stands up well to full-bodied red wines like Rioja or Ribera del Duero. Some prefer to pair it with Asturian cider.
How Long Can Fabada Asturiana Stay Out?
Cooked foods shouldn't be left at room temperature for more than 1-2 hours (the hotter it is outside, the shorter the time frame), and fabada is no exception. If you leave your fabada stew too long, dangerous bacteria can form in it and make it unsafe to eat.
If you cooked more fabada than you and your household can eat in a single meal, cool it down immediately and store it in the fridge, where it will stay good for 3 to 4 days. For the same reasons, don't let leftovers sit on the table for more than a couple of hours.
Fabada that's been at room temperature for more than 2 hours or stored in the fridge for more than 4 days should be discarded. The bacteria that cause food poisoning are not the same as those that make food spoil, so you've literally no way of telling if it's still safe to eat.
You've voted for this post
Leave a comment