Go-Tan sriracha is a mild red chili sauce. Though not deemed too strong, a teaspoon can be added to any dish you want to add a spicy kick to.
I think I may have found my new favorite hot sauce—sriracha sauce (pronounced suh-raa-chuh)—specifically Go-Tan's sriracha sauce. It goes well with a wide range of foods and is a fantastic way to enhance a meal with a spicy kick.
It can be found in the Asian (or international) foods section in supermarkets alongside other spices and sauces.
For Home Cook World readers who don't know much about sriracha, it's a red, spicy sauce primarily made from chili peppers. Some say it is like a spicy tomato sauce. What sets it apart from other hot sauces is the fact that it's fermented, which adds a tang and brings out the natural aromas and flavors from the peppers.
In this article, I will be reviewing Go-Tan's 380 ml (12.84 fl oz) bottle of sriracha.
Go-Tan's Sriracha Sauce Ingredients
According to the ingredients list on the back of Go-Tan's sriracha sauce, the ingredients include:
Red chili peppers (54%)
Sugar
Garlic
Salt
Water
Food acids (acetic acid, citric acid)
Flavor enhancer (monosodium glutamate)
Preservative (sodium benzoate)
Food manufacturers are required to list the ingredients in order of amount, and this sriracha sauce, apart from the flavor enhancer and the preservative, is among the more natural ones that we've tested.
Nutritional Values
Nutritional Values
Per 100 g (3.53 oz)
Energy
522 KJ/123 kca
Carbohydrates
27 g
of which sugars 23g
Proteins
2.1 g
Salt
7.3 g
Nutritional values for Go-Tan Sriracha Sauce
What Does Go-Tan's Sriracha Sauce Taste Like?
I've seen some reviews of sriracha sauce that say that it's 'tangy' and sweet. Go-Tan's sriracha, I would say, has more of a spicy taste and is more pepper-sweet than it is vinegar-tangy. Do note that the sweet taste is not overpowering, and you can definitely feel the heat.
Go-Tan's sriracha adds a Southeast Asian touch to whatever food you add it to. Adding a small amount (i.e., a teaspoonful) to your cooking will not necessarily make it massively spicy (this comes down to your tolerance), but it will add some nice flavor.
How Spicy Is Go-Tan's Sriracha Sauce?
Sriracha sauce is generally not considered too spicy, but of course, this depends on your tolerance of spicy food. Sriracha sauce tends to range between 1,000 and 2,500 Scoville heat units, which is not considered too spicy.
How much sriracha you should use depends on what you are making and the size of the dish. Generally speaking, you don't need to add too much Go-Tan sriracha to give it a spicy boost. A generous squeeze or two should do the trick.
If you haven't tried Go-Tan's sriracha before, it would be wise to taste it before deciding how much to use to understand how spicy it is. It is one notch hotter than other sauces we've tested, so take baby steps at first.
What Are the Best Uses of Go-Tan's Sriracha Sauce?
Though sriracha sauce originates from Thailand (its origins are debated), it can be used in a wide variety of ways.
The first thing I tried with Go-Tan's sriracha was scrambled eggs. For two eggs, I added one teaspoon of sriracha, and it worked like a charm. I wouldn't say that it made the eggs spicy, but it added a lovely taste.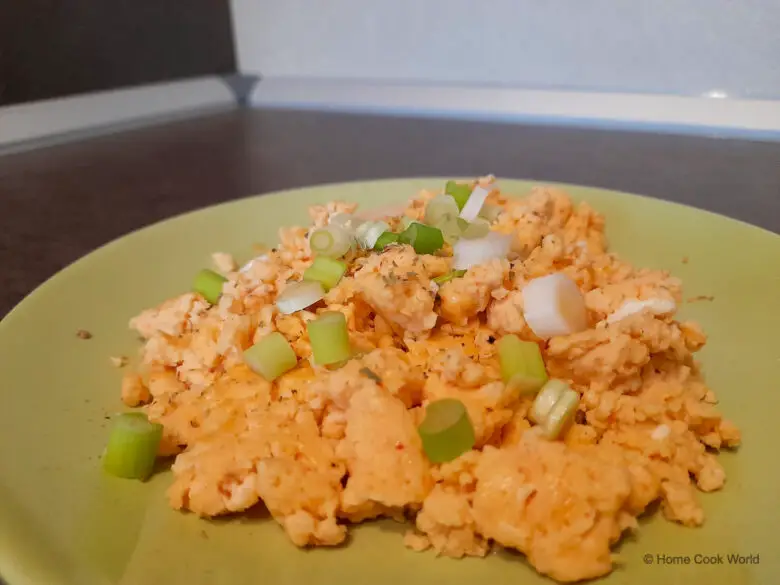 The next thing I tried to make was chicken noodles, which also worked really well. I also added some onion, garlic, and ginger. Cashews could also be added. And again, one teaspoon was enough (add too much, and the spice easily becomes overpowering).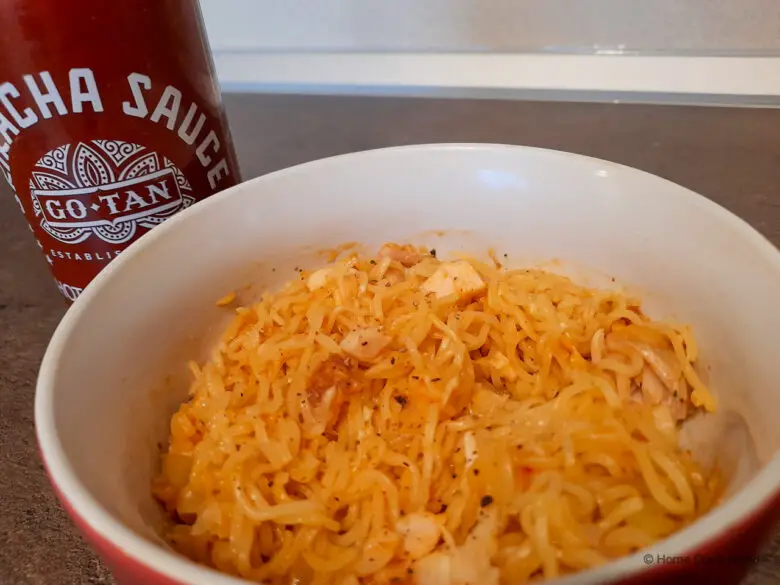 What you you will almost immediately notice when you add this sriracha sauce to any dish is that it paints it with a reddish, smoked-paprika-like color. Mix well; that color can also be a good cue for how well you've sauced your dish.
Go-Tan's website also recommends several diverse ways you can use their sriracha sauce, including on pizza, in burgers,, hot dogs, burritos, tortillas, nachos. Another use that quickly turned into one of my favorite salmon dishes was sriracha-honey salmon (below).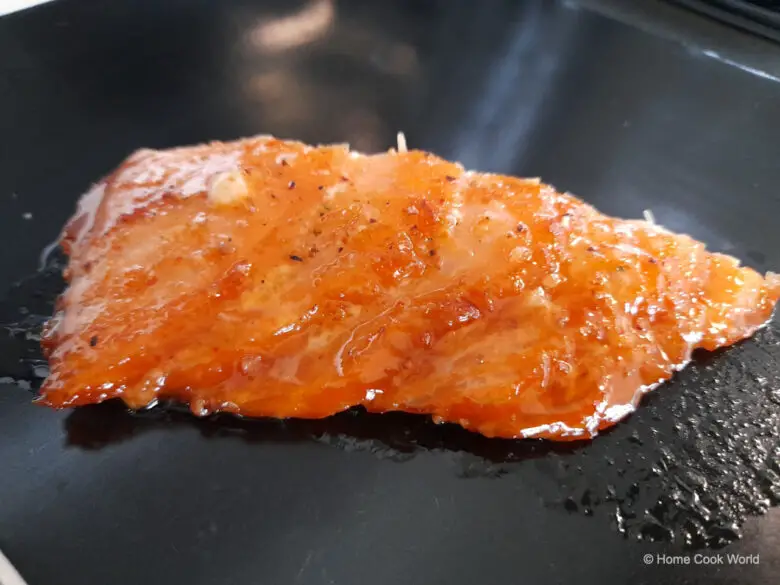 It can more or less be used with anything you'd like to add an extra spicy kick to. Go-Tan's website also features three recipes that can be used with their sriracha sauce: Singapore noodles, Thai salad with prawns and vermicelli, and chicken with honey and sriracha.
Bethany Moncel of The Spruce Eats also lists several other ways sriracha can be used:
As a dipping sauce. The original and most common way.
Sauces. Combine it with other ingredients to create a new sauce. Works well with creamy sauces.
Soups and stews.
Meats and marinades.
Eggs and cheese.
But what doesn't go well with sriracha? Well, according to Amiel Stanek of Bon Appétit says—perhaps unsurprisingly—cake, yogurt and fresh berries, and coffee all taste horrible with sriracha. That said, vanilla ice cream supposedly works very well.
How to Apply Go-Tan's Sriracha Sauce
Go-Tan's 380 ml (12.84 fl oz) sriracha sauce comes in a squeeze bottle. When you first use the product, remove the plastic covering under the green lid (or no matter how hard you squeeze, nothing is going to come out).
When adding sauce, pull the lid upwards, and squeeze the sauce out, and make sure to close the lid after to keep the sauce fresh.
Note: often when you use Go-Tan's sriracha, there will be a little bit of sauce left on the top of the lid. It is best to wipe/rinse this off as it probably won't taste too good if it falls in your food upon next use.
How to Store Go-Tan's Sriracha Sauce
According to the instructions on the bottle, Go-Tan's sriracha can be kept at room temperature after opening and should be used up within 3 months. It does not need to be refrigerated and it can be left out, and it is unclear if refrigerating will help it last any longer.
(That being said, our recommendation is to nevertheless store the sauce in the fridge doors. The door is the warmest area in your fridge and where the temperature fluctuates the most, but this sauce can handle it.)
If you pour some sriracha sauce out and leave it, it will harden in a similar way to ketchup. So, remember to close the lid after using it.
And, of course, check the bottle for the "best before" date.
Who Makes Go-Tan Sriracha Sauce?
According to Go-Tan's "Our Story" page, they are a Dutch company founded by the Go family, who are of mixed Indonesian, Chinese and Indian background who specialize in Asian foods products, such as sriracha sauce.
The Go family immigrated to the Netherlands in the 1950s from the Indonesian island of Java. In 1954, they founded an Indonesian bakery out of their garage. That bakery grew and, just two years after, the family moved house—and production—to Amsterdam.
Go-Tan also makes stir-fry sauce, sweet chili sauce, soy sauce, egg noodles, and a number of Indonesian snacks and sides.
The Bottom Line
So, is Go-Tan Sriracha sauce any good?
The long answer short is, "yes." Go-Tan's sriracha sauce is an excellent mild chili sauce that can be used in many different ways, including as a dip or cooked into a meal. It comes in a squeezy bottle and is easy to apply, and it can last a few months out at room temperature.
Though associated with Southeast Asia, it works with a variety of flavors from meats to fish and from noodles to eggs. It's also a perfect condiment for burgers, hot dogs, and sub sandwiches.
You've voted for this post
Leave a comment