Has IKEA truly managed to make an affordable frying pan for everyday use in the home kitchen? We tested the IKEA 365+ pan, and here's our opinion.
I'm willing to bet that cookware isn't the first thing that comes to mind when you think of IKEA. But if you look around the cookware section of your local IKEA store, I guarantee you'll be surprised by the selection.
IKEA has several series of cookware, starting with the entry-level KAVALKAD and HEMLAGAD, through the mid-range 365+ and VARGADEN, to the high-end HEMKOMST, HUSKNUT, and SENSUELL.
After testing the Swedish furniture manufacturer's VARDAGEN pan, a carbon steel skillet that earned a permanent place in my heart, I moved on to test the 365+ non-stick frying pan. For my impressions and final verdict, read on below.
The long story short:
The IKEA 365+ is an affordable frying pan with a non-stick coating for everyday cooking. It has a durable Teflon coating, stainless steel body, and aluminum bottom for faster and more even heating.
It's a sensible choice for home cooks who want a "good enough" non-stick pan in their kitchen, and it's available in three sizes: 9-inch diameter for $15.99, 11-inch diameter for $19.99, and 13-inch diameter for $24.99.
The details:
My family and friends are always surprised when I tell them that IKEA makes not only good furniture but also decent cookware at a fair price. 
As a matter of fact, if you want to equip your kitchen with new pans and pots and do it at a bargain, the cookware section of the Swedish furniture store is one of the first places where you should go.
One make and model in particular over-delivers:
The IKEA 365+ is a disc-bottomed frypan with an aluminum base, stainless steel body and handle, and a Teflon non-stick coating that doesn't scratch easily and stays slick for a long time.
The weight of this pan's body is distributed well, and although there's a slight pull from the other side when you're holding it, it's easy to lift, carry, maneuver, and tilt, especially for the demands and needs of home cooking.
The stainless steel handle features a hole for easy hanging and is attached to the body with three sturdy rivets. Food residue and cooking liquids get stuck and baked on in the spaces between the rivets and the pan's body, so you have to clean them thoroughly after each use.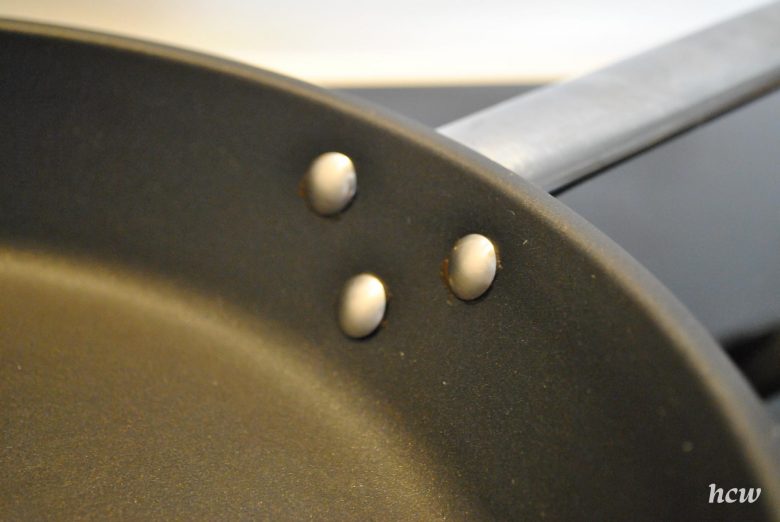 Note: This drawback is not specific to the IKEA 365+ frying pan but rather to pans and pots with riveted handles as a whole.
The IKEA 365+ frying pan is compatible with any type of cooktop, including gas, electric coil, electric radiant, and induction, and it's suitable for use in the oven. IKEA doesn't specify a maximum temperature in the usage and care instructions. Even so, it isn't a good idea to expose non-stick coatings to the broiler or an oven set to maximum heat.
I tested this pan on a Whirlpool 6th Sense induction cooktop, and, considering its plate-bottom construction and economical price tag, it performed admirably. It heated quickly and evenly.
Of course, the heating on the IKEA 365+ wasn't as fast nor as even as that of HEMKOMST's clad stainless steel pan, but it was fast and even enough if you're somebody who just wants a good frying pan.
Besides, if you don't know what clad cookware is, you probably don't need clad stainless steel cookware… unless you want to find out and start spending more money on these things without ever being able to turn back, as happened to me years ago.
Just don't say I didn't warn you!
Sticky foods glide across the cooking surface of this frying pan with little to no resistance, whether or not you've previously greased it with cooking oil. Eggs, fish fillets, bacon strips, crêpes, and pancakes can be prepared with ease and no fear of tearing them apart.
Cleaning up after cooking is a breeze. Just wait until the pan has cooled, so it's still warm but no longer too hot to touch, then wash it off with warm, soapy water and a soft, non-abrasive sponge. The food residue will come right off the non-stick coating.
If you're feeling lazy and haven't cooked a messy meal in the pan, you can also just wipe the cooking surface with a couple of paper towels. Just remember that the pan isn't supposed to go in the dishwasher. The harsh cleaning cycles and the floating utensils in the water can scratch and damage the otherwise good non-stick coating.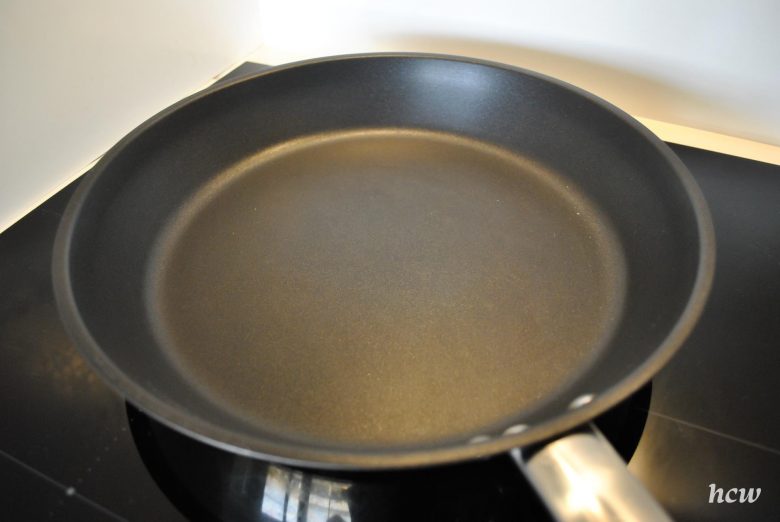 The stainless steel handle lets this pan move freely from the stovetop to your oven. However, it also tends to get hot if you cook with the pan for long periods of time. To avoid burning your hand, keep a kitchen towel handy and use it to hold the handle.
Thanks to its skillet shape, this frying pan is suitable for searing steaks and sautéing mushrooms as well as cooking pasta in sauce and preparing sauces. Know that you absolutely must use utensils made of silicone or wood, as the sharp edges of a metal fork or spatula will scratch the material of the coating.
What stuck with me from cooking with the IKEA 365+ pan was the quality of the non-stick coating. I used and abused it daily over a 45-day test period. The coating remained slick and smooth and showed no scratches. For the price you pay, the reliability of this pan is outstanding.
You've voted for this post
Leave a comment