Balsamic vinegar is a dark-colored, velvety-textured, and complex-flavored vinegar made from grape must, the freshly crushed grape juice with all the skins, seeds, and stems.
Thanks to its agrodolce (sweet and sour) taste, it's one of the best vinegar varieties for dressing salads, brightening up grilled or sautéed vegetables, as well as marinating or glazing meat, poultry, and seafood.
Originating from Italy, balsamic vinegar is traditionally made only in the cities of Modena, population 184,727 (2017), and Reggio Emilia, 171,491 (2017), in the northern Emilia-Romagna region.
As with all authentic Italian ingredients and condiments, high-quality balsamic vinegar very often has nothing to do with the rip-offs you get at the supermarket and, at the end of the day, can be notoriously hard to find.
There is, of course, the occasional exception to the rule. Every now and then, a balsamic vinegar brand carried by most grocery stores will turn out to be surprisingly good (and you won't have to break the bank to stock your pantry with it).
In this review, I'm going to tell you about one of those exceptions, which I've been cooking with for the past few weeks: Ponti's Aceto Balsamico di Modena P.G.I.
Ponti is an Italian family business that's been producing and selling vinegar for 230 years. Its story goes back to 1787 when Giovanni Battista del Ponte sold his first bottle of vinegar.
His condiments quickly grew popular with the locals. In 1795, Ponti opened a small vinegar factory in the commune of Sizzano, population 1,474 (2017), in the mountainous Italian region at the foot of the Alps named Piedmont.
The business was handed down from one generation to another. In 1903, Giovanni's grandson, Antonio Ponti, built a new factory for the industrial-scale production of vinegar in Sizzano. The family's vinegar received a number of awards at trade fairs, including the Diploma of Honour for "wines and vinegars" at the Paris International Fair in 1911.
Having survived World War I and II, the Ponti family opened a new factory in the province of Novara in 1948. In a new world of peace and globalization, the next generation of owners embarked on an international expansion and portfolio diversification, opening new production plans and introducing new vinegars to their line of products.
Fast-forward to today, and Ponti is a 9th-generation family-run business with a global footprint focusing on increasingly sustainable and responsible production.
It definitely passes my "Who am I supporting when I buy this" test.
I came across this company's balsamic vinegar at the grocery store, and, at first, the way the bottle looked caught my eye.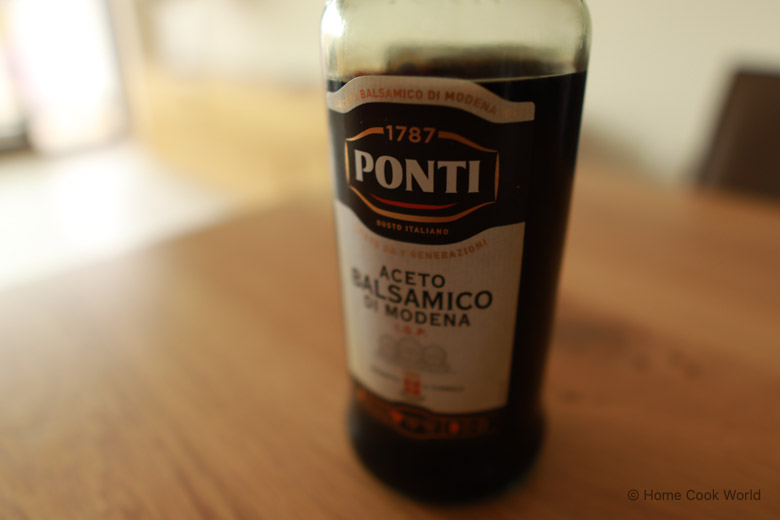 As I looked more closely at the front label, I liked the transparency that Ponti gave me with the three indicators on the bottom: hourglass for maturation, grapes for must, and "D" for density.
The ingredients list gave me less to be excited about it. This balsamic vinegar is made of wine vinegar, concentrated grape must, cooked grape must, and E150d, an acid-resistant caramel coloring also known as sulfite ammonia caramel.
"Vinegar makers," as De Nigris, another Italian vinegar maker, writes on its website, "add caramel color to keep the beautiful brown consistent across all batches." Since the jury's out when it comes to caramel coloring's harmlessness, some manufactures omit it whenever possible.
E150d, as one study says, "is a food additive used to increase palatability and impart color to foods and drinks. Known as 'caramel dye', it contains 4-methylimidazole, a cytotoxic molecule for animal models and human." When something is cytotoxic, this means that it contains chemicals toxic to your cells.
When I compared the ingredients lists of the rest of the balsamic vinegars sold at its price point, they all seemed to have E150d on them. I guess that's the price we all have to pay to get condiments that would otherwise require us to splurge at an affordable price.
So I grabbed a 16.7 oz bottle of Ponti Balsamic Vinegar of Modena in my shopping cart, brought it back home, and decided to give it a shot. It's been two-three weeks since and, truth be told, I'm glad I chose to.
Ponti Aceto Balsamico di Modena P.G.I. has an acidity level of 6% and is typically sold in glass bottles of three sizes: 8.45 fl oz (250 ml), 16.9 fl oz (500 ml), and 33.8 fl oz (1 l). I find the mid-size the most practical, as it lasts for a long time but doesn't take up too much space.
Remember to store balsamic vinegar in a cool and dry place, like in your pantry or inside a kitchen cabinet, avoiding sunlit areas like your windowsill and keeping away from the heat of your stove or oven.
According to Ponti, this balsamic vinegar has been obtained from the acetification of grape must from 7 varieties. Then, in a step I believe is what makes this product so affordable, it's been diluted with wine vinegar.
What Does P.G.I. Stand For?
The P.G.I. stands for "Protected Geographic Indication" (abbreviated I.G.P. for Indicazione Geografica Protetta in Italian), a status given by the Italian government and European Union to foods and beverages that meet minimum requirements for authenticity and quality.
Any balsamic vinegar that calls itself Balsamic Vinegar of Modena P.G.I. conforms to the strict production specifications approved by the Italian Ministry of Agriculture and Forestry. It must be produced solely in cellars of the provinces of Modena and Reggio Emilia, with grape musts from the 7 locally cultivated grape varieties in the Emilia Romagna region: Lambrusco, Sangiovese, Trebbiano, Albana, Ancellotta, Fortana and Montuni.
Is It Good Balsamic Vinegar?
Ponti's balsamic vinegar is produced in its modern factory in Vignola, a small city with a population of 25,383 (2017) in the province of Modena. Vignola's economy of based mainly on agriculture (primarily grape production).
So, the caramel coloring to keep the consistency of color between batches aside, you're getting a pretty authentic and traditional vinegar when you buy this one.
And it shows. Its pleasures start long before you've even tasted it. As soon as you've opened the bottle and drizzled some of it on your salad or veggies, it fills the air of your kitchen with a tart, slightly sweet aroma of sour wine and grape must.
What I liked about this product overall was its viscosity, tartness, and fragrance. As far as store-bought bottles of balsamic vinegars go, this one offers you with a reasonable price/quality ratio.
Those of you who are really into balsamic vinegar know what I'm talking about.
Unless you buy ridiculously expensive vinegar from an Italian deli or a specialized online store, it can be hard to find one that isn't too watered down or that's not lacking the intensity of aroma and deepness of flavor you're looking for in vinegar of this kind.
This one performs exceptionally well. By far, my favorite uses for it include dressing cherry tomato and rocket salad, glazing salmon fillets in my frying pan, and slow-marinating cheaper cuts of beef to tender perfection.
The Bottom Line
If you like balsamic vinegar, give Ponti Balsamic Vinegar of Modena a try. It's tarty, distinctly sweet, and captivatingly aromatic. Considering that it carries a P.G.I. seal for authenticity and origin, it also retails for a reasonable price.