Three chefs tell us what they cook for themselves when they're at home. Spoiler alert: their answers will surprise you.
When they're at home, do chefs still cook for themselves? What kind of food do they eat?
If you're half as curious as I am, that's the kind of questions that race through your mind while you're cooking tagliatelle and anchovies for dinner on a Tuesday.
To find out the answers, I spoke to three chefs: Charlie McKenna of Lillie's Q in Chicago, Illinois, Faisal Aldeleigan of Chef Faisal Consultancy in Bahrain, and Chris Koetke of Ajinomoto Health & Nutrition North America, Inc.
Unless you have a chef in your friend circle, you may think that chefs eat only the most expensive, most elaborate meals at home. But the truth is that chefs eat a variety of foods, and the meals they make for themselves and their families are a little different from the meticulously-prepared dishes in their restaurants.
You may also think that, since chefs are always busy preparing food for others, they don't really eat all that much outside their kitchens. In some cases, you would be right. Many chefs, however, have families of their own to feed, and they choose to do so healthily, with a wide variety of food.
It turns out that chefs—the culinary professionals who source and cook food for a living that they are—have a taste for everything from butcher-shop meat and grocery-store produce to late-night snacks like tuna melt and guilty-pleasure foods like peanut butter.
Charlie McKenna, Lillie's Q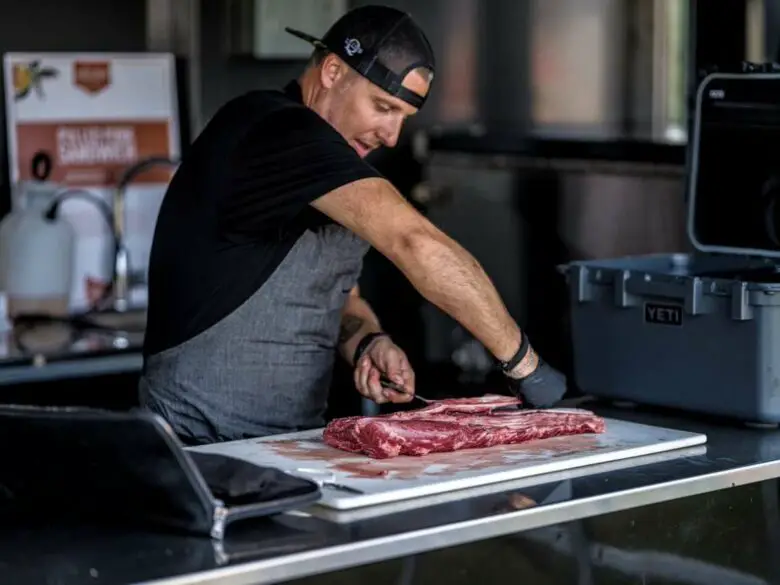 "There are some really simple small meals I like to eat that anyone can make," says Charlie McKenna, Founder and Chef of Lillie's Q, a Southern BBQ restaurant in Chicago, Illinois, and maker of sauces, dry rubs, and more.
McKenna likes to think of these as "in-between meals," but they are basically hearty snacks. "One that I personally love is peanut butter and sriracha sandwiches, which I eat if I'm hungry at night. Sometimes, even just half is perfect."
Growing up in Greenville, South Carolina, Charlie McKenna learned very early on about the art of true Southern BBQ. His grandmother Lillie—who taught him how to cook—made sure of it.
After attending Florida State University, McKenna graduated from New York's Culinary Institute of America (CIA). He honed his skills in cooking under a number of renowned chefs until, in 2010, he opened his flagship Chicago restaurant.
"Another one I love is plain Greek yogurt with tomato jam (or another savory sauce you have on hand) and crushed crackers or chips on top. Add avocado if you have it."
When you are in a hurry, McKenna tells me, the best thing to eat is something "quick and easy that can be made with the ingredients you already have. The things you can do with just good bread, hot sauce, plain Greek yogurt, and nut butters are awesome!"
So what does McKenna cook up when he has friends and family over? "At home, in winter, I love doing slow-cooked dishes: chili, pulled pork, pulled chicken, and roasted vegetables. No reason to stop the party just because it's cold out!"
Faisal Aldeleigan, Chef Faisal Consultancy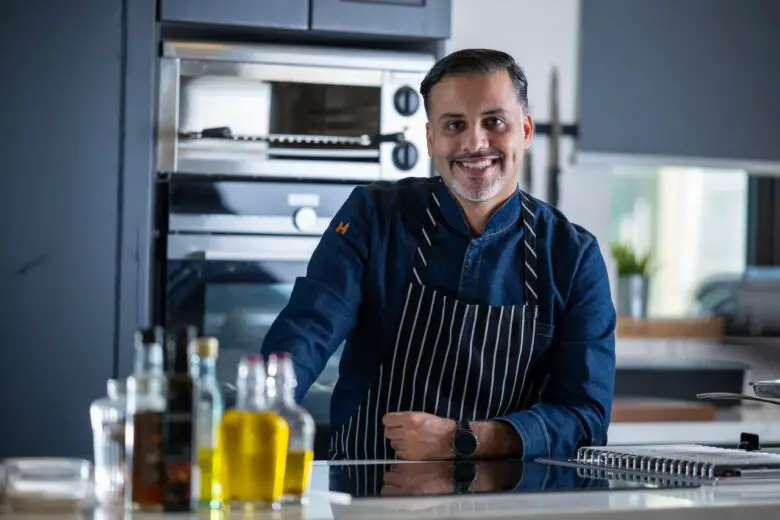 Faisal Aldeleigan, who gave up a successful, ten-year run in banking to follow his passion for food and start the Chef Faisal Consultancy in Bahrain, says he is "mainly eating very lite dishes and the focus is on four things: beef, chicken, and fish protein plus vegetables."
For the past 11 years, Aldeleigan has mentored and tutored fast-food and casual-dining restaurants of various sizes in Bahrain, Saudi Arabia, as well as the Capital City of Riyadh.
Aldeleigan cooks beef and sautéed vegetables, such as asparagus, baby carrots, broccoli, and/or leeks. On the following day, you'd see him eating grilled chicken and mashed potatoes with mushroom sauce. The meal on the day after would be fish paired with white rice or steamed cauliflower.
Then, he either repeats, or he switches up his menu with salads, pastas, and sandwiches, often made with the same base of ingredients. "I am trying my best to put healthy options to myself and my family but, again, I like classic and basic meals," Aldeleigan adds.
Asked about tips for preparing these dishes, Aldeleigan says "it's very important that all of the vegetables you are using be cut to the same size, to give them a chance to cook evenly."
When sautéing in butter, the chef recommends adding a little olive oil so that it won't burn. Using fresh herbs like thyme and rosemary, he suggests, "gives a nice touch to your protein and your veggies."
"With a busy life you need a meal to not take longer then half an hour. So, if you have prepared your ingredients in advance, store them in the fridge, and keep a good variety of homemade sauces, you will never get bored from repeating the same meals!"
Chris Koetke, Ajinomoto North America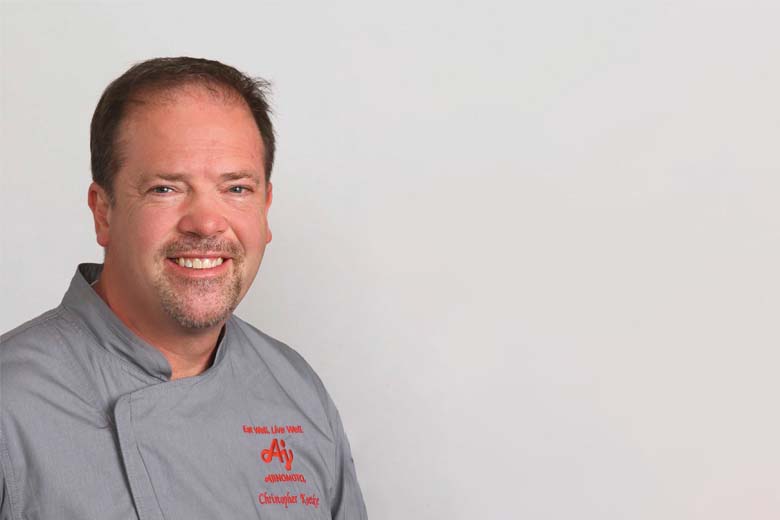 Chris Koetke, Executive Chef at Ajinomoto Health & Nutrition North America, Inc., shares two family-favorite recipes with our readers.
He learned his craft the old-fashioned way, he tells me, working in kitchens and learning on the job. Prior, he was the executive chef at Les Nomades in Chicago for five years and also worked at the famed Le Francais restaurant in Wheeling, Illinois.
Recipe no. 1 is for nomlette, a noodle omelet (or a spaghetti-and-egg frittata, based on how you look at it), and recipe no. 2 for his guilty pleasure, tuna melt perfected by his son one late night, and enjoyed by everyone else in the household ever since.
Nomlette:
"The first is for a nomlette, which is our family's made-up word for a noodle omelet," Koetke says. "It's really more of a frittata, but, as things happen at home, it is now a nomlette."
Koetke sautées ¼ onion in a medium-heat sauté pan with 2 tablespoons olive oil until softened and lightly browned. Then, he adds 2 cloves minced garlic and sautées for another 30 seconds before adding 3 cups boiled spaghetti and cooks, stirring frequently, for another 2 minutes.
He whisks together 8 eggs, ¼ teaspoon salt, ¼ teaspoon MSG, and several pinches of black pepper in a separate bowl. He pours the eggs over the hot pasta in the sauté pan, adds ½ cup grated parmesan cheese and ½ cubed ham or turkey lunch meat, and stirs lightly until the eggs start to cook on the bottom of the pan.
He covers the pan, lowers the heat, and cooks for about 7 minutes or until the bottom of the dish is lightly browned and the eggs have started to solidify.
At that moment, he removes the lid and places a plate on top of the nomlette. Holding the plate firmly to the top of the sauté pan, he flips the nomlette onto the plate and slides it right back to continue cooking it on the other side, which was previously on top, for about 2 minutes.
Once cooked, he slides the nomlette onto a plate and serves it with tomato sauce.
Tuna melt:
"My guilty pleasure is actually something that my son made for me one late night," Koetke confides in me.
"We have all had plenty of tuna melts over the years, most of which were boring. That is until I tasted my son's. The trick here is lots of pungent and umami flavors in the tuna mixture and putting it on French bread."
"The other big thing here is how he cooked it on the grill. It was perfect. Melty cheese, warmed tuna, and a super crunchy bread bottom. When I was traveling a lot, he would make this for me when I got home—even if it were at 1 AM!"
The recipe goes as follows:
Combine 2-5 ounces canned tuna, well-drained, 1½ teaspoons Dijon mustard, 1½ teaspoons horseradish, 5 tablespoons mayonnaise, sriracha sauce to taste, 1/8 teaspoon black pepper, and 1/8 teaspoon MSG, mixing gently until well combined.
Split a couple of 5-inch pieces of crusty French bread to make four open-faced pieces. Spread the tuna mixture on the four slices of bread, topping with thin slices of sharp cheddar cheese.
Place the tuna melts on the warming rack of a grill set at high heat. Cover the grill and cook until the cheese is neatly melted and the bottom of the bread is crunchy. Remove from the oven and serve immediately.
P.S. Nomlet or nomlette? What's the correct spelling and preparation technique? Letting you be the judge of that.
The Bottom Line
You don't need a culinary degree or experience in a professional kitchen to cook delicious food for yourself and your family at home. But you can draw inspiration from the professionals and keep your home-cooked meals as they should be: simple, enjoyable, and tailored to your lifestyle.