I've been cooking with a 9.4-inch (24-centimeter) Beka Chef stainless steel frying pan for about an year, and, in this post, I'd like to share my experiences with and impression of it with you.
Cookware companies like to name their product lines boldly, and this one makes no exception. The name Chef implies that these cooking vessels are created for professionals to use, perhaps even in the heat of their restaurant kitchens.
While I'm not one myself—I'm a self-taught home cook with two decades of trial and error behind me—I'm not certain most of my chef friends who swear by their clad pans and pots would agree. But more on that below.
Still, this is a pretty good pan.
This pan is compatible with gas, electric, ceramic, and induction cooktops. It's oven friendly up to 392°F (200°C), though I've used it more than once to make pan pizza at 527°F (275°C). And, as is the case with almost all present-day stainless steel cookware, dishwasher-safe.
It comes in five sizes: 7.8 in (20 cm), 9.4 in (24 cm), 10.2 in (26 cm), 11 in (28 cm), and 11.8 in (30 cm).
But is it worth the money ($62 at a big online retailer on the day of publishing this review)?
Beka Chef is a disc-bottomed stainless steel pan that heats evenly and can withstand the use and abuse of daily cooking. While professional chefs would probably go for higher-end clad cookware, this pan is a sensible choice for most home cooks.
Still, if you are a seasoned home cook who's already built up an impressive collection of cookware from brands in the likes of All-Clad, Le Creuset, or Mauviel, there's a slight chance that you'll end up disappointed with your purchase.
What do I mean by that, exactly?
This pan seems better suited for novice and intermediate home cooks: those who know their way 'round the kitchen and cook daily, browning thick-cut steak and shallow-frying Greek zucchini fritters, but don't necessarily have pro tricks and techniques up their sleeve.
If you toss and turn foods in your pan like a pro, seldom reaching for a spoon or a spatula, you might want to choose a pan that's lighter and easier to maneuver, like a clad one or one made from carbon steel.
Is It Well-Built? Are the Materials High Quality?
Two of the most important things to consider when buying a stainless steel frying pan are, on the one hand, the quality of the steel that it's made from (18/10, 18/8, or 18/0) and, on the other, the type of construction (disc-bottomed or fully-clad).
To a large extent, the quality of stainless steel is determined by its chromium and nickel content, which not only gives it a metallic sheen but, more importantly, protects it from corrosion and rust.
The French like to call stainless steel "inox" because true stainless steel is "in-oxidizable," meaning that these cooking vessels can last you a lifetime despite their continual exposure to the oxygen in the air—or the water and acidity in the broths, gravies, and pan sauces that boil in them.
Manufacturers use three types of stainless steel in their cooking vessels. 
There's 18/10 stainless steel with a content of 18% chromium and 10% nickel. Then there's 18/8 and 18/0 stainless steel, respectively, with 18% chromium and 8% nickel, and 18% chromium and < 0.7% nickel.
18/10 is the highest quality steel as it has the highest level of corrosion and rust protection. 18/8 stands right there in the middle, and 18/0 is considered low-grade.
Knowing that, which grade of steel should you expect to find in this pan?
The Beka Chef frying pan, in particular, is made of 18/10 stainless steel, which you can easily recognize by its polished look and feel. This gives it optimal durability and superior protection against corrosion and rust.
After using this pan daily for one year—and cleaning it in the dishwasher almost every evening without exception—it still looks spick and span.
There's no sign of damage apart from the rivets on the handle on the exterior side, which have caught a matte grayish patina, which I assume has happened due to oxidation and/or the chemical harshness of the dishwasher detergent.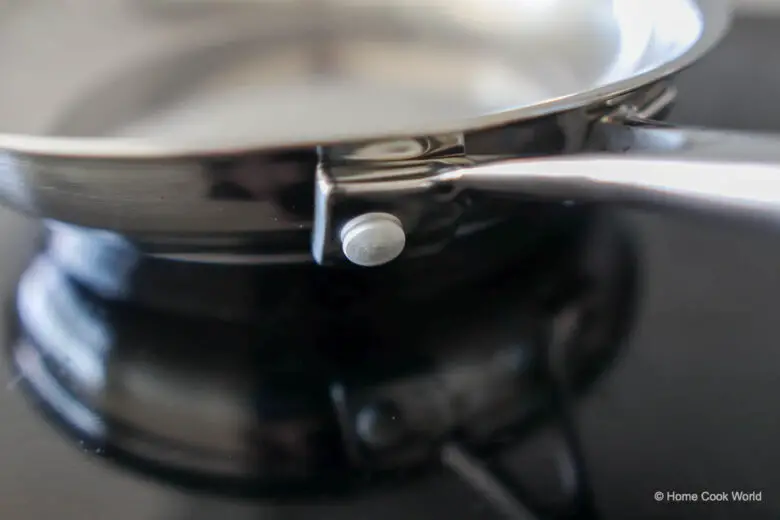 To say that stainless steel is a poor conductor of heat is a major underestimation. Its thermal conductivity, measured in Watts per meter-Kelvin, is a meager 14.4 W/m-K.
That's 3.6 times worse than cast iron and 3.75 times worse than carbon steel—both of which are not considered great conductors of heat in the first place—and the whole 16.45 worse than aluminum and 28.6 times worse than copper.
This is why, in the last few decades, cookware manufacturers prefer to use stainless steel as a cooking surface while bonding it to a thermally conductive metal, like aluminum (affordable but good enough) or copper (highly performant but pricey).
There are two ways to achieve this, and how this is done on a frying pan determines the quality of the build.
The less expensive approach, which Beka also uses for its Chef line, is to add a thick layer of metal in the form of a heavy disc attached to the outer bottom of the pan. This is called a "disc-bottom," and the cooking vessel that results is referred to as "disc-bottomed."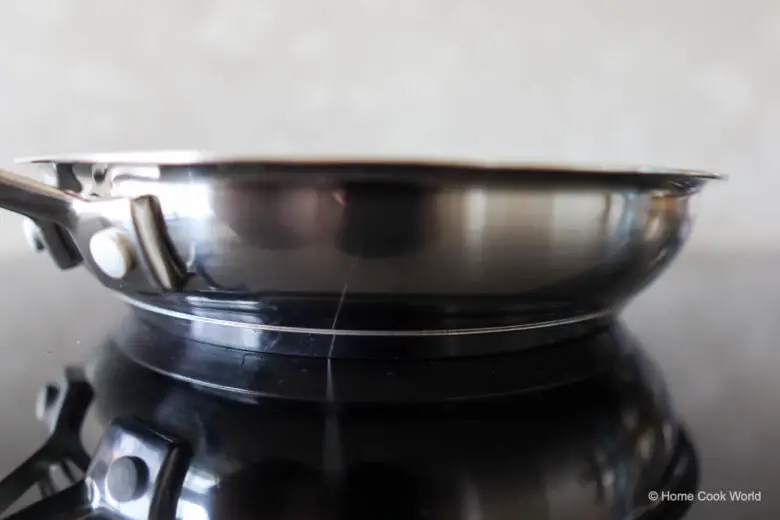 Beka doesn't openly disclose which metals it uses for its disc bottom. However, my take is that it's a stainless steel shell (grade 18/10 or 18/8) wrapped around an aluminum core, as is the case with most other pans and pots in its price range.
The more expensive approach of the two is called cladding.
A clad pan (also called "fully clad pan") is made by sandwiching multiple layers of steel using a hydraulic press that pressures them into shape. The result is a pan with a cladding that runs all the way to the sides—instead of having an aluminum or copper core only at the bottom.
As a general rule of thumb, disc-bottomed cookware is okay, but clad cookware heats more evenly as the conductive core runs entirely through the body. Tossing and flipping foods with one is also easier since its weight is a little more balanced than a disc-bottomed pan.
Is that a deal-breaker if you're cooking three meals at a time in a restaurant kitchen? Most probably yes.
Is it an issue when you're cooking supper at home? Not necessarily. 90% of the time, most of my readers would use a spatula or a spoon (and so would I).
How Is the Overall Cooking Experience Like?
6.2 mm thick, this frying pan's disc bottom feels heavy. While this is what ultimately enables even heating, it also makes the pan a tad too unbalanced to hold comfortably for a long time.
So, if you plan to toss and turn foods with it without the use of a spatula or spoon, it will either take you a lot of getting used to or—by the twelfth time you've made a mess on your stove—you'll simply give up trying.
It heats about as evenly as a disc-bottomed frying pan could. However, over medium to medium-high heat, you can tell the difference between the cooking temperature on the sides of the pan and that at the center.
Consequently, bits and pieces of food that come into contact with the scorching-hot sides of the pan may overcook unless you're careful. It's worth noting that this is a drawback typical for disc-bottomed pans as a whole, and by no means is it a defect of this make and model.
The curved and indented handle is long enough to assist you in holding and maneuvering the pan skillfully during most cooking methods. It's riveted and not bolted, which is what you want if you want it to last.
I know that the indent is supposed to give you a better grip, but lifting the pan can be somewhat uncomfortable unless you position your thumb in a specific way.
If you decide to take me up on the advice and buy this pan, let me know how you feel about the handle situation in the comments. Personally, I'd prefer it if the indent was missing.
Will It Warp? Is It Long-Lasting?
I have to confess, guys and gals. Perhaps because I knew I'd eventually publish a review, I've been misusing this pan pretty heavily.
For example, I have a Bosch induction hob that's capable of charging any unsuspecting cooking vessel with a tremendous amount of power, heating it contactlessly (even if, very often, rather noisily).
Generally speaking, it's a bad idea to put a cold pan on an induction hob and set it directly up to high. Instead, you should be preheating it gently on medium-low, boosting the charge every one or two minutes until you get up to medium-high.
In a hurry to be elsewhere, I've heated my pan on Bosch Turbo Boost more than one time, and it hasn't warped. Nor did it warp when I used it to bake pan pizza in an oven preheated to 527°F (275°C), well above Beka's stated maximum oven-safe temperature of 392°F (200°C).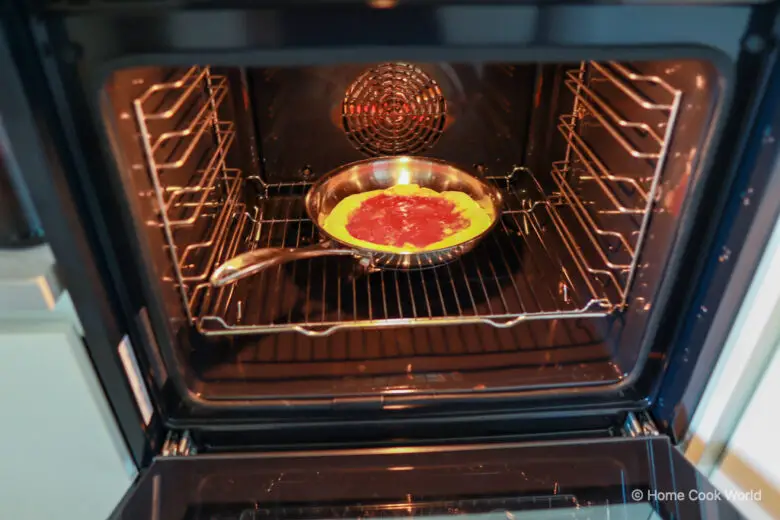 So, all other things being equal, this is a ridiculously sturdy piece of cookware for the price. I've had much more expensive pans and pots warp, very often in ways that were beyond repair, in these conditions.
Be very careful when using this pan in the oven; the handle gets terribly hot—and stays that way for at least a few hours. Take my word for it; I burnt myself a few times until I learned this the hard way.
After 15 or 20 minutes have passed and the body has cooled down, I found one hack of running cold water on the handle only, which cools it down almost instantly.
Is Beka Cookware a Good Brand?
Beka Cookware, also known as Beka, is a German cookware company established in 1899 by co-founders Daniel Braunand Jakob Kemmler in Betzingen, a small town just 22 miles south of Stuttgart in Germany.
Nowadays known for making high-quality cookware, Beka has grown to a household brand in Europe, though it hasn't had that much of a presence in the United States in Canada and is lesser known by consumers here.
In 2000, the Beka trademark was acquired by Belgian cookware conglomerate Allinox, which is also a licensee of Kitchen Fun and Brabantia Cookware. Given Brabantia's reputation as one of the most reliable consumer companies in the world, it seems like Beka's in good hands.
With 120 years behind it and plenty of good reviews on the Internet to back it, Beka is one of those centenarian European companies whose products—and warranty—you can trust.
The Bottom Line
This pan offers good value for the money, even if with a few quirks and caveats, such as its weight and the handle's shape.
It's made in Beka's factory in China. This was incredibly difficult to find out before I bought it. Yes, it would probably put some consumers off, but I wish Beka were more transparent about this to begin with.
Besides that, the pan is well-built, from high-quality 18/10 stainless steel. It holds up to daily dishwashing and usage that goes against the manufacturer's instructions. Last but not least, it doesn't heat bad for a pan with a disc bottom and gives you sufficient cooking space for most foods.
Though you could probably find tri-ply clad pans for a similar price, one could argue if you'd get more out of (a) the most expensive mid-end cookware or (b) the cheapest high-end cookware.
I'd go for the former on any day, which is what I did here. Looking back, it was a good purchase. Based on what I saw on most reviews of other customers here and there, that's also the general consensus.
You've voted for this post
Leave a comment