When it comes to pasta, Italian is the way to go. These are the most delicious, authentic Italian pasta brands in the store.
Not all pasta is created equal.
Cheap, store-brand pasta from the supermarket is made from white all-purpose flour. When cooked, it turns out limp, mushy, gooey, and tasting bland. It falls apart when you bite into it and its too-smooth surface doesn't hold the sauce, leaving the good stuff on the plate.
Premium, Italy-imported pasta is made from golden semolina flour. Dipped in boiling water, it will hold its shape and perfume your kitchen with the smell of durum wheat. Tossed with the sauce, its rough, porous surface absorbs all of it, bringing its epicurean pleasures straight to your tastebuds.
Two years ago, we rounded up the best Italian pasta brands for the first time—and have been updating this guide ever since. Here are our latest product picks and our expert tips on what to look for.
The Best Italian Pasta Brands
1. De Cecco

With its golden color, porous texture, earthy aroma, and wheaty flavor, De Cecco pasta will take your homemade pasta dishes to the level of the Italian grandma you never knew. Plus, you can find De Cecco's packaged pasta at a reasonable price in virtually any supermarket, which is why it came out on top of our list.
De Cecco pasta is made from durum wheat sourced from the two sides of the Atlantic Ocean: Italy, Arizona, and California. The Italian wheat adds aroma and flavor, and the American wheat adds firmness during cooking and resistance to every bite.
The durum wheat is transported to the quaint town of Fara San Martino in Italy, where De Cecco was founded in 1886 and where it still has its headquarters. It's then ground on-site to produce semolina flour in the company's own mill.
The semolina flour is mixed with mountain spring water flowing from under the factory, and the freshly made pasta is extruded through bronze dies, which gives it an imperfect roughness that's able to absorb every type of sauce, from chunky tomato to decadent dairy.
Finally, the pasta is slow-dried, which retains the durum wheat's earthy aroma, palate-pleasing flavor, and praised nutritional qualities, and packaged for distribution and retailing. Certain pasta shapes, De Cecco writes on its website, take up to 40 hours per batch to dry.
2. Pasta Garofalo

From the hill town of Gragnano on the Amalfi Coast near Naples comes Pasta Garofalo—a maker of pasta since 1789 whose products bear the Gragnano Pasta Protected Geographical Indication (PGI) seal, a sign of tradition and locality.
This golden pasta is made from durum wheat sourced from Italy, Arizona, and Australia following stringent quality control standards. Pasta Garofalo is transparent enough about its supply chain to enable you to enter the expiry date on the back of your pasta package on a website and tell you exactly where the wheat came from.
This pasta holds its shape spectacularly during cooking thanks to its 14% gluten content. Boil it to al dente, strain it from the salty and starchy cooking water, and it will come out lively and firm, with a porous texture that absorbs the sauce and an appetizing spring to it when bitten into.
All in all, Pasta Garofalo pasta is a fantastic choice for the home cook who wants nothing but the best for themselves and their family—and is willing to pay a premium price to get it. This brand's packaged pastas can be harder to find in brick-and-mortar stores, and you'll probably have to buy your supply of it online.
3. Pastificio Morelli

Third on our list is Pastificio Morelli, a fifth-generation Italian family business whose packaged pasta tastes like no other. Their secret? An ingredient that you won't find in the products of any other pasta brand: the wheat germ.
The wheat germ is a byproduct of semolina flour production. It contains a lot of polyunsaturated fats—the heart-healthy kind—which oxidize and become rancid during storage. Its removal makes the flour last longer, but it also causes it to lose much of its earthy aroma, wheaty flavor, and some of its nutrients.
To produce its pasta, Pastificio Morelli incorporates the germ back into the flour before making the dough. When you cook this pasta, it makes your kitchen smell like wheat. It also colors the pasta water slightly green because of the wheat germ.
We wholeheartedly recommend that you give it a try. Its taste is so unique, it may very well become your favorite pasta brand of all time. For the same reason, Pastificio Morelli products are very popular among gourmet chefs and restaurateurs.
4. La Molisana

La Molisana is the fifth-largest pasta maker in Italy, and a producer of good, high-quality packaged pasta from the heart of Molise, a mountainous region in Southern Italy.
Like other pasta brands on our list, La Molisana's history goes back a long way, to 1912, and is now in the hands of a fourth-generation Italian family business that prides itself on owning and controlling every step in the life cycle of its pasta products: the grain silos, the grain mill, and the pasta factory.
You will find a familiar pattern that produces a great product: the grain is carefully sourced, the flour is locally milled, the water is drawn from the heart of the land, and the pasta is extruded through bronze dies for that rough, porous texture that allows it to hold on to the sauce.
La Molisana pasta is outstanding and is often used for testing cooking techniques and developing pasta recipes in the Home Cook World test kitchen. Whenever you see the La Molisana logo on the supermarket shelves, give its products a try; you won't be disappointed.
5. Rummo

In 1846 Antonio Rummo began milling wheat and making pasta. With the help of family members, Rummo transported wheat from Puglia and Campania to his mill in a wagon pulled by horses, the symbol of the current Rummo logo.
One hundred and seventy-five years later, the Rummo family business still exists. As a matter of fact, it makes some of the finest Italian pasta products you can find in the supermarket.
Rummo pasta is made from durum wheat semolina flour, extruded through old-school bronze dies that give it a rough, sauce-absorbing surface, and slow-dried to eliminate the water and lock in the wheaty flavor.
Before Rummo's pasta hits grocery store shelves, two chefs cook and taste each batch, then measure its firmness with a dynamometer—a special instrument that accurately replicates biting.
This brand's pasta is delicious and comes in many shapes and forms, from angel hair and spaghetti to penne rigate and ziti. A true delicacy that makes the heart sing, the mouth water.
How We Picked
The best Italian pasta brands make packaged pasta that's authentic and traditional. That's why we only looked at companies that were founded in Italy and still make their pasta in the country. All of them turned out to be centenarian family businesses with a great passion for their craft and a responsible approach to the environment.
These companies make their pasta from semolina flour, a coarse flour made from durum wheat. Durum wheat is a hard grain with a gluten content of 13-14%, which produces firm, elastic pasta with a pleasant aroma and a spectacular taste.
Traditionally, durum wheat is grown in Italy, but there are also varieties in North America and the Pacific Rim. The North American variety is called Desert Durum, and it has low moisture and very high protein content that gives the pasta strength and the ability to hold its shape during cooking.
The best pastas are made from dough enriched with spring water—usually, the springs flow near or under the pasta factories themselves—and extruded through bronze dies.
In extrusion, the freshly prepared pasta dough is forced through a mold called a "die" that gives it its specific shape for drying, packaging, and retailing. These molds can be made of and coated with different materials, which determines the quality of the final product.
These days, most manufacturers use dies coated with non-stick. They cost less to purchase and operate, but yield pasta that's excessively smooth and non-porous. Non-stick-extruded pasta doesn't absorb the sauce as well, so your home-cooked dish comes out less tasty.
Old-school dies, which the pasta makers in our roundup use, are made from bronze. They are the most expensive to purchase and the most demanding to maintain. But they produce pasta with a rough, porous surface to which the sauce adheres, bringing all the flavor of the pasta dish directly to your palate.
Once the pasta is extruded, it must be dried. The drying process reduces the moisture content, making the pasta shelf-stable and giving it years of shelf life. Pasta making does not tolerate haste, so the best pasta is dried slowly, at low temperatures.
This retains the aroma, flavor, and nutritional characteristics of the durum wheat. Great pasta isn't just tastier; it's more nutritious and nourishing than cheap pasta is.
More Pasta Brands to Consider
A number of pasta brands didn't make it to the very top of our list, but that doesn't mean that they don't deserve their rightful place in your pantry.
Barilla, the largest pasta maker in the world and owned by the fourth generation of the Barilla family, makes all of its pasta from semolina flour but doesn't always extrude it through bronze dies. Unless, that is, you buy the Collezione collection. Try the Barilla Collezione Rigatoni and you won't regret it.
Pastificio Artigianale Camp' Oro is a relatively new entrant to the pasta market. Founded in 1999 by an Italian family that produces wheat and makes olive oil, this artisanal, bronze-cut, and air-dried pasta is made from the highest-quality durum wheat semolina. When in doubt, try the Camp'Oro Le Classiche Italian Spaghetti.
Rustichella d'Abruzzo makes the most marvelous packaged pasta with semolina flour and Apennine mountain spring water. It's extruded through bronze dies for a rough, imperfect texture and air-dried at low temperature to further develop the aroma and flavor. Try the Rustichella d'Abruzzo Bucatini.
Why You Can Trust Us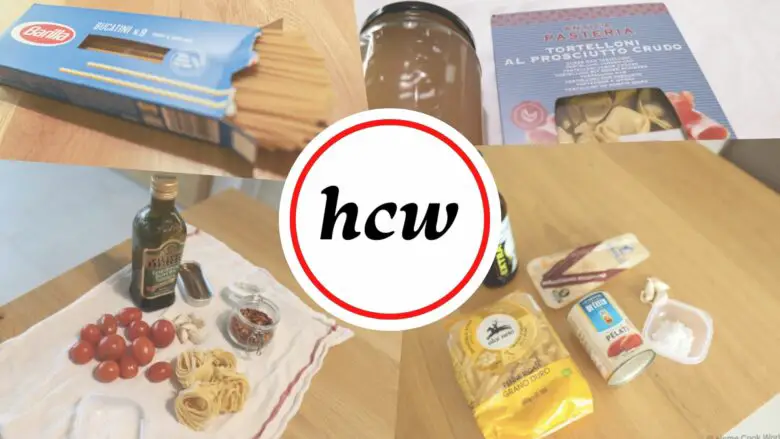 For years, we've been testing pasta brands and developing recipes with the best of them. Every pasta brand we've featured here, we've cooked with.
We first published this guide in August 2020, when no one else had written about the best Italian pasta brands in this depth yet. We then updated it in January 2021 and added two new picks, Pastificio Morelli and Rustichella d'Abruzzo.
You're reading the second revision we published in May 2022, which reflects our opinion on the best Italy-imported pasta brands to stock your pantry with two years after we wrote this guide. Many of the sites that have copied from us will try to lure you into reading their posts by listing out a dozen or so brands—but you know better than to fall for a list-type clickbait with many things in it.
Only at Home Cook World will you get honest, unbiased, and well-researched information about why these pasta brands deserve to be called "the best," how their pasta products differ from each other, and how you to prepare their products to make the tastiest pasta dishes for yourself and the hungry crowd at home.
So thank you for reading this far, and don't forget to subscribe to our email newsletter using the form below. It's free, goes out the first week of every month, and has special offers from our partners exclusively for subscribers.