One of the many reasons for my long-standing obsession with Italian cuisine is its ability to take a few simple ingredients and turn them into some of the most appetizing and aromatic food you've ever had.
Nowhere is this more evident than in the recipes from Italy's Emilia-Romagna region, known for its fertile lands, medieval towns, culinary tradition, and dramatic seaside. Today, I'm going to give you a taste of it with my Pasta in Brodo recipe.
Pasta in Brodo translates literally as "pasta in broth," a name that ingeniously gives you all you need to know to make this plain pasta dish from the Emilia-Romagnan countryside.
Situated in northeast Italy between the Apennine Mountains and the Po River with a stretch of coastline along the Adriatic Sea, Emilia-Romagna is one of the wealthiest regions of Italy. No wonder when you understand that it's home to a handful of the most reputable brands and oldest companies in the world.
From Barilla Group, which produces some of the best boxed pasta in the store, to Ferarri, Lamborghini, and Maserati, there must be something in the soil or air of this region that makes its inhabitants consistently capable of crafting the finest things their country has to offer.
Now that you know where Pasta in Brodo comes from, you won't be surprised when I tell you that this pasta is best prepared with a rich and decadent pasta like prosciutto- or cheese-filled tortellini.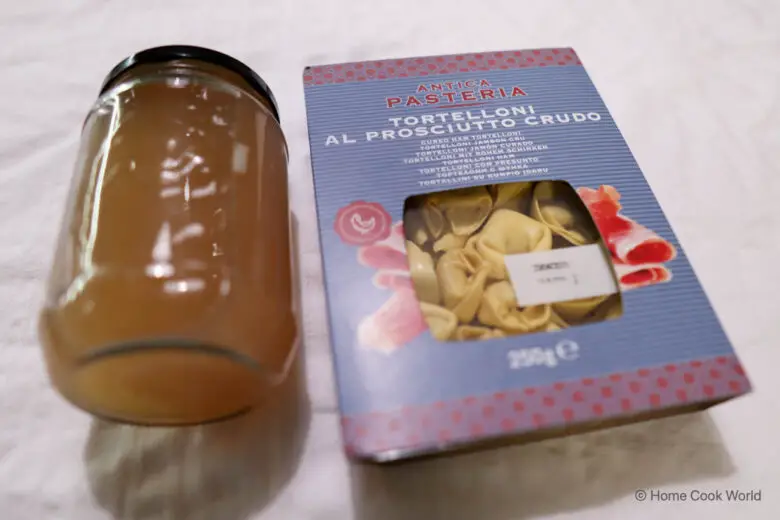 For this recipe's photoshoot, I bought 250 grams (8.8 ounces) of Antica Pasteria's Tortelloni al Prosciutto Crudo and beef bone broth from the local butcher. You could also substitute it with Barilla's Three-Cheese Tortellini. Whichever is easier for you to find in the store.
Tortelloni are slightly bigger tortellini. The typical piece of tortellini weighs 2.5 grams (0.08 ounces) and measures 2 centimeters (0.78 inches) in diameter, whereas tortelloni weighs 5 grams (0.17 ounces) each and has a diameter of 3.5-4 centimeters (1.4-1.6 inches).
In most recipes, you can substitute beef bone broth with a bouillon cube. The thing is that, along with the pasta, the broth is the co-star of Pasta in Brodo. You need a broth with plenty of fat, an intense aroma, and a deep taste to act its part. Bouillon cubes simply won't cut it.
This is probably the simplest pasta dish you've ever prepared. To make 2 servings of it, all you need is 250 grams (8.8 ounces) of stuffed pasta and 0.5 liters (16.9 oz) of beef bone broth.
Fill your pot with 250 milliliters (1 U.S. cup) of water, add the beef broth, and bring them to a rolling boil. If needed, season the beef broth with salt to your taste.
Once you've brought the broth to a boil, add the stuffed pasta to the pot and boil for 5-6 minutes. Take off the heat, plate, and serve.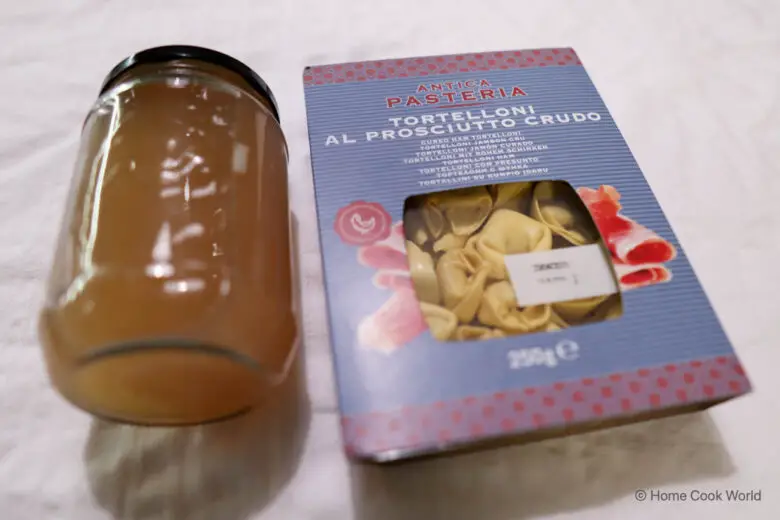 Here's the recipe:
Pasta in Brodo
If your granny lived deep in the countryside of Italy's Emilia-Romagna region, this is the pasta she'd cook whenever you go on over to visit.
Ingredients  
16.9

oz

beef bone broth

8.8

oz

stuffed pasta

tortellini, tortelloni, cappelletti

1

tbsp

salt

sea salt
Instructions 
Fill your pot with 1 part water, 2 parts beef bone broth. If necessary, season to taste with sea salt.

Bring to a rolling boil over medium-high heat. When bubbles start to aggressively form and burst in your pot, that's how you know it's time to add the pasta.

Add the stuffed pasta to the pot and cook for 5-6 minutes.

Take off the heat, plate, and serve.
Notes
Optionally, add a pinch of chili flakes to your stock to give your Pasta in Brodo a spicy kick. You could also add white pepper, which will give your stock a barn odor and countryside taste.
Nutrition
Serving:
325
g
Calories:
649
kcal