We took IKEA's Sensuell frying pan for a spin in our test kitchen. Here's what you need to know before you add it to your cart.
I bought a 9-inch IKEA Sensuell stainless steel frying pan six months ago when I moved into my new home, and have been cooking in it daily ever since. In this review, I'll share my experience with it and whether I think it's worth the money.
Sensuell is IKEA's line of tri-ply clad stainless steel cookware. The collection includes a 9-inch and an 11-inch frying pan, a 2.5-quart saucepan with a lid, and a 5.8-quart pot with a lid. All these items are highly affordable compared to similar tri-ply cookware from other brands.
Anyone who's shopped for clad stainless steel cookware knows just how pricey these pans and pots can get. While I usually stick to trusted brands like All Clad or Misen, the prospect of a $59.99 tri-ply pan was too tempting for me to pass up.
But if we put the price aside for now, the 9-inch Sensuell frying pan caught my eye because it promised ample cooking space, had tall sides that would make it easy to make pan sauces and pasta sauces, and came with a tri-ply construction with an aluminum core sandwiched between two layers of stainless steel.
So, after using this frying pan daily for several months, would I recommend it to others?
IKEA Sensuell Frying Pan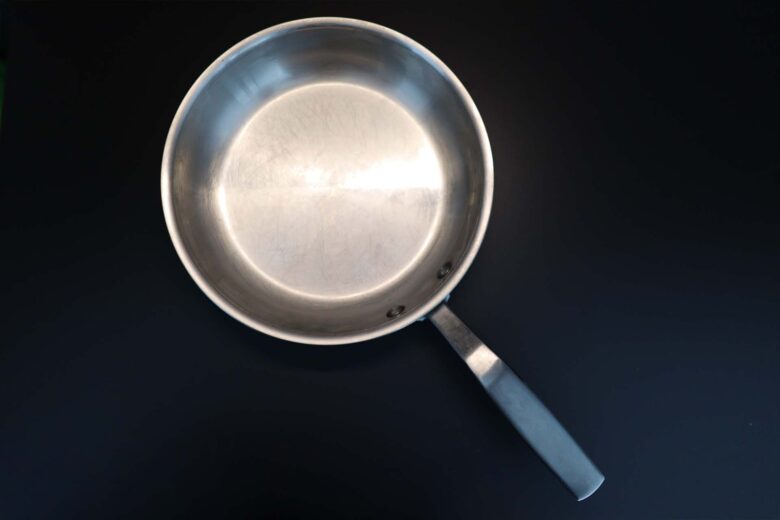 The IKEA Sensuell frying pan is a great choice for beginner cooks seeking their first pieces of clad cookware. However, seasoned cooks who already have such cookware in their collection might prefer to opt for a higher-end brand.
Choose the 9-inch option if you're cooking for 1-2 people, and the 11-inch option if you're cooking for a family of three or more. And keep in mind that you lose 2 inches of cooking surface due to the sloped sides.
This pan delivers a good sear on your meats, sautés vegetables beautifully, and excels at making sauces thanks to its tall sides. With that said, those same tall sides can make it difficult to flip food, and the silicone handle reduces the pan's versatility compared to one with an all-metal handle.
Stick with me and read on below for the details.
Construction
The IKEA Sensuell frying pan features a tri-ply body with an internal layer of aluminum sandwiched between two layers of stainless steel. The stainless steel provides durability and makes the pan dishwasher-safe, while the aluminum ensures quick and even heating.
The base of the pan measures 9 inches (24 cm) in diameter and stands 2 inches (6 cm) tall. The sides of the pan are taller than most skillets and feature a sloped edge for easy pouring.
The handle, also made from stainless steel, is secured to the pan with two rivets. The base of the handle is large and the rivets are robust. The handle is angled, with the lower half coated in silicone rubber for a comfortable and secure grip.
The handle itself measures 7 inches (17 cm) in length. Including the handle, the total length of the pan is 16 inches (41 cm)—just the right size to fit in a standard wall oven, which was probably intentional.
Durability
The pan is well-constructed and durable, though I do question the decision to coat the lower end of the handle with silicone rubber for two reasons.
Firstly, this design choice makes the silicone rubber prone to deformation if the pan is used on a gas stove and the flames accidentally kiss the rubber underside. Secondly, it restricts the pan's versatility when used at high temperatures in the oven, compared to pans with all-metal handles.
The base of the pan is thick and heavy. I've used it on high heat on the stovetop, broiled steak under the broiler, and deglazed the cooking surface with liquid. Despite heavy daily usage for more than half a year, the pan has held up well and hasn't warped.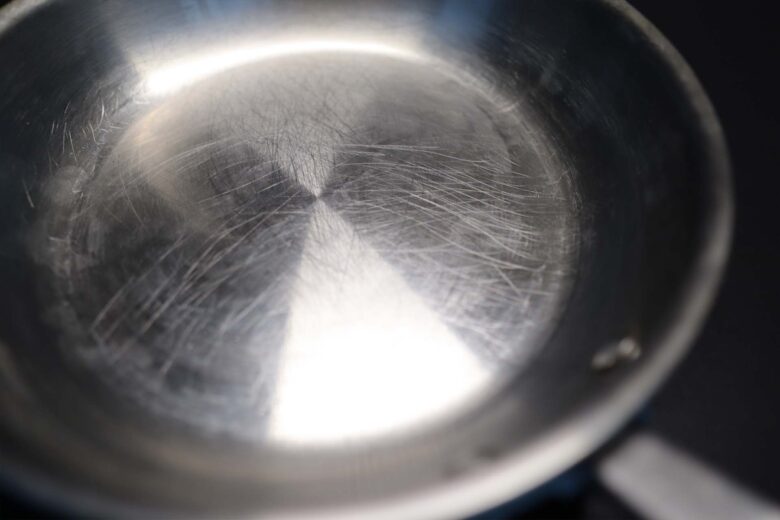 The cooking surface tends to scratch easily. I use metal utensils and steel wool on my stainless steel pans, and as you can see from the photo, my pan's cooking surface has endured quite a bit of wear and tear.
Heating
The pan heats up nicely and evenly over medium-high heat on my induction cooktop within 1-2 minutes.
It retains heat exceptionally well, pretty much on par with its higher-end clad cookware counterparts, and effectively transfers that heat to your food, providing steaks with a good sear, bacon with a nice browning, and eggs with a crispy crust.
It does tend to get a bit hotter around the edges than in the center. However, that's typical for most pieces of cookware—and getting to know your pan's hot and cold spots is a crucial part of learning how to maximize its use in your home cooking.
Cooking
The IKEA Sensuell frying pan doesn't offer a lot of cooking surface. While the diameter of the base is 9 inches, the actual diameter of the flat part of the base—the area you use for cooking—is only 7 inches (17 cm). Essentially, you're losing 2 inches of cooking surface due to the sloped sides.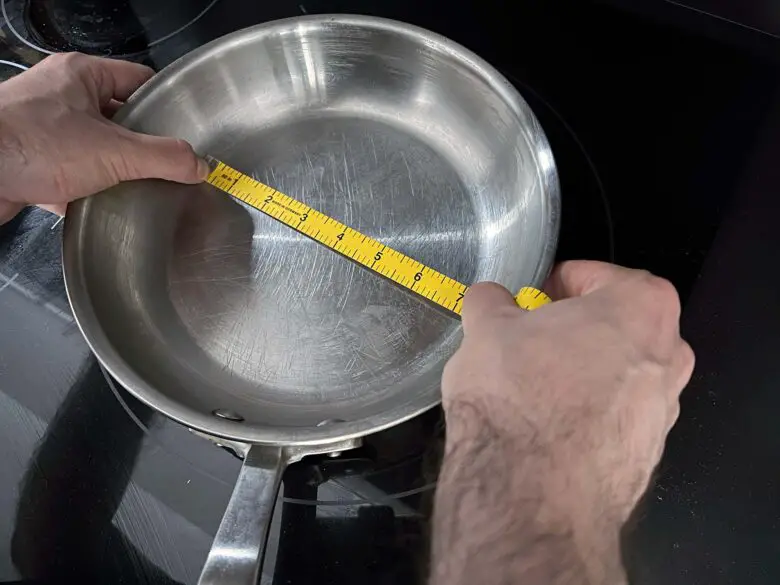 On the stove, the pan is hefty but manageable. It's well balanced; when it's empty and you lift it in your hand, it doesn't tilt excessively to the front, and the handle is just the right length to provide a sturdy and secure grip.
The tall sides make this pan excellent for sauces. Unless you overfill the pan, it's virtually impossible for your sauce to boil over! However, they can make it challenging to flip foods, especially if you don't have a flexible spatula like a fish flipper.
The pan slides easily into the oven and works well as bakeware for one-pan recipes, such as a reverse-seared steak. The handle gets very hot, though, so remember to use a kitchen towel.
Cleanup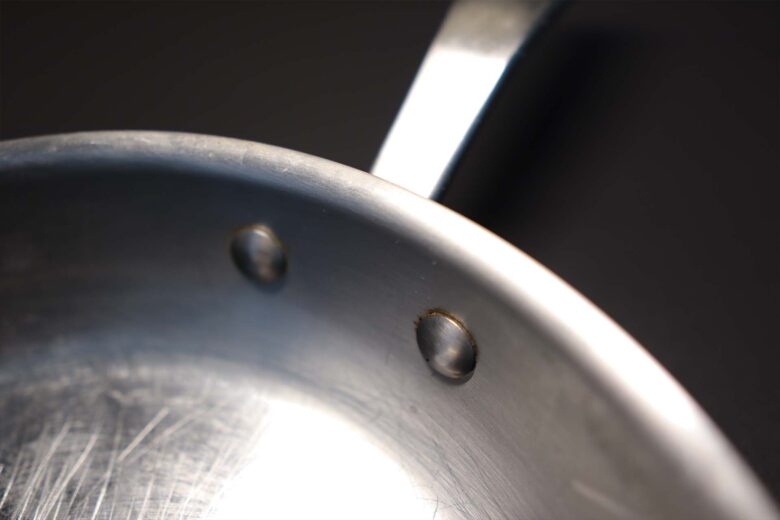 Cleaning is generally straightforward if you allow the pan to cool down first, then fill it with water and let it sit for 15 to 30 minutes to dissolve any burnt-on food particles.
Food can get lodged between the pan and the rivets. Also, if you accidentally spill some liquid or oil on the base of the handle, it can be quite challenging to clean due to the tight space; it's very hard to get a microfiber cloth or cook scrubbing brush in there.
The Verdict
At $59.99 for the 9-inch option and $69.99 for the 11-inch one, the IKEA Sensuell stainless steel frying pan is arguably one of the best entry-level clad stainless steel cookware pieces available on the market today.
Despite its shortcomings, it's more than adequate for daily home cooking and, with a bit of careful maintenance from the owner, it can last a very long time. If you're looking for your first frying pan of this type but don't want to spend a fortune on higher-priced competitors, the Sensuell is one of your best bets.
You've voted for this post
Leave a comment