This affordable, well-built five-ply stainless steel skillet will quickly earn its place among the most used tools in your kitchen.
To say that it's hard to find a high-quality, five-ply stainless steel skillet without breaking the bank would be a major understatement.
Even on a Black Friday or Cyber Monday sale, most pans that fit this description will easily set you back $100 to $200, a price too steep for the cook shopping on a budget. And, while cheaper options exist, most of them are simply not worth your money.
Many consider five-ply stainless steel skillets to be "special" because they are made of five layers of metal pressed in the shape of a cooking vessel, with the cladding extending all the way up to the sides. This makes these pans particularly able to heat up, distribute the heat evenly, and hold on to it for extended periods of time.
It is also the reason why they are more expensive than their tri-ply and disc-bottomed counterparts—and why you will find them mostly in the restaurant kitchen but seldom in the American household.
One cookware brand is trying to change the status quo by offering up a sturdy, well-balanced, and highly versatile five-ply stainless steel skillet at a price that can only be described as a steal—and that brand is Misen.
A recent entrant to the world of cookware and cutlery, Misen made a name for itself in 2015 when it set out to raise $25,000 for its chef's knife on Kickstarter and exceeded everyone's expectations, including its own, by attracting a total of $1,083,344 from 13,116 backers.
The name Misen comes from "mise en place," a French culinary term meaning "to put in place." Chefs use it to refer to the process of setting up their stations before service, a necessary activity to ensure that dishes are cooked quickly and prepared properly.
Inspired by the notion of proper prep with quality ingredients and the right tools, Misen identifies itself as a maker of "incredible kitchen tools at honest prices."
The American company, private and employing nearly 50 people according to LinkedIn, is headquartered in Brooklyn, New York. It manufactures its cookware, this piece included, just outside of Shanghai in China.
Since its head start, Misen has continued to deliver on its promise, expanding its offerings from non-stick and carbon steel pans to enameled Dutch ovens and grill pans, building up a loyal customer base along the way.
When the 10-inch Misen Stainless Skillet arrived at my door a few ago, I decided to put that reputation to the test and see what the fuss was about.
The Misen pan has a big cooking area and a long handle, making it perfect for cooking meals for the whole family. It's designed with 5-ply, 3.0 mm-thick aluminum and stainless steel, which helps it heat up evenly and hold on to heat really well. If you take good care of it, this pan can last you a very long time.
A month in—and countless thick-cut steaks, pork chops, fatty burgers, French fries, and eggs cooked sunny-side-up or whipped up in the occasional omelet—and I have yet to be disappointed.
Why This Skillet Caught My Eye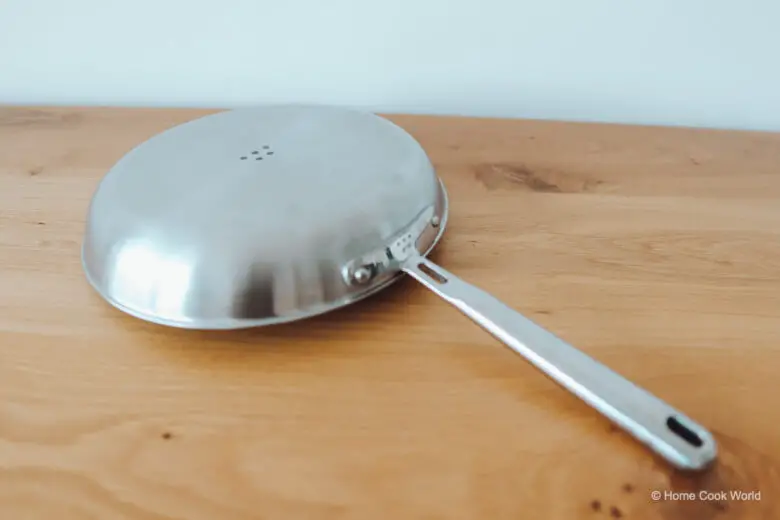 The Misen Stainless Skillet had me curious for three reasons:
First, it had received consistently good reviews from customers, on Amazon and on its own website, for its sturdy construction, large cooking surface, and even heating—the three qualities that make a stainless steel frying pan "good;"
Second, it sold at a reasonable price: $65 for an 8-inch-wide pan, $75 for a diameter of 10 inches, and $85 for 12 inches. At that price, I wasn't sure if this skillet was a real bargain—or just too good to be true—until it arrived at my house and I could try it out;
Third, Misen offers a 60-day trial period, free returns, and a limited lifetime warranty on its stainless steel skillets, and that's something most brands in this price range don't.
Clearly, I was intrigued. And, if you are eyeing this pan right now, so should you.
Read on to find out my opinion of it after having had the opportunity to sear, sauté, fry, simmer, and roast foods with it for a fair amount of time now.
Heating and Heat Retention
This skillet is about as thick and as sturdy as skillets in its price category tend to get. Made from a 3.0-mm thick, five-ply composite of stainless steel and aluminum, it heats evenly and retains heat for a long time.
Everyone who reviews cookware talks and writes about these two qualities over and over, but rarely takes the time to explain exactly what makes them so important.
So here it is:
When you spend that kind of money on a pan, even heating is a non-negotiable.
You want your thick-cut ribeye or fried eggs to cook evenly—and not burn on one side and undercook on the other. Badly constructed pans with disk bottoms instead of full cladding are especially prone to this problem, as they can get much hotter on the sides than in the middle (and vice-versa, depending on the type of stove).
Heat retention, a function of heat capacity, is equally important. If you toss in a couple of steaks or deglaze the cooking surface with a generous glug of wine, the pan will lose heat from the sudden contact with a cold ingredient or room-temperature liquid.
The better the pan is at retaining heat, the less heat it loses. So you get more control over the cooking process and you can prepare tastier, better-cooked food.
Just think how easily cream sauce burns in a pan that cannot keep a stable temperature. You won't have to to worry about this when cooking with Misen.
How do I know?
Some use an infrared thermometer, but I have a simpler and nearly as effective form of finding this out. My layman's tests are as follows:
I make French fries over medium heat in a generous amount of lard. A few minutes before they are done cooking, I turn off the heat. On pans that retain heat, the fries continue cooking and sizzling in the hot lard for at least a minute or two. On pans that don't, the cooking process halts in under a minute.
Then, I cook chicken breasts in the pan. Once the breasts are done cooking, I turn the heat down to medium-low, wait 3-4 minutes for the pan to lose temperature. Then, I add cream to deglaze the bottom and sides and make pan sauce. A well-built pan won't have hot spots that scorch and curdle the sauce.
The Misen passed both of these unsophisticated but revealing tests with flying colors.
Stove Compatibility and Oven-Friendliness
The Misen Stainless Skillet is compatible with all types of stoves: it heats just as evenly on gas, electric, or induction. You can safely move it from your stove to your oven as long as you don't heat it to a temperature higher than 500°F (260°C).
(Should you be wondering, I boil and fry on a Bosch induction cooktop, and broil, roast, and bake in a Bosch wall oven, the two appliances that I tested this pan on.)
As long as you use the pan normally, you do not have to worry about it bending or warping. Always allow the pan to cool down before rinsing it under running water. Never place it hot on a cold surface, such as a stone counter or a wooden cutting board, or the thermal shock might damage it.
Since this pan heats very well—a trait that can be attributed to its construction of thick, alternating steel and aluminum sheets—you will only need to use medium to medium-high heat for your everyday cooking. I found this to be true even when the recipe called for searing a steak or sautéing halved mushrooms over relatively high heat.
High heat is only necessary for simmering down non-dairy sauces (at high heat, dairy will curdle).
Cooking Surface and Spaciousness
The skillet has a flat, smooth, and spacious cooking surface with a beautiful metallic sheen.
In my daily cooking, I found it to be great for searing meats, sautéing vegetables, and shallow-frying foods (French fries, pork chops, and fluffy omelets).
Two things worth calling out:
In the 10-inch pan, I could comfortably pan-fry three boneless chicken breasts or two thick-cut steaks in one pass without crowding the cooking surface;
The sloped sides let liquids evaporate quickly, turning simmering sauces and gravies down into a breeze. They also made it easy to pour those sauces and gravies onto my dishes by tilting the pan.
The disadvantage of an uncoated cooking surface is that delicate and tender foods, especially those high in protein and low in fat, such as eggs and fish fillets, will stick to the pan. Unless you are cooking with a tablespoon or two of cooking oil or a large amount of butter.
This is characteristic of all stainless steel skillets, not just the Misen pan, and I consider it an acceptable compromise for a cooking vessel that can last a lifetime. Compare this to non-stick pans, which need to be replaced every 2 to 3 years!
Sturdy, Five-Ply Construction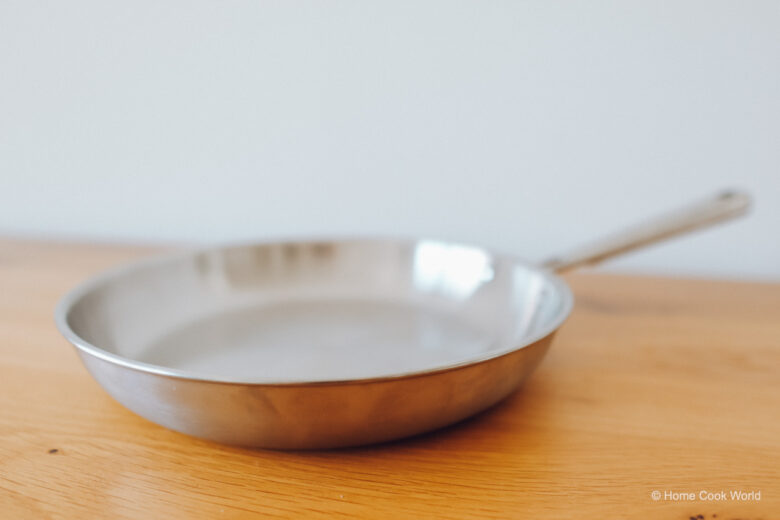 Misen has built this pan with a 18/10 stainless steel cooking surface, an alloy core clad between two layers of aluminum, and an 18/0 stainless steel exterior. The 18/0 stainless steel exterior is ferritic, and it makes the pan compatible with induction stoves.
This also means that the steel alloy on the outside has a chromium content of 18% but does not contain nickel, and that rust stains can form over time if you do not pat-dry the pan before storing it. This isn't specific to this make and model; it is something to keep in mind when using induction-friendly stainless steel pans as a whole.
After cleaning this pan by hand or in the dishwasher, dry it over medium heat on the burner for 2-3 minutes and let it cool before storing it in your cabinets, and it is bound to last you a lifetime.
For the same reasons, you generally want to avoid soaking this pan in water for a prolonged period of time.
Hassle-Free Cleanup
Like all stainless steel cooking vessels, the Misen Stainless Skillet can be hand-cleaned with soapy water, a non-scratch sponge, and a bit of elbow grease. If you are in a hurry or just do not have the time or inclination to wash it, you can safely load it in the dishwasher.
Stainless steel cookware has a bad reputation for being difficult to clean.
This is simply not true: nine times out of ten, it is enough to cover the bottom of the pan with water, bring it to a boil, and remove the residue with a wooden spatula. Let it cool down and give it a good rinse to make the pan sparkling clean again.
Stubborn stains and burnt food residue can be removed either by filling the skillet with water, bringing it to a boil, and then letting it cool before rinsing; or with Bar Keepers Friend, which, in this author's humble opinion, is the best stainless steel cleaner on the market.
But why throw all the flavorful residue down the drain?
Those bits and pieces of food that stick to the bottom and sides of the pan yield the most delicious sauce if you deglaze the pan with beer, wine, or sherry, throw in a few herbs and spices, and simmer the liquid down.
Weight and Balance
Weighing 1.85 pounds for the 8-inch size, 2.9 pounds for the 10-inch size, and 3.6 pounds for the 12-inch size, this fry pan is solid and heavy in the hand. It feels hefty when you lift it—as it should—and nothing about its construction comes out flimsy.
Round and hollow, the handle fits well in the hand and gives you a secure grip on the pan. The pan itself is well-balanced, making it easy to lift and hold. Despite its weight, I had no trouble flipping and tossing sautéed vegetables in it. The angle at which the sides slope definitely helped.
Still, this pan is heavy, and it'll land with a thud on the stovetop if you aren't careful. Take caution when placing it on cooktops with a glass-ceramic surface.
Comfortable, Riveted Handle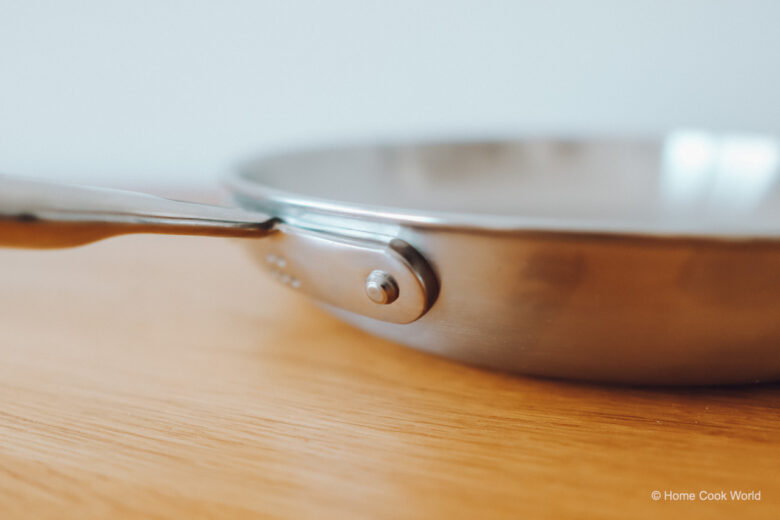 The long metal handle is attached to the skillet with two rivets. (For reference, the handle is almost as long as the body is wide. On the 10-inch pan, it measures 8.25 inches).
The handle has two holes, one at the bottom and one at the end. These holes dissipate heat and keep the handle cool, even if you use the pan for a long time at high heat, for example, to sear steaks or reduce down a gravy.
As you can expect, the handle gets very hot in the oven. So, to protect your hands from burns, always handle the pan with a kitchen towel after broiling, roasting, or baking with it.
The length of the handle will be convenient for those of you who cook with gas: it allows you to hold the pan steady as you turn or stir food in it with your spatula, all while keeping your hands at a safe distance from the flame.
With that said, readers switching from cast iron to stainless steel cookware should keep in mind that the handles on stainless steel pans are considerably longer than those on cast iron skillets, and Misen is no exception.
If you are used to the short, stubby handles of cast-iron cookware, you'll find the handle of this pan unusually elongated—and it will take a while to get used to it.
The above also has important implications for your cookware collection because a stainless steel skillet takes up more storage space and calls for a spacious oven.
The Bottom Line
The Misen pan has a big cooking area and a long handle, making it perfect for cooking meals for the whole family. It's designed with 5-ply, 3.0 mm-thick aluminum and stainless steel, which helps it heat up evenly and hold on to heat really well. If you take good care of it, this pan can last you a very long time.
The Misen Stainless Skillet is an affordable, versatile, well-constructed cooking vessel that will become your trusty kitchen workhorse in no time. It heats evenly, holds heat for a long time, and provides a flat, spacious cooking surface for your everyday meals. It is definitely worth the money.
This pan is a great option for the stainless steel cookware enthusiast who's on the hunt for a five-ply clad skillet, but who isn't willing to spend a small fortune on acquiring it.
You've voted for this post
Leave a comment