So you bought a new home or you're remodeling your kitchen, and you're looking for a good wall oven. Could Bosch be it?
You can't speak about the top names in the kitchen appliances category without mentioning Bosch. The German company's appliances have made a name for themselves for their quality, efficiency, and durability.
Bosch has a wide range of kitchen appliances, but wall ovens are arguably some of the most popular products in their offering. This article will look at what turns Bosch wall ovens into an appealing choice for your kitchen, coming from my personal experience as a long-time owner of such.
So, what's the bottom line? Are Bosch ovens a good choice for your kitchen, and all?
If you are looking for a reliable, intuitive, and feature-rich wall oven with quick and even heating, which also offers the convenience of self-cleaning, then Bosch's wall ovens should be somewhere on top of your list.
This centenarian company's wall ovens—and its kitchen appliances as a whole—have a reputation for being modestly elegant, highly functional, and generally reliable. They have this sturdy, slightly rigid look and feel to them; the kind you can only get from German and Scandinavian engineering.
The touch screen is large, readable, and responsive, even when your hands are messy. Some models have circular dials, others are equipped with buttons. Go for the type you like the most, as they will be your main interface with the oven.
Still, as simple and sleek as the design is, basic tasks—such as tweaking the time—are overly difficult. The icons take time to get used to and, occasionally, you'll have to read through to the owner's manual for instructions on how to do X or Y.
Bosch wall ovens are well designed and notoriously long lasting. They have all the features you need from an appliance in their prince range, and none of those that you don't. The child lock setting is really good. You need to touch and hold the lock button for 5 seconds to unlock the oven.
Customers in the United States and Canada get an industry-standard 1-year warranty; those who live in member-states of the European Union get 2 years of warranty.
The terms and conditions of the warranty are comparable to those of other products. Good retailers will usually give you the option to extend the manufacturer's warranty by three to five years.
Thanks to the 4D HotAir convection fan, which changes direction every 3 minutes to circulate hot air efficiently, Bosch ovens heat quickly and evenly. The fan is quiet, although it can be heard, and the interior of the oven is well-lit.
Most Bosch wall ovens are made in Germany (though the parts for these appliances can come from a variety of locations across the world). I know mine is because it says so on the manufacturer's label that's visible whenever I open the oven door.
Price-wise, Bosch wall ovens are in the same price range as those made by General Electric, KitchenAid, Samsung, Thermador, and Whirlpool, albeit slightly more expensive than most of their alternatives.
A single electric wall oven in Bosch's entry-range 500 Series will cost you anywhere between $1,750 and $2,250. Ovens in its mid-range, 800 Series retail for $2,500 to $3,000. Models in the company's high-end Benchmark Series sell for $3,000 and well over.
Naturally, combos with built-in microwave ovens (such as mine) and double convection oven units for heavy-duty home bakers and folks who cook for a crowd daily cost more. The price of a Bosch wall oven varies based on where you live, the store you buy from, and the time of year.
When in doubt, go for the Bosch 800 Series with a single electric wall oven and a built-in microwave oven, which is what I have. It's more powerful than the cheaper 500 Series, yet more affordable than the Benchmark Series (and, frankly, almost as good).
The best time to buy a wall oven is at the beginning of the year, when manufacturers introduce the latest models and retailers discount prices on the appliances in stock from the previous year. Major shopping events, like Labor Day, Black Friday, and Cyber Monday sales are also times when you can get great deals.
What Kind of Company Is Bosch?
Bosch is a German engineering company headquartered in Gerlingen, a small town—population 18,985—located in the district of Ludwigsburg, Baden-Württemberg.
The company itself was founded by German industrialist and innovator Robert Bosch in Stuttgart in 1886. Before founding his company, he spent several years working for Thomas Edison in New York and Siemens in Great Britain.
Bosch makes a ton of products, from industrial machines and power tools to spark plugs in cars and sensors for smart buildings. Their Household Appliances division makes, in my humble opinion, some of the best kitchen appliances on the international market.
Why You Can Trust Me
My home kitchen is equipped with a Bosch Series 8 built-in oven. It's the compact HBG635BS1 model, which sports dimensions of 23.6 in x 23.6 in (60 x 60 cm) and has a capacity of up to four racks simultaneously.
I regularly bake, broil, roast, and reheat foods to make home-cooked meals for my family, develop recipes, and try out cooking advice before writing about it here at Home Cook World. So hardly a day goes by without me using my oven.
As with any good oven, mine has plenty of settings I seldom use, and a handful of settings that I've become more familiar with than the engineers who designed this appliance in the first place.
That includes 4D HotAir, Bosch's marketing term for "convection," Grill, a much better word for which is "broiler," and the Pizza setting, which I've become enamored with not just for airy, puffy pies but also for rustic, sourdough bread.
4D Hot Air setting:
My oven has Bosch's signature 4D HotAir, a setting that changes the direction of the fan wheel every three minutes for an even distribution of heat on every level, even if you're baking cookies or roasting steaks on all four levels at the same time.
I've tested this claim at least a few times when having friends and family over, and—out of personal experience—I can confirm that the 4D HotAir setting delivers on its promise of improved circulation for even cooking.
As with any convection oven, the hot air is great for making cookies and roasting meats with a crispy and flavorful crust. However, it will dry out pizza pies, sub sandwiches, and French baguettes to the extent that they're overly crunchy and hard to eat, so bake with caution.
Grill setting:
There's a fifth level right under the top heating panel, which you will only use when broiling meats or vegetables under the intense, direct heat of what Bosch calls its Grill setting.
The oven lets you select between a small and a large area for grilling (depending on how many food items you've placed on the sheet pan), as well as to choose from three levels of heat, the temperature for which isn't disclosed by Bosch.
My assumption is that, when using Bosch's grill setting, the top heating element on your oven heats up to approximately 400°F (200°C) on Level I, 450°F (230°C) on Level II, and 500°F (260°C) on Level III. But take it with a grain of salt, as I haven't reached out to confirm it with customer service.
You can grill with or without the convection fan. If you buy or own one of these ovens, and you're looking for my two cents on which is better, grill with the fan on. It promotes the browning, caramelization, and crisping of foods, all while broiling them more evenly.
Pizza setting:
Ask any pizzaiolo or seasoned home baker about making pizza in your home oven, and they can ramble on for hours explaining to you how the heat distribution in a home oven is too different from that of a wood-fired brick oven, which is why it yields inferior pizza.
Generally speaking, they'd be right.
Most wood-fired brick ovens will reach temperatures of 800°F (425°C), baking a pie in as little as 60 to 90 seconds.
The intense heat of the bricks draws out all the moisture from the dough, browning it on the bottom and puffing up the crust. The hot, circulating air creates a leopard-like charring on your pizza.
That's kind of hard to replicate in your average home oven, which won't get hotter than 500°F (260°C) and which suffers from poor distribution of air (since hot air travels bottom-up, home ovens are typically hotter at the top than they are at the bottom).
The Pizza setting on Bosch ovens compensates for that by circulating air in a way that builds heat at the bottom of the appliance, letting you use a pizza stone or baking steel that mimics the effects of a wood-fired brick oven.
The pies don't come out as good as they would from a Gozney or Roccbox, but, as you can see from the photo below, they come pretty damn close: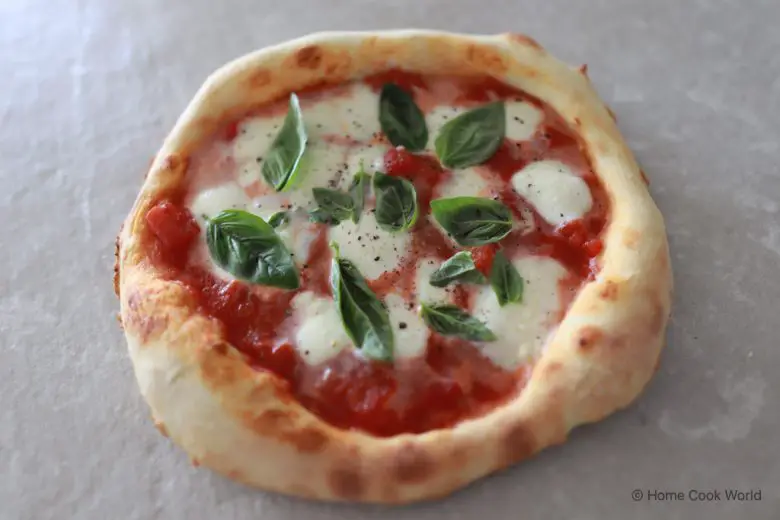 Of course, if you're not the kind of person who seems themselves owning a pizza stone or steel, you could always preheat a heavy, thick-bottomed cast iron skillet or an uncoated stainless steel pan to make pan pizza instead.