This recipe is inspired by the penne tomato pasta that my wife and I had in a shoreside restaurant at Lake Como in Italy's Lombardi region a few years ago.
Lake Como is a beautiful resort an hour's train ride from the world's fashion capital Milan. It's known for its dramatic scenery of Italy's third-largest lake set against the foothills of the Alps.
If you have a chance to visit it one day, I highly recommend that you do. Other than the lakeside restaurants, you can also go hiking, boating, or learn to fly an old Cessna seaplane with Aeroclub Como, also known as the oldest seaplane flight organization in the world.
Back to the topic of food… At one of the restaurants there, I had some of the most delicious penne pasta I'd ever eaten (and no one, including me, has managed to surpass its deliciousness since).
The dish consisted of penne pasta and a simple sauce with canned tomatoes, garlic, extra virgin olive oil, and sea salt. The penne pasta was cooked al dente—tender on the inside but still firm to the bite on the outside—and tiny chunks of tomatoes had hidden themselves in the empty space through the center, packing each bite with an acidic and subtly-sweet tomato taste.
The line cooks at the restaurant had grated a tiny piece of Parmigiano-Reggiano cheese on top, which gave it the briny aroma and salty flavor that this hard Italian cheese is known for.
A Simple Penne Tomato Pasta Recipe
In traditional Italian cuisine, the simplest pasta dishes are also the tastiest. All you need is a few high-quality ingredients and the right cooking technique to make their texture, aroma, and flavor stand out. This is exactly what we're going to be doing here.
You need six ingredients to make this recipe: ½ pack of penne pasta, canned tomatoes, 2-3 garlic cloves, 2 tablespoons of extra virgin olive oil, a pinch of sea salt, and a piece of Parmigiano-Reggiano cheese.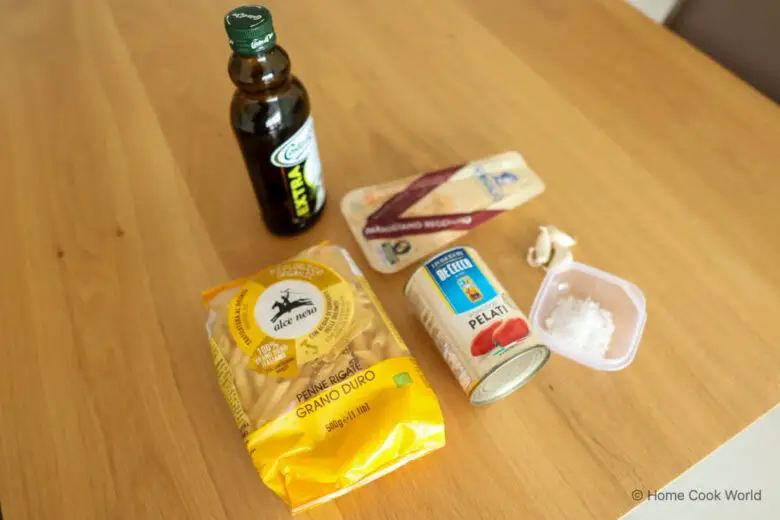 When I cooked this pasta for the photoshoot, I used Alce Nero's penne rigate. They're made of 100% semolina flour from organic durum wheat grown and milled in Italy. This penne pasta is extruded through bronze dies, giving it a coarse and porous surface that's easier for the pasta sauce to cling to.
I had a couple of cans of De Cecco's Italian plum tomatoes in my pantry, so I used one of them for the pasta sauce. They're not necessarily as good as San Marzano tomatoes, but I find them to be the best canned tomatoes I can buy at the supermarket when I don't feel like going to the Italian deli.
As with most simple pasta dishes, the technique is to boil the penne in a pot of generously-salted boiling water while you're simmering the tomato sauce in your frying pan.
Fire up two burners on your stove, bringing a pot of water to a boil over high heat on one, and preheating your frying pan over medium heat on the other.
Italian pasta chefs like to say that your pasta water should taste like the sea. As you're bringing the water in your pot to a boil, salt it with a big pinch of sea salt. The sea salt will dissolve in the water, seasoning the pasta as it rehydrates and cooks.
Contrary to popular belief, it doesn't matter if you salt the water before or after you bring it to a boil. Though it's true that salt increases the boiling point of water, the amount by which this happens in your kitchen is so insignificant that it won't make any noticeable difference.
The thing that's actually important when it comes to boiling pasta is to never forget to salt the water. You can't save pasta that came out bland, even if you made the most savory sauce or grated the saltiest cheese you could possibly find on top of it.
It will take you longer to bring the water in your pasta pot to a boil (10-15 minutes) than it will to preheat your frying pan (2-3 minutes). This buys you enough time for preparing the tomato sauce.
Crush a can of peeled tomatoes by hand and set them aside in a bowl. If you like your tomatoes creamy and smooth, you could use an immersion blender at this step. Personally, I prefer it chunky.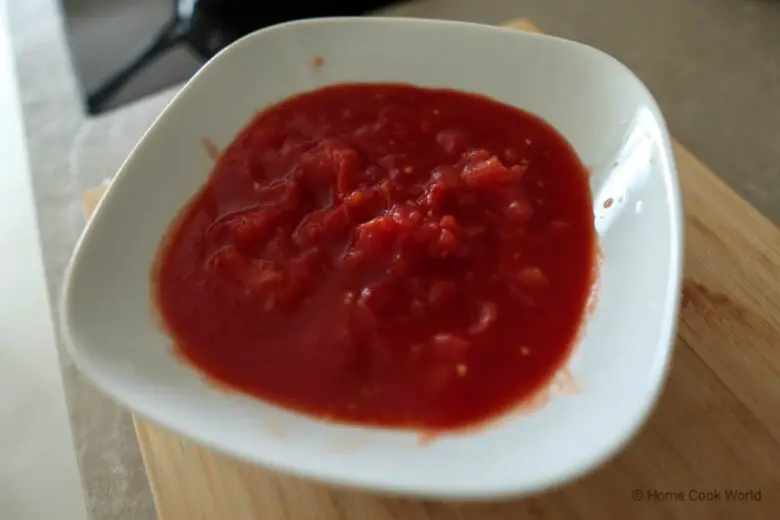 Peel and mince 2-3 cloves of garlic. Drizzle 2 tablespoons of extra virgin olive oil, wait 10-15 seconds for it to get up to heat, and sauté the garlic in it.
Garlic burns easily and, when it does, it develops a bitter and unpleasant taste. When it releases its perfume in the air of your kitchen—which shouldn't take more than 30-45 seconds—you know that it's time to add the rest of the ingredients to your frying pan.
Add the canned tomatoes to the frying pan, season them with a pinch of sea salt and let your sauce-in-the-making simmer, stirring often.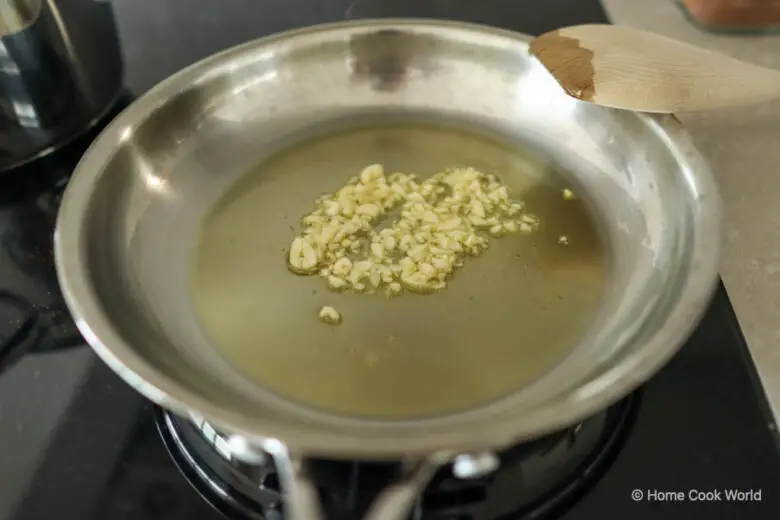 By now, the water in your pot is most probably up to a boil.
Add the penne to the pasta pot when the water has reached a rolling boil. A "rolling boil," also known as a "full boil," happens when water is heated to its boiling point of 212°F (100°C). Big bubbles will start to form, move, and burst aggressively on the surface.
Cook the penne to almost al dente. Do this by boiling them for 2-3 minutes less than the cooking time in the instructions on the package. Drain them from the water, transfer them to your frying pan, then finish cooking them with the sauce for about 60-90 seconds.
Plate the pasta, grate a small portion of Parmigiano-Reggiano cheese, and serve.
Pronto!
Penne Tomato Pasta
Add this delicious penne tomato pasta recipe to your dinners. Here's everything you need to know about cooking it at home.
Equipment
Chef's knife

Cutting board

Saucepan

Cooking spoon

Pasta pot

Pasta fork
Ingredients  
8

oz

penne rigate pasta

14.5

oz

canned tomatoes

3

cloves

garlic

2

tbsp

extra virgin olive oil

2

pinches

sea salt

1.75

oz

Parmigiano-Reggiano cheese
Instructions 
Prep your ingredients
Open the canned tomatoes. If you like your pasta sauce chunky, crush the tomatoes by hand and set aside in a bowl. If you prefer it smooth, purée it with an immersion blender for a few seconds instead.

Peel the garlic. Mince it into small, equally-sized pieces on your cutting board using a chef's knife.
Cook the penne
Generously salt your pot of water, making it taste like the sea. Bring it to a rolling boil over high heat (which should take you 10-15 minutes).

When the water is boiling aggressively and vigorously, add the penne rigate to the pot. Give them a quick stir and let them cook for 2-3 minutes less than the recommended time in the instructions on the package.
Make the sauce
Bring your saucepan to medium heat. Sauté the minced garlic in olive oil for 30 seconds or until it releases its aroma into the air of your kitchen.

Add the tomatoes to the pan, season the sauce with a pinch of sea salt, and let it simmer, stirring occasionally.
Toss the penne with the sauce
Transfer the penne to the pan and toss them with the sauce until they're coated with it.

Cook, stirring gently and occasionally, for 60-90 seconds. Take off the heat.
Plate the pasta
Plate the penne pasta, making sure that there's plenty of sauce on each plate.

Grate some Parmigiano-Reggiano cheese on top of each and serve.
Nutrition
What's Penne Pasta?
Penne is a pasta variety made from a dough of semolina flour and water, and shaped as a diagonally-cut cylinder. The word penne means "pen" and refers to the goose-feather pens (quills) that Italians of the 19th century would dip in ink and write with.
In general, there are two types of penne pasta: penne lisce and penne rigate. Penne pasta can have a smooth surface, called penne lisce, or a vertically-ridged surface, called penne rigate. 
Compared to penne lisce, penne rigate is more capable of holding on to the pasta sauce, since bits and pieces of it will cling to the ridges on the noodles' surface.
Simply said, your penne pasta dish will come out tastier if you use penne rigate. When you're shopping for pasta at the grocery store, it's definitely the better choice of the two.
Where Is Penne Pasta From?
Penne is one of the few pasta varieties whose roots can be traced back to a name and year.
Penne pasta comes from the city of Genoa in Italy's Liguria region. This pasta variety as we know it today was invented in the mid-19th century by local pasta maker Giovanni Battista Capurro.
In 1865, Genoa pasta maker Giovanni Battista Capurro filed a patent for a machine for producing diagonally-cut pasta on a commercial scale. The machine could consistently cut fresh pasta noodles diagonally into shapes 3 to 5 cm long without crushing them, which was previously possible only by hand.
The patent application is preserved by the Central Archive of the State of Rome and reads, "Up until now, a diagonal cut could only be made by hand with a pair of scissors. In addition to being slow and time-consuming, this also resulted in an irregular cut which flattened the pasta".
What to Read Next
If you came here looking for recipes and are hungry for more, I encourage you to check out my tagliatelle, tomato, and anchovy pasta recipe, as well as my authentic cacio e pepe recipe.
Regular readers know that I write extensively about the technique for cooking pasta (to be honest with you, that's kind of my longtime passion and everlasting obsession). A good place to start is the science of cooking pasta.