This lentejas a la riojana recipe will quickly turn into a family favorite. Read on to find out why (and don't say we didn't warn you!).
There's something special about lentils. They're hearty and filling like beans. And yet they're a bit lighter, which makes them more suitable for eating in late summer and early fall.
Few nations, if any, have perfected the art and craft of cooking lentils—and legumes in general—as the Spanish. And this lentejas a la riojana recipe from La Rioja, a community in northern Spain renowned for its wine and food, is the ultimate proof.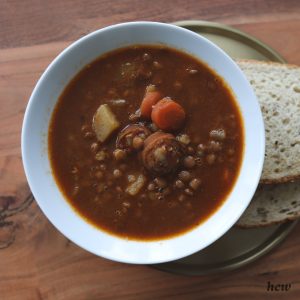 Lentejas a la Riojana (Spanish Lentil Stew)
A comforting and slow-cooked lentil stew with potatoes, carrots, and chorizo sausage.
Ingredients  
1

cup

tomato purée

2

tbsp

tomato paste

1

tbsp

salt

sea salt

½

tbsp

paprika

2

cloves

garlic

1

onion

brown onion

1

cup

lentils

2

large potatoes

waxy

2

long carrots

100

g

chorizo

or other cured and smoked sausage

2

tbsp

olive oil

extra virgin

½

tbsp

vinegar

sherry or white wine
Instructions 
The prepping
Slice the chorizo into bite-sized pieces that can fit in a spoon.

Wash and peel the potatoes and onions. Cut them up into coarse, bite-sized pieces. Peel the onions and garlic. Mince finely and set aside.
The cooking
Pour olive oil into a large pot and heat over medium heat. Add the potatoes, carrots, and onions and sauté for 4-5 minutes. Add the garlic last, some 20-30 seconds before the rest of the vegetables are done sautéing.

Add the tomato puree, tomato paste, lentils, and chorizo. Season with salt and paprika and liven up a dash or two of vinegar. Fill up with water and cover the pot, leaving the lid slightly ajar. Let boil for 45 minutes to 1 hour.
Notes
If you like your lentil stew extra savory, ditch the sea salt and sweet paprika and replace with 1 cup beef stock and smoked paprika.
Nutrition
Serving:
300
g
Calories:
350
kcal
Carbohydrates:
25
g
Protein:
6
g
Fat:
5
g
Fiber:
10
g
How Long to Cook Spanish Lentil Stew
Lentils cook faster than beans do. While fabada asturiana, a Spanish bean stew, should be cooked 2 to 3 hours, lentejas a la rioja cooks in 45 minutes to 1 hour. You know it's done when the potatoes are cooked and the lentils are soft.
Remember that this is only an approximation. Each stove is unique—and exact cooking times may vary from cook to cook. If you think your lentil stew is ready, give it a quick taste. If it isn't ready, try again after 5 minutes, then repeat the process as many times as necessary.
Can You Make Spanish Lentil Stew Without Chorizo?
Much of the appeal of this lentil stew comes from the aromatic fats and flavorful juices that seep from the chorizo into the cooking water. Sure, you could try to prepare lentejas a la rioja without chorizo, but it wouldn't turn out as good.
If you live in a place where you can't get chorizo, substitute it with any cured and smoked sausage, preferably with red pepper. If you're vegan, consider meatless alternatives such as vegan chorizo.
How Long Can Spanish Lentil Stew Sit Out?
Cooked food shouldn't be left at room temperature for more than 1-2 hours (the hotter it is outside, the shorter this period becomes).
If you cooked more lentil stew than you and your family can eat in a single go, cool it down and store it in the fridge, where it will keep for 3 to 4 days. Reheat in a pot over medium heat for 4-5 minutes and enjoy hot.
For the same reasons, don't leave leftovers you want to keep on the table for more than 2 hours. Otherwise, harmful bacteria can multiply to dangerous numbers inside the lentil stew, and eating it could cause food poisoning.
Up Next: How Long Does Lentil Soup Last? (And How to Keep It Fresh)
You've voted for this post
Leave a comment