Other than some of the best dried pasta in the grocery store, De Cecco is an Italian family-owned company that also makes olive oil.
Today, I'm going to give you my take on the "Classico," their staple extra virgin olive oil which I've been cooking and eating with in the past few weeks.
So, should you be stocking your pantry with this olive oil? Here's my take on it.
De Cecco Classico Extra Virgin Olive Oil is a blend of cold-pressed Mediterranean extra virgin olive oils. It has a sweet, nutty, and somewhat spicy flavor; distinct aroma of olives and green grass; golden color; and thick texture.
When I first tasted this olive oil, two things stood apart for me. First, it was more viscous than I originally anticipated. Which made it cling fantastically well on the pastas and salads that I drizzled it on. Second, it has a really appetizing piquant aftertaste that makes it easily recognizable from all of its counterparts in the cooking oils aisle at the supermarket.
There are three types of extra virgin olive oils on the shelves: those made from a single batch of olives (higher end), those blended from the oils of a single country (middle end), and those blended from the oils of multiple countries (lower end).
Whenever you're following a recipe where the olive oil is the co-star of the show, such as Pasta Aglio e Olio, you probably want to use something on the higher or middle end. When it comes to your home-cooked meals from Monday to Friday, though, there's no reason to break a bank.
De Cecco Classico Extra Virgin Olive Oil is a blend of extra virgin olive oils from Mediterranean countries, which puts it on my list of affordable oils to stock your pantry with and use in your daily cooking.
It's good for dressing salads, sautéing vegetables, making sauces, drizzling over pastas, and making bread or pizza doughs with.
As a rule of thumb, the more processing required to extract an oil from the olives (in terms of process, chemicals, and temperature), the less aromatic and flavorful it comes out.
The mechanical extraction through cold pressing is what makes extra virgin olive oil superior to its cheaper counterparts, such as regular/light olive oil or pomace oil. Cold pressing preserves the aromas and flavors naturally contained in the polyphenols, antioxidants, and vitamins in the olives.
As you can expect from an olive oil that calls itself extra virgin and which has been sourced, blended, and packaged by a company with a number of international certifications, the oil has been extracted using solely mechanical means by cold-pressing the olives at a temperature of less than 80°F (27°C).
The fatty acids in olive oil are generally unstable. Exposing them to direct sunlight or high heat triggers a chain of chemical reactions that causes them to go bad. This is why you should never keep good bottles of olive oil near a window or right next to your stove.
When buying bottled extra virgin olive oil in the grocery store, one of the things you should look for is whether or not the bottle is tinted. Dark-glass bottles give the olive oil additional protection from direct sunlight.
De Cecco's Classico Extra Virgin Olive Oil is sold in four sizes: 16.9 fl oz (500 ml) and 25.4 fl oz (750 ml) dark-glass bottles, and 101.4 fl oz (3 l) and 169 fl oz (5 l) tin cans.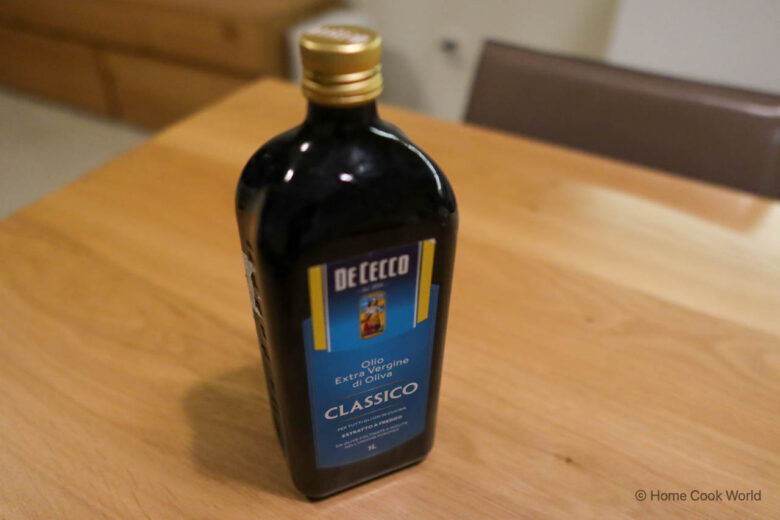 Alternatives
Readers looking for a spicier, more peppery extra virgin olive oil in the same price range should consider Basso Extra Virgin Olive Oil, one of my other oils you'll all so frequently find in my pantry.
Filippo Berio Extra Virgin Olive Oil is another good alternative that's carried by most grocery stores. It's also viscous, but has a slightly creamier feel to it compared to De Cecco's.
Who Makes De Cecco Olive Oil?
Since you're reading this part of my review, I'm going to assume that you, very much like me, care about who you are supporting when you take a product from the shelves in the store and put it in your shopping cart. As far as this set of criteria goes, De Cecco scores high on the family-owned, community-tied, and socially-responsible business scale.
De Cecco is an Italian family-owned company with 134 years of history, which makes traditional foods for Italian cooking: from dried pasta, flour, gnocchi, and rice; to canned tomatoes, tomato purees, pestos, olive oils, and vinegar.
Its history dates back to the year 1886, when Filippo De Cecco and his brother Nicola established Molino e Pastificio Fratelli De Cecco (which translates as "the Mill and Pasta Factory of the De Cecco Brothers") in the Fara San Martino in Italy's Abruzzo region.
The two brothers would often say that they had set out to make the best flour and dried pasta in the surrounding countryside—and they clearly delivered on their promise. Thanks to De Cecco, which continues to house its factory in Fara San Martino, the tiny town of 1,300 people is now known as one of the pasta capitals of the world.
At first, the family made mostly flour and dried pasta. As its products turned into a staple domestically and started winning the hearts of consumers internationally, De Cecco expanded into the olive oil and vinegar business in 1986.
Today, it makes seven extra virgin olive oil varieties (Classico, Delicato, Fruttato, 100% Italiano, Esclusivo, and Giulivo), one olive oil variety (Olio di Oliva), and one vinegar variety (Aceto Balsamico di Modena I.G.P.).
Classico, the one I reviewed in this post, is by far the most popular De Cecco olive oil product, and it's carried by almost every Italian deli and some grocery stores or online retailers (mainly Walmart and Amazon).
The Bottom Line
For those of you out there wondering if De Cecco's Classico is real, I think it's as good as a supermarket extra virgin olive oil blend gets. Try it out and let me know how it worked out for you in the comments below.
You've voted for this post
Leave a comment