Filippo Berio's Extra Virgin Olive Oil is perfect for dressing salads, cooking soups, stews, sauces, and gravies, dipping with bread, drizzling over bruschetta, pizza, pasta, and baked potatoes, as well as marinating or sautéing fish and vegetables.
So, is Filippo Berio Extra Virgin Olive Oil good? Here's my take on the topic.
This olive oil is the highest-grade olive oil blend sold by Filippo Berio and a great everyday oil for your kitchen. It has a balanced, rich, fruity flavor, fresh aroma with subtle notes of olives. The color is chartreuse (green-yellow) and the texture is slightly creamy and pleasantly viscous.
If you're planning to use it as a cooking oil for pan-frying or baking, use it over low to medium heat. As with all extra virgin olive oils, it has a low smoke point of 338-374°F (170-190°C) when compared to other cooking oils.
The smoke point, as we've explained in our article on the topic, is the temperature at which an olive oil stops to glisten and shimmer—and starts to break down and burn. At this stage, extra virgin olive oil will lose its nutritional benefits in comparison to other oils and develop a burnt and somewhat bitter flavor.
Filippo Berio Extra Virgin Olive Oil sold mostly in four sizes: 8.4 fl oz, 25.3 fl oz, and 50.7 fl oz dark-glass bottles and a 101.4 fl oz tin can. I have a few olive oils I like to use for my home cooking, and this is one of them.
Whenever I shop for Filippo Berio Extra Virgin Olive Oil, I typically get the 25.3 fl oz bottle. Occasionally, I'll get the 50.7 bottle when I see it sold at a discount. I would advise against shopping for the tin can online; by the time it arrives at your doorstep, it's often been dented somewhere along the shipping process.
It's made of first-, cold-pressed olive oils solely by mechanical means, sourced from five countries on the Mediterranean coast of Europe and North Africa. It's free from cholesterol, trans fat, gluten, GMO, sugar, and sodium (salt).
SALOV S.p.A., the company that makes olive oils, vinegars, and pestos under the Filippo Berio brand, typically sources its olive oils from Italy, Spain, Greece, Portugal, and Tunisia.
How Good Is Filippo Berio Extra Virgin Olive Oil?
My score? Good value for the money.
Filippo Berio's Extra Virgin Olive Oil is about as good as an extra virgin olive oil blend at this price range gets. It's nothing artisanal or out of the ordinary, which is exactly what I like about it. It's simply a balanced, aromatic, and fruity olive oil for your home cooking that won't break the bank.
The biggest drawback in my mind is that SALOV S.p.A. is no longer an Italian family-owned company. Instead, it's owned by a Chinese parent corporation that makes plant-based household foods.
As a consumer, I like to know who I'm shopping from (and therefore supporting with my choices). Though this olive oil continues to be made in Filippo Berio's production facility just out of Lucca, Italy, there are other food producers whose products I favor more by this criterion.
Still, this should in no way negate the fact that Filippo Berio Extra Virgin Olive Oil is a product that gives you good value for the money. It just raises many open-ended questions about being a consumer who wants to support local or family-ran businesses in a globalized world.
More on that later in my review. For now, let's take a look at nutritional values when it comes to this extra virgin olive oil.
Nutrition facts for a serving of 1 tbsp of Filippo Berio Extra Virgin Olive Oil:
Total Fat—14 g (22% of Daily Value), of which

Saturated Fat—2 g (10% of Daily Value)
Polyunsaturated Fat—2 g
Monounsaturated Fat—10 g

Cholesterol—0 mg
Sodium—0 mg
Total Carbohydrate—0 mg
Protein—0 mg
If you're not buying this olive oil online and want to recognize it in the grocery store, here are some photos I took for you: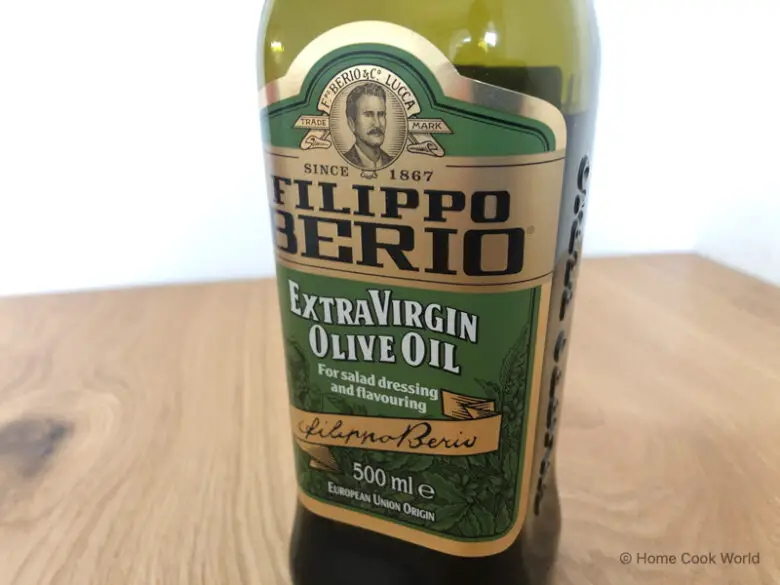 Alternatives
Basso Extra Virgin Olive Oil is a blend of olive oils from the European Union that's slightly more spicy and peppery compared to this one.
De Cecco Classico Extra Virgin Olive Oil is an alternative that's just as viscous and balanced. It has a slightly nuttier flavor and a more yellowish color.
Is Filippo Berio Olive Oil Cold-Pressed?
Yes, this olive oil is cold-pressed.
According to its manufacturer, SALOV S.p.A., Filippo Berio Extra Virgin Olive Oil is first- cold-pressed. This means that the oil has been extracted from the olives at a temperature below 80.6°F (27°C).
Traditionally, this was done using a traditional granite millstone that grinds the freshly-harvested olives into a pasta and hydraulic press that presses down on the olive paste, extracting the olive oil from them.
Today, most extra virgin olive oils are extracted using more modern production techniques, such as percolation or centrifugation, also at temperatures below 80.6°F (27°C). Cold pressing retains the natural aroma, flavor, and nutrition profile of olive oil.
Any olive oil extracted at higher temperatures or with different means are considered lesser-grade olive oils. They're sold at a lower price and can't be labeled as extra virgin olive oil.
Who Makes Filippo Berio Olive Oil?
The history of Filippo Berio dates back to 1876 in Lucca, a city on the Serchio river in Italy's Tuscany region. Lucca and its surroundings are known for their olive trees and the bright yellow olive oil that comes from their fruit.
Filippo Berio, a local merchant, started selling olive oil in 1850. In 1876, he created his own olive oil blend, putting the start to Filippo Berio as we know it today. Each bottle came with his signature stamped on it as a guarantee of consistency and quality.
Berio passed away in 1894 and his daughter, Albertina Berio, inherited the business. In 1919, she founded the company Società per Azioni Lucchese Olii e Vini (SALOV S.p.A.) with two business partners, Giovanni Silvestrina and Dino Fontana.
In the early 1900s, Filippo Berio became one of Italy's most exported brands and its olive oils won numerous awards at international trade shows. Production was halted during WWII, but resumed in 1940 and continues to this day.
Today, SALOV continues to make olive oil in its facility in Massarosa, just outside Lucca. Its majority owner is the Chinese company ShangHai Yimin No.1 Foods (Group) Co., also known as "Bright Foods."
Depending on who you like producing your goods, you may or may not like this fact. If you're looking for a Mediterranean olive oil blend that's made by a family-owned company, consider one of my other Italian favorites, the Basso Extra Virgin Olive Oil.
In Conclusion
Filippo Berio Extra Virgin Olive Oil is a good olive oil for your daily cooking at a reasonable price. It has a balanced and fruity taste, a creamy and thick texture, and a rich olive aroma that makes it right for a variety of recipes.
Yes, there are more decadent and more expensive extra virgin olive oils out there. And, if you live in North America or Europe, there are other local or family-owned producers to support. At the same time, this olive oil is as good as it gets at this price tag and is carried by practically all grocery stores.
You've voted for this post
Leave a comment